Written reviews




Audio Video products reviews:

Audience Forte F5 power chord

Audience Forte F5 power chord (deutsche Version)

Audience Ohno interconnect RCA cables

Perkune Matrix power cable


Book reviews:

Rock: 1000 dischi fondamentali by Eddy Cilia and Federico Guglielmi

Viaggio nel fantasmagorico giardino di Apparitio Albinus by Claudio Romo




CD reviews:

71 Spiders

Argus Megere

At The Gates - Slaughter of the Soul

Autopsy - Mental Funeral

Billy Idol - Billy Idol

Bull Brigade - Il Fuoco Non Si è Spento

Cathedral - The Garden of Unearthly Delights

Colour Haze

Cryostasium & Abigorum

Day Of The Beast - First Invocation

Deadly Carrion

Deep Purple_Slaves and masters

Dig Me No Grave

The Erkonauts

Fingerprints

Flux Amuck

Fractured Spine - Memoirs of A Shattered Mind

Fractured Spine -Songs Of Slumber

Fractured Spine - The Price of Retribution

Hour Of Anguish_Into the Empty

Inner Axis

L'Occ Dal Coruv - Deorum Manium Iura Sancta Sunto

Last Snow - Last Snow

Michael Owens - The Right Kind of Crazy

Mortician - Darkest Day of Horror

Napalm Death_Smear Campaign

Napalm Death_Throes of Joy in the Jaws of Defeatism

Nightwish - Oceanborn

Onkel Hryum

Pantera_Reinventing the Steel - 20th anniversary

Plastic Tears - Anthems for Misfits

Polynove Pole

Queensryche - Rage for Order

Rainbow - Bent out of Shape

Refawn

Roof Down

Sacred Reich - Ignorance

Sixgun Renegades

Teeth Of Lamb

Unfulfilled Fate

Vital Remains - Into Cold Darkness


CD reviews concerning styles very far from rock



Film reviews




Music DVD reviews



Show reviews




Vinyl reviews


Teeth Of Lamb - Soul Gutter


Zine reviews



IF YOU LIKED ONE OF OUR REVIEWS, AND YOU WANT A WRITTEN OR VIDEO REVIEW FOR YOUR BAND, CONTACT US AT:
negativemarcocode666@hotmail.com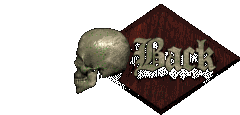 These reviews and the older ones, as well as the interviews, and the remaining intellectual, and audiovisual material here included are property of Rock Metal Bands webzine (www.rockmetalbands.com and Markus Ganzherrlich, aka Marco Ganzerli).
It is strictly prohibited to copy any part of this review, unless you have both of the parties' permission, or are the band/record label/PR company in question. Failure to adhere to these instructions will be considered as Plagiarism and you will be reported to appropriate authorities.