1) Did you change your approach to the songwriting for "Art of Aggression" if compared to your old material?
- No, we write songs in the same way now as we did before we were signed.

2) How does it feel to be the nth Scandinavian band proposing melodic Swedish death-thrash metal?
- It feels good , we play the music we like to play. And it's great to have a record deal. We're just hoping that it will result in some live shows.

3) How do you differ from the rest of the scene?
- I think we mix a lot of different parts in our songs, like a heavy part or a melodic part and some times rhythm parts, it's not unusual to blend music but I think we blend a lot more then other bands.

4) How important and useful were your previous experiences in other bands before Scenteria's foundation?
- For me it was important to know that you get nothing for free, if you're in a band and want to get somewhere you have to work for it, and it's important that the whole band is on the same level.

5) Have you ever considered the idea of adding a second guitarist to your line-up and let Stefan Persson just being concentrated on singing?
- No, I think he is a great singer and a great guitarist and we are wery satisfied with the things as they are.

6) "Forever Lost" is definitely one of my favourite songs as you can also read in my review as to guitars, refrain, drums. Are you writing new songs and if so, do they sound like this or do we have to expect something different and cybernetic like in "Addicted"?
- We are writing new songs the way we always have written them, they will sound like Scenteria but it's really hard to compare them to any old songs at this point.

7) What public responded best to you live? (Sweden, Germany...). And if the public is not moving, does it depend on them or is the musician to blame because he's not interacting with the public?
- The only audience we played for are people in Sweden, the reactions were different, in Gothenburg we had a very good audience but at home it's more our friends who show up at the shows. If the musicians look all bored then they are to blame, but sometimes you just play in for lame people.

8) I imagine it has never happened and never will it happen, but if somebody from the public should whistle for protest or throw something on stage, would you stop the show and go away or go on and say something to him/her?
- We would probably make him feel like the biggest fucking idiot on this planet. If you think that a band sucks you shouldn't go and see them live. (and if you find it out only when you're there?/Note of Markus)

9) Do you have time to answer all the e-mails you get from all over the world?
- We do our best, we have not let anybody down so far.

10) Is your line-up steady?
- Yes there is a good chemistry in Scenteria.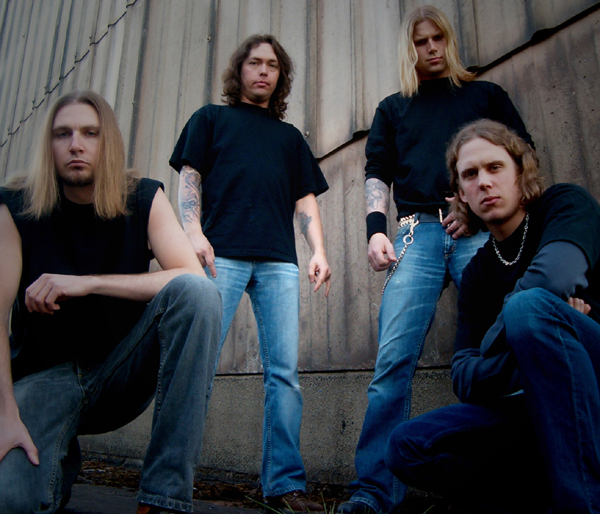 11) Have you prepared any videoclip (live or not)?
- We have video recordings from our shows but the sound quallity is very poor.

12) What are your next plans and where do you see Scenteria in...5 years?
- Our plans are to keep writing music and to play live as much as we can. In five years I really hope that we are doing what we are doing today with a bit more progress.

13) Alright Daniel, you can add all you want to the readers of www.rockmetalbands.com zine and promotion agency. Just take all the place you need for any comments, messages or info and thanks for your answers. Best of luck for the future!
- Thank you for giving us this opportunity to do this interview and I hope you'll come check us out live if we play anywhere near you.

MARKUS GANZHERRLICH - 22/8/04




Contacts:
E-mail: scenteria@telia.com
www.scenteria.com