-In "
The Birth of Tragedy
" the songs are better arranged and recorded than in the past. I imagine you needed more time to write and record them this time.
DANNY: Actually it all came together quite quickly, maybe 6 months. Compared to the last 2 albums, this album was the easiest to write. I wrote 90% of the music on the first 2 albums, so it took me a while to write the music. On our new album, our new second lead guitarist , WATARU YAMADA wrote 50% of the music on the new album. So their wasn't as much pressure for me to write music as in the past. Wataru wrote some of the best music on the new album.
-Why did you decide to record in Hachioji?
DANNY: It was much more convenient for us to record in Japan. Three of the guys are from Japan, so it was easier for me to fly to Japan, than for all 3 of them to fly to the USA. Most importantly, we needed a studio that was easier for us to work with. The last album at Morrisound was a fucking nightmare. The studio in Japan let us record by our terms. We had total control of the studio and the recording process. So everything went very well.
-If I'm not wrong, the only track that makes some concession to the 90's is "
Shroud of
Secrecy
", in which there are less than 20 seconds of Biohazard-like riffs and vocals. Do you also like that stuff?
DANNY: Well,
in my opinion its more VIO-LENCE influenced. Biohazard borrowed that from Vio-Lence. I never really got into that crossover stuff.
With the new album we just wanted what came natural to us.Their was really no concept in the music writing process. We just wanted to out do the previous albums. These are the best songs we have ever written. The material is so intricate and complex. We were really amazed at how smooth everything came together. The selection of the song order came so naturally. We all new in our minds how we wanted the tracking to go. Its so smooth and natural.
-Do you feel the weight of the honour and the responsability of being one of the very few bands left to play Bay Area Thrash/Speed in 2002?
DANNY: Yes,
we finally might get some respect. Its our turn. In the past, the metal media has labeled us as a "retro-Thrash " band. What they fail to realize is that we are all 35 years old, the same age as Schmeir from Destruction. Now that the trendy Black Metal explosion is over, its time for true metal to regain its glory!
-How many copies have you sold totally of all of your records?
DANNY: I think we sold about 10,000 of each album, around 20,000 total. I think with the new album, Osmose expects us around 20,000 to 25,000 copies. We just hope that the media will have some more respect for us this time. In the past, they just wrote us off as a "Jap Band". Thats not fucking fair! We are as talented as any major metal band. We are stateless and it shouldn't matter which country you are from. Its all about the fucking music. Fuck to racist!
-Why have you always had a mixed USA/Japan lineup?
Danny:
I am from the USA. I am the founder of Ritual Carnage. When I formed the band back in 1991, my job took me to Japan. And I don't care which country or race the member was. The only thing that mattered to me was that everyone in the band was talented and dedicated. You know something, if I tried to form Ritual Carnage in the USA, it would have never happened. The Americans who I played with in the past were very selfish and lazy. The guys in Ritual are 100% dedicated and are team players with a focus.
I am happy it happened this way. Bringing 2 completely different cultures together to form such a united, international band should be highly respected.
-Do you prefer playing at clubs or festivals?
Danny: Both. The clubs are probably best to get a good sound. Usually the festivals are coordinated badly and the sound production is bad. We have no preference.
-What kind of people usually come to your shows? 30-year-old metalheads?
DANNY: Not at all.We get such a variety; 90% of the fans are under 30. I think a lot of the younger people like thrash, but they were young when Thrash was popular, so they never got to see the bands. I guess its good timing for us since their are not many Thrash bands these days.
-Are any parts or guitar solos of the old songs changed when played live, since the lineup's different?
Danny: Actually no. The guys are very precise and like to play the solo's exactly as they were played on the album. Of course they may improvise somewhat, but the soling is very distinctive.The only new member in the band Is Wataru Yamada. Eddie And Naoya are still going strong.
-if one of your 2 guitarists were asked to replace Dave Mustaine in Megadeth for a year, would they accept?
DANNY: Probably not.
Dave Mustaine is a control freak, like a tyrant. I think the guys enjoy the freedom of expression in Ritual. Plus , Megadeth's last few albums were terrible....so definitely NO!
-In what countries where you've never been would you like to play live?
We would really love to play South America and Russia. Basically, anywhere we have never played, We enjoy traveling and meeting new people. Their is a language that is spoken universally...its called METAL!
-Does a lively thrash scene exist in Japan or Asia in general?
DANNY: The Japanese fans are very opened minded about metal.I really respect them for that. They also demand quality. They don't support lazy bands and fragile trends. In comparison to my own country, I have more respect for the Japanese fans than Americans. Too many trends in the USA.
-What old thrash band would you like that were reformed?
I wish I could have gone to "Clash Of The Titans" in San Fransisco. All of my favorite bands played. Testamant, Vio-Lence, Heathen. It must have been monumental. I wish Forbidden or Dark Angel would re-form, they are my favorites.

-As to your opinion, what really killed thrash in the early 90's? The new tendencies or the lack of originality and the lowered quality of the big bands' releases?
DANNY: I think it was all of the above. I think it was mostly the Death Metal boom. Metal really doesn't have too many new territories to explore. From now on, I think it will be the old saying "Only The Strong Will Survive!!!" Don't support cheap trend metal!
-That's all for now. You can send a message to your Italian fans.
Danny: The fans on our last tour to Europe were great in Italy. The Italian fans were open minded and accepted us for who we are. You guys are great and we are looking forward to playing for you guys soon! You rule!
MARKUS GANZHERRLICH
- 09/05/02
RITUAL CARNAGE ARE
:
DANNY CARNAGE,v.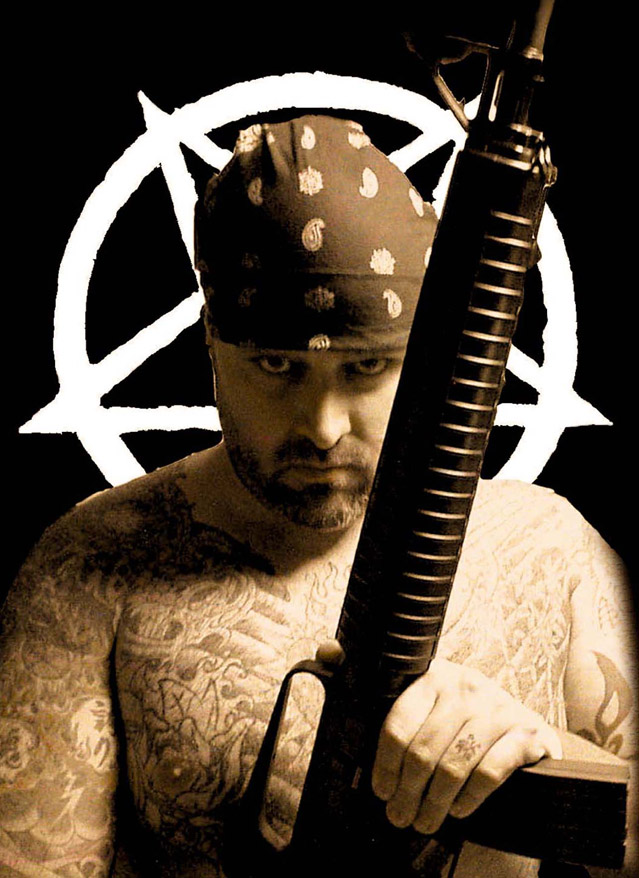 WATARU YAMADA,g.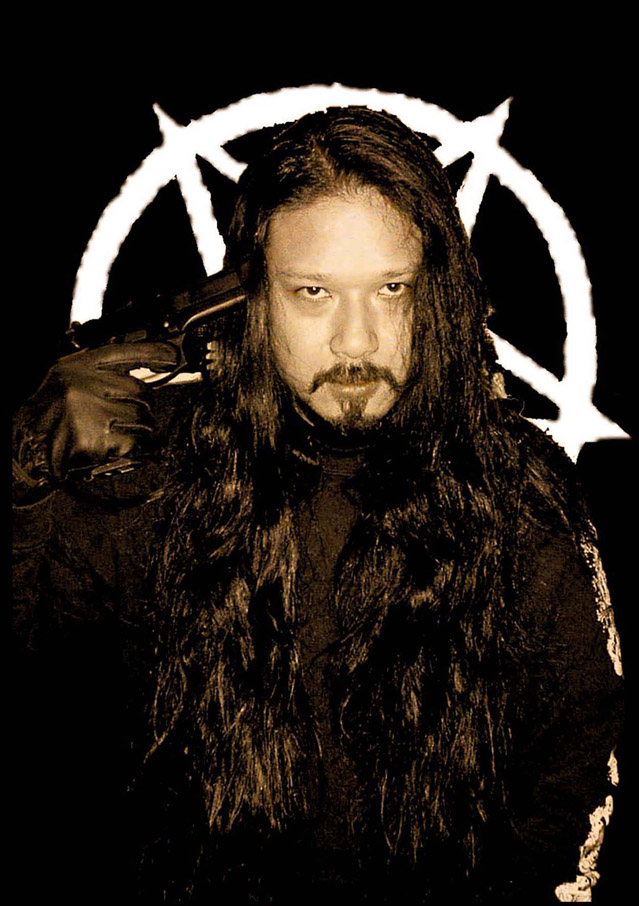 EDDIE VAN KOIDE,g.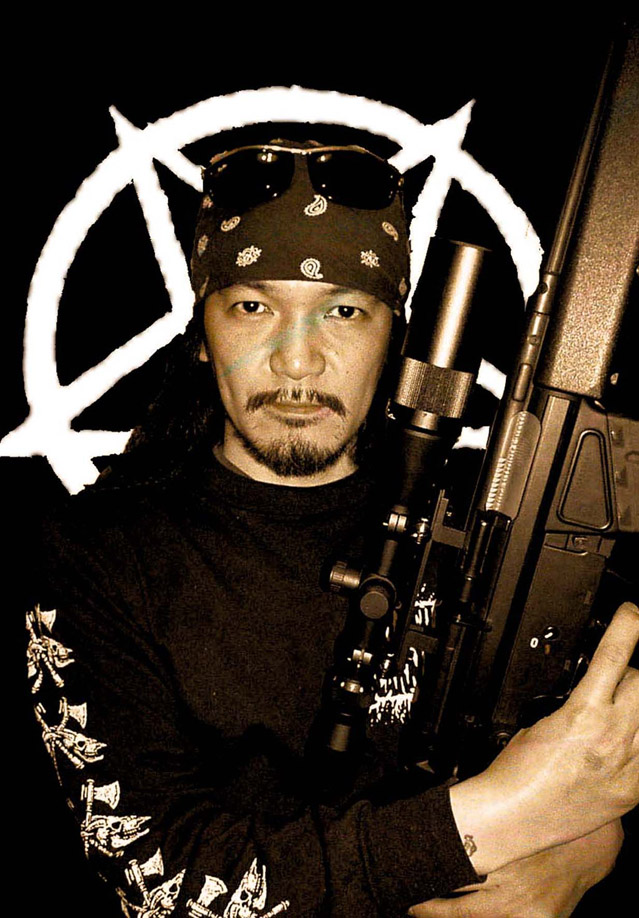 NAOYA HAMAII, d.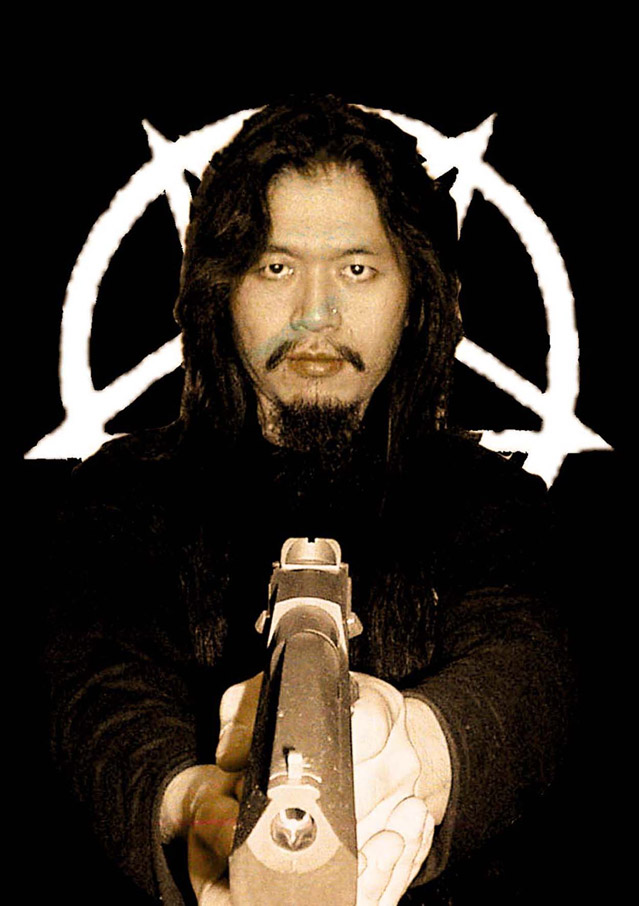 Demo-/Disco-graphy:
-Rehearsal tape ('95)
-Rehersal tape ('95)
-5 song demo ('96)
-"Ritual Carnage" ('98)
-"Every Nerve Alive" ('99)
-"The Birth of Tragedy" ('02)