-More than 3 months have passed after the release of 'scar'. Are U still 100% satisfied or is there anything you'd like to change?
Of course we are 100% satisfied with this release. "scar" mirror the progression of the band of the last years. We tried to create an album, carrying forward the work on our debut album "zero". We spent a lot of time to do this album, not just to create songs and writing lyrics, also for studio work, artwork, etc. Our fans ingest this album also with pleasure and we got great reactions from magazines with reviews. Our goal is to create music based on massive groove, of course with blast attacks and technical, weird parts, straight into the mouth!!!

-What are the main differences with your previous album, 'zero'? And why did you re-release it in 2001?
The main differences is that we put more emphases on groove. There is also a progression in songwriting and at the production. Tracks like "Face 2 Face" and "Generation X" are fast straight, grovy songs, tracks like "One-Track Minded" and "Kiss Or Kill" are high speed Grindcore-tunes and in songs like "Re-Progression" and "Turn Inside Out" we found a new stream, treating with different music influences based on heavy groove. The debut album "zero" was rereleased at Demonware Rec. from Vienna, because we want it to be distributed in Austria - the album was released at Noise V. in Germany - and we also tried to release the Split 7" Ep with C.S.S.O. on CD, thatīs it.

-Why did we have to wait a good 3 years for a new album? You're not prolific or you wanted to be sure to have an ass-kicking CD?
Yesssssss!!!! We wanted to be sure to have an ass-kicking CD!!!!!!!!!!!!!!!!! Ha, ha, ... Of course it took a lot of time because we liked to be 100% satisfied this the product, but there were also some problems with the release date of this album. Normally it had to be releases half an year earlier, in spring/summer 2002, but for different reasons the date was delayed to december 2002. For the next album we will be faster, donīt worry.

-Honestly, don't you think that after more than 10 years of career it were time to be more personal and detach from Napalm Death's style?
Itīs a pleasure for me to accord Mastic Scum with Napalm Death. Itīs a fucking great band. But itīs not our intention to do songs like Napalm Death. Yes, our shouter Will is similar to Barney and also our production is alike napalm death, but itīs not our purpose. We do our own thing - not copying any other styles and sounds - trying to have autonomy and quality. Anyway, you can always find bands to accord with another band, i donīt care...

-What do you think of their latest releases? And do you believe they're enemies of the music business?
I didnīt follow their releases since "Utopia Banished". Yes, i know all their releases, but not too much. As i know, they released their latest CD on their own label and their latest releases are more in the vein of their first realeases, doing great, aweful, straight, dirty Grindcore, so i think itīs a fucking enemy of the world wide music business.

-Austria has always been a lucky country as to metal. A lot of bands, of good quality, a rich scene as to labels, bands and mags, and it touched the top with Pungent Stench, who're back now if I'm not mistaken. What has changed compared to when you started? And, could you recommend us any new bands, not only grind?
The whole scene in Austria growed like in any other country. Metal music has etablished in the whole music scene and you can feel it. There is a great scene in vienna and also in other big cities in Austria. A lot of festivals, great bands are touring and also a lot of underground gigs. I live in vienna since 3 years, i love it!!! A really cool music scene there. Besides Pungent Stench, Disharmonic Orchestra and Disastrous Murmur are back. Death metal Bands like Seeds Of Sorrow and Punishment are growing up in the scene. And donīt forget Belphegor. And also a lot of new metal bands - the new wave, but i donīt like it so much, but i donīt hate them, no, i just donīt like it.

-What would you suggest a new extreme band which is entering the music world now? Do you think it's easier to find a deal nowadays and faster to lose it?
Of course you can get a deal easier nowadays, but maybe without good support and maybe ripped off. So i think itīs harder nowadays to get a really good deal, because there are a lot of bands in the scene now. So i just can advise to be careful by signing a deal and think about the support from the label in any way, not just to get a album released.

-Do you feel less freedom in the music business today, cos if you don't sell, you lose your deal quickly, or is there more freedom thanks to the possibilities given by Internet, MP3's, the fact that there's more professionality in the zines, etc...? Finally, how do you repute those means? Better for the artists cos they can sell records without record companies, that is more freedom, lower costs for the CD's cos you avoid distributors, etc.?
It depends on how a band wanna do their business. Itīs also a good thing to do your own label and sell your stuff through different distributers, but itīs a lot of work. We like the old fashioned way to get a deal with a cool label which knows the work and supports the band, so we have more time for Mastic Scum and to live our illusion and madness, ha, ha,...

-You're very active as to the live side, but you've never touched Italy. Have you received offers for 2003 or do we have to wait another year? Is it too expensive to support a big band around ALL Europe?
No, of course we got offers to go to italy, thatīs not the point. We also did a europe tour in march 2003, itīs just a happenstance that we didnīt play in italy till now. But Mastic Scum will DO!!!!!!!!!!!!!!!!!!!!! Because we like to have spaghetti and red wine, viewing the sea, ha, ha...

-When on stage, do you play your songs exactly as in the studio version, or do you change them a little?
No, we play the songs live exactly like we immortalized it on CD. Itīs important for Mastic Scum to do a good show with good sound for our fans.

-Do you like to play live at one meter from the audience or do you prefer to have a security to avoid that somebody comes onto to stagedive or distract you while you're playing? Have you ever been invaded by an audience, for example in Istanbul?
Not in istanbul, but on our tour with Master and Lividity. Matt and Dave from Lividity - fucking cracy, cool guys - invaded me on stage, pulling my legs and druming on my breast, banging and acting like maniacs, fucking crazy...

-I have a great desire and I think lots of fans like me think the same, cos a lot of records are out of catalogue: why don't you repress all your previous splits and EP's on one CD? I think it's time you did it, you already released a live in '96! (joking...).
We are also thinking about it to realease all this stuff in CD, but there are no concrete plans now.

-Harry, why do you think especially grindcore has never been considered important or worthy as, for example, death metal?
Itīs o.k. - i hate trends...

-I know there're still several black metal bands in Austria. Do you like that kind of music or not at all?
I donīt hate them, i just donīt like it.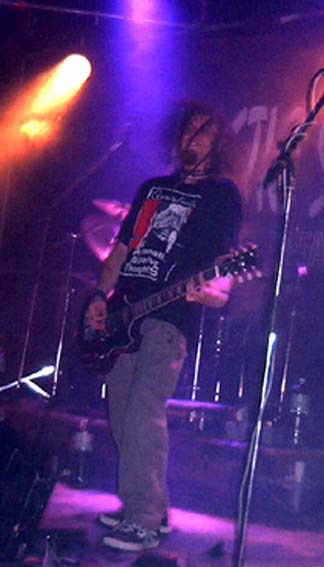 -Probably you don't have new songs, so I'd like to ask you if we'll have to wait another 3 years for your next CD and what it's gonna be like.
No, we try to enter the studio in autumn 2003 or spring 2004. Next studio album should be out in spring/summer 2004. Donīt worry we will be faster this time, and it will be killer...

-What levels of popualrity do you wanna bring Mastic Scum to? Do you foresee 'Scar' will sell more than 10,000 copies?
Letīs fold our hands and pray to satan that it will happen, ha, ha...

-I know you like social lyrics, so tell us what inspires you most apart from everyday reality. Do U have any book to recommend us? Did you like Uruguayan Eduardo Galeano's "A testa in gių" (In English it should be 'With your Head upside down")
Fuck, i donīt know this guy, i will enter a book store tomorrow to get this book!!! As you mentioned we are inspired from the daily grind but of course inspired from books, movies other lyrics and other drugs. Hmmmm??? Recommend a book? I just read the book "Auf dem Jakobsweg" from Paulo Coelho and i like it very much, itīs about seeing and feeling on a higher level, controlling your strength and weakness.

-Time for a final greeting to your (Italian) fans/message/info. Just take all the place you wish!
Thanx for the interview, it was a pleasure for me. For all our fans i have to mention that there exists a homepage http://www.masticscum.com with o lot of lyrics and merchandise stuff. New shirts are available now, also the tour shirt. And donīt forget to sign our guestbook. Express yourself!!! Ciao

MARKUS GANHERRLICH - 04/04/03


Contacts:
Burgwies 155 - 5724 Stuhlfelden - A
Fax: +43 6562 4179 - Tel: +43 699 12597254
E-mail: info@masticscum.com
http://www.masticscum.com

Line-up:
Will, throat
Man, time
Harry, wires
Steff, sub-end

Discography:
e.c.b. (12" EP - 93)
(demo - 94)
Tilt (7" - 95)
MC (live - 96)
Fake (Split CD with Fleshless -96)
Riot (Split EP with Malignant Tumour - 96)
Pure (Split MC with Mixomatosis - 97)
Fear (Split Ep with Blockheads - 97)
Hurt (Split MC with Senseless - 98)
Rape (Split EP with C.S.S.O. - 98)
Zero (CD - 99)
Reek (Split MC with Haemorrhage - 01)
Zero (Re-release, CD - 01)
Crap (Split EP with Rotten Sound - 02)
Scra (CD - 02)