LIKE THE PHOENIX RISING FROM ITS ASHES...
This is the report that stubborn and wise Savvas delivers us to introduce us to their brand-new self-released offering, consecrating his band in the Olympus of Greek metal with a masterpiece detaching from the previous bands' styles.
-You were in Acid Death for 12 years. What happened and are there hopes of a reunion? What about the other members' past?
Yes, you`re right. I was in ACID DEATH for all these years. In fact I created them trying to keep them alive… But things weren`t working well. Better things worked too badly! First of all there wasn`t any attention from most of the Underground fans and this had to do on a serious point with the music style ACID DEATH had, which was a complex technical Death Metal with many other influences, not popular to a Death Metal fan who wants to have power and aggression when the CD starts to play… Continuing the way of destruction we had to face the disregard of the labels we had the reverse to release a new work, except the English Copro recs who unfortunately we lost the opportunity to get a contract with. And finally the inner problems, too serious to be negligible, completed the whole situation. So, in 2001 I decided to stop this theatre of senselessness. And the other members accepted it with relief. As about the reunion subject, there is no possibility to be.

- Have you got any advice for new bands? Is it easier to run an extreme band nowadays or not?
No! If there wasn`t KINETIC I would play bass in my house. I had the thought that I have to stop playing in a band even if this band was a total professional one. I just wanted to take a look in my life and my profession, I`m a computer engineer and I wanted to give all my attention on this. But things worked on a different way… Now I have a good band and enough time to arrange everything in my life. You know it`s not easy to run a band especially if you want to run your life also. But we arrange both of them!

- How do you feel to restart from the bottom after all these years? What didn't work at that time? Isn't it frustrating to see so many bands obtaining a deal after a short time and not ready for a CD? How can a fan choose properly from this saturated market?
I feel proud of it! Sometimes restarting from the bottom gives you the positive energy to create something interesting. This happened to us. All of us in KINETIC are coming from other historic bands of the Greek Underground scene having the same flame and temper to create something new from a zero point. As a new band we have our dreams and ambitions. This is good. We have to walk the way of creation very carefully and this is something that many new bands fail. Of course it's good to have a deal but if you don't have the songs to support a complete recording that a fan will love it just don`t do it! We got a deal with the new ascended label SLEASZY RIDER RECS but we chose 9 songs from the 14 we had composed in 1 ½ years. The fans see the band who tries to work and the one who just ridicules them and make their decisions.

- Why did you choose this moniker?
Well, when the band started we had another name, called ZERO. We just wanted to show that this band is formed from four persons who begin their directions from a zero point. We didn't like this name. We had problems to find a name that didn`t exist and we liked at the same time. At a certain time Constandinos, our drummer, in a rehearsal had the idea of KINETIC. We liked the theory behind it, "something that never stops, something evolutionary" and when we found that this is a "free" name we kept it.

-What is left here of your old bands' styles and has the 12 year experience been useful to you and the others to write, compose and record quicker?
Everything! First of all the friendship. We work as a professional band of course, but first of all we`re friends. You know, at an underground level the most important thing which keeps a band strong to continue is that the members are a complete team that works on the same targets on a friendly way and not just employees in an organization or a company. After that, the feeling of cohesion between the members is also important. If the members have the spirit that they want to proceed their ideas, musical or lyrical, although they have some or many differences, the results will be at least constructive. If there is no spirit like that things will never work right. I established that with the guys in KINETIC. I came from DEATH METAL, Manolis and Stavros from POWER METAL and Constandinos for HEAVY METAL. Many persons were wondering one year ago when seeing band`s line up "What the hell they want to do? They`re totally different one from the other! What kind of bullshit they will play?" But when our self released mini-CD was out all of them had a good word to say….

- You state the 3 songs vacillate between Swedish and US death metal, including power, thrash and prog influences, but I didn't find US Death metal traces in your CD. Do you want to explain which your influences are and in which parts of the songs?
When we state that our style vacillates between these styles, including US Death metal we mean we have this US manner of reaching Death Metal, you know, fast drum parts with fast low-tuned guitars something that is very clear in "Holy Instinct" for example. This is only one of our influences. In "Realms Of Nightmare" you can hear a fast Thrash/Power touch, not in Blind Guardian`s style to name one, but most on an old-fashioned Arch Enemy style, same as "Never Ending Winter" which is more melodic in a rated Swedish way. Although the influences we have as musicians are different and this is clear, I dare say things are working good and the songs are harmonious, you don`t have a feeling like "Hey this is another band's song, this doesn't belong to KINETIC".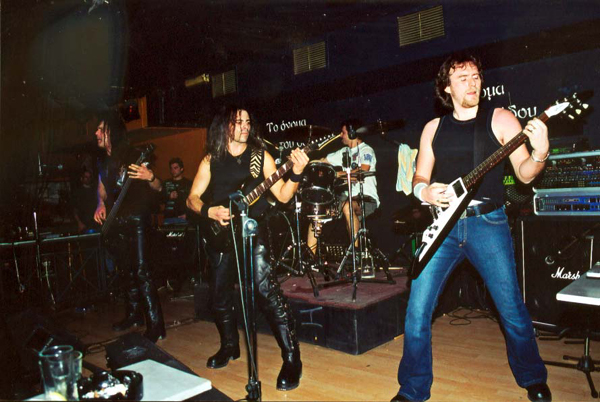 -The 3 songs own a great sound and maybe only the crash cymbals could've been better recorded, but that's pedantery. Where'd you record it? Was it self-recorded, mixed and mastered? D'you use lots of PC corrections or d'you try to use as less technology as possible, so as to achieve an old-style sound?
These three songs were recorded in our own recording studio, here in Athens. We made the production, the remastering, everything. Stavros was on a producer`s chair and this was his first professional trying as a producer. We know some things would be better and this cymbals point was something that we had to face on the mix. Costandinos used a particular cymbal set, of course we prefer not to mention the cymbal brand, they were very known ones, which had a perfect sound on rehearsals but a very "plastic" sound on recording. We know things will be better on our 1st full-length`s recording, we`ve already started it`s pre-production. You`ll see the difference…

- As I don't have them, can you explain to me what the 3 lyrics deal with?
Our lyrics, generally have to do with the horrible side of life. True or fictional stories including a piece of irony on the way that Human Kind acts. "Realms Of Nightmare" is the only song that is rather different from this lyric technique, as it just describes the way that a very known Nightmare Hero, just figure him out, acts. "Holy Instinct" has to do with the way that Christianity destroyed the Human Spirit in the Middle Age, and "Never Ending Winter" describes the loneliness of an old man who decided to leave today`s Civilization for a better life somewhere out of it.

- And what about the cover?
The cover was Constandinos`s idea. It shows a mechanical woman moving in an old rusty factory. We just want to symbolize Humanity with this person and the Human acts with the factory. We like it as a cover and as a whole lay-out. It`s simple but clear and well-done…

- When is your full CD coming out? How many songs will it include? Are the remaining song similar to these or more heterogenous? Has the title been chosen?
Although we`re a rather new band we have already a deal with the new ascended label SLEASZY RIDER RECS (www.sleaszyrider.com). Our 1st full-length will be out in September, titled "The Chains That Bind Us". Nine songs will be included. The music style will be in the same formulas as this self-released mini-CD. We may re-record one or two of the songs included in this 1st recording. This is something we want to do. We love these songs and it would be great to be presented on our debut with a new version. We`ll see.

- What've the specialised press's comments been so far?
Pretty good words!!! It was something we`ve never expected in so big breadth. In September e.x. Greece's Metal Hammer mag in "Hellenic Assault" qualified us as band of the month, in Metallian mag (France) we had a very good review, in many other zines the same… All our reviews will be featured in a special link in our official web site. We feel proud for them and we want to give another big "THANK YOU" to all of them. Of course this includes YOU!!!!

- What about the current Greek scene? Is it better as to bands, zines, shows, venues, mentality?
Things are going better but there is a lot of work to be done, especially the way that the bands work. You know, it`s too bad if you think you are a Rock`n`Roll God and you disregard that your guitar has to be in the nearest service center immediately…. This is reality in most Greek bands. They think they do a good work on the song-lyric writing, and this is true sometimes, but only that. All the rest is unknown to them. Having no band-profile, having no scenic presence, having no dignified equipment they believe they can rule the Scene. This is totally wrong! Having true elements as a band is an obligation and if things are going bad you have the most of the responsibility having a wrong direction as a band…

- I really appreciated the fact you sell your CD at only 5 Euros or dollars, postage included (quite an hones price, man, why isn't everyone doing like you, dammit!). How many copies did you print? And how much is your next CD gonna cost in case you shouldn't find a label?
We`ve printed about 500 copies till now. Of course most of them were for promotional use. We just want to spread our name, not to gain some easy money by selling a CD. And I think we`re on the right way. ..

- What about your live shows and are you gonna employ a bass player or a vocalist or are you gonna keep both duties?
We love to play live! This is the most important element of an active band. Performing good live-shows. We make our best in every show and the audience appreciates that. We are also planning a tour after our full-length`s release in local areas here in Greece. We may arrange something out of Greece but this is rather a long plan. As about any bass player or vocalist I don`t think there is any matter to do it. I play bass and make vocals since 17 and I`m 32 years old now. I think I have enough experience to do both things, of course in my style! If I tried the same with…Glam Metal for instance, things wouldn`t work well for me…I think…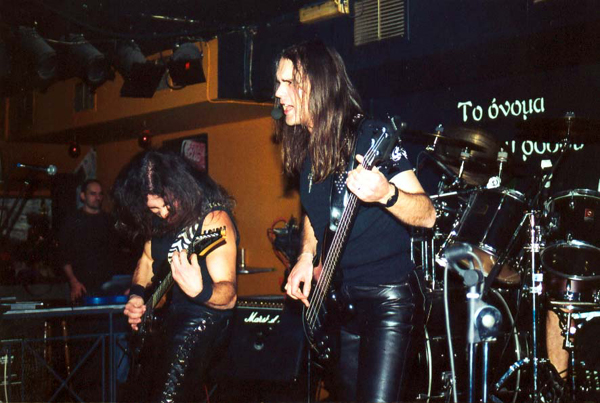 - When is your website gonna be ready?
I it will be ready in about a month. We have all the elements and I've already made the design so things are working in our side. Just check www.kinetic-band.com in a month`s time.

- You can add whatever you want in closure. Just take all the place you need.
I wanna thank you for this interview and interest in us. Keep on your good work. Thanx for the intie, Markus.

- You're welcome, Savvas! Take care and cheers!

MARKUS GANZHERRLICH - 04/02/04






Line-up:
Stavros Bonikos - lead & rhythm g. (ex-Brain Fade)
Savvas Betinis - b. & lead v. (ex-Acid Death)
Manolis Mamas - lead & rhythm g., back-up v. (ex-Brain Fade)
Konstandinos Alexakis - d. & percussions (ex-Wisdom)


Contacts:
-11 Kassiopis str. 174 56 Alimos, Athens - Greece
E-mail: kineticgr1@yahoo.gr

-19 Dimakopoulou str., 104 45 Kato Patisia, Athens - Greece
E-mail: kineticgr2@yahoo.gr

www.kinetic-band.com