This time we are analyzing a DVD and a double live CD together as they both refer to a show recorded on September, 1st in Hamburg to celebrate the 10th anniversary of the German band.
As for the former, a big importance has been given to the lighting, almost completely PC-controlled; the equipment is massive and second only to Pink Floyd or other big bands which can afford huge budgets and locations. A good plus is the shooting of images on a large screen at the back of the musicians who, for those who have never heard of them, deal with melodic Prog metal, reinforced by some heavier passages, both refinedly coped with by a clever singer. He never misses a high tone and can remind of Geoff Tate, a US vocalist of Modern rock or even Chris Cornell, depending on what he is required to.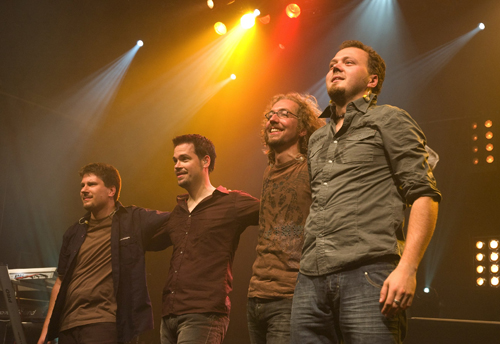 The public, fairly numerous, goes from the 20-year-old girls to the 50-year-old lovers of Melodic metal, and seems to appreciate the 3 female chorists; indeed, I don't see the utility of them, unlike the violoncello player, who really adds something worthy to a couple of tracks, entwining sublime panoramas connected to the "Posthumous Silence" 2006 concept album together with the keyboardist.
It is immediately plain that, besides the singer, the rest of the members don't move very much during the performance, and not even he looks for any physical contact with the audience.
The quality of all the sounds is very elevated, and only the bass is a bit shadowed in a few occasions.
The live show lasts about 80 minutes, while the extras reach 95, thanks to outtakes, interviews, making-of and much more, but most of all because it includes "Artificial Paradise", skimming 19 minutes.
After all, a recommended DVD for those who have never seen the band live but not the ideal to start fromif they've never heard any of their studio albums.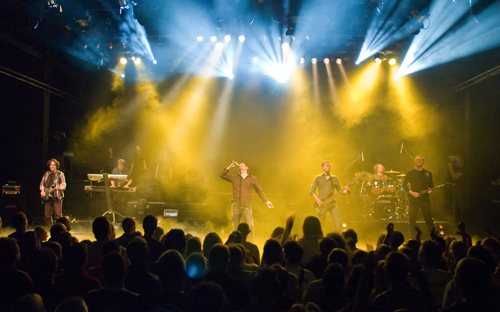 Talking about the two live-Cds is easy: the first includes the same songs of the DVD, showing the fascinating power of especially "Bequest of Tears", "In Chains", "No Earthly Reason", "The Colors Changed" and "Answer to Life", all surmounted by "Questions", worth alone the price of the CD.
Sylvan are keen on creating great refrains and peculiar keyboard lines, poised between Prog rock and metal, paying special care to the guitar solos, the re-entering vocals and in general all the vocals. Like I said earlier, the choir members are totally useless, since Mr. Glühmann owns an excellent training, range and a voice which sounds different from the other colleagues' on most occasions.
In the second live-CD melody prevails on the tight parts; some compositions are less catchy and a tad more experimental, such as "Encounters", which could've appeared on a mid-Helloween's platter.
I am very satisfied with "One Step Beyond", definitely endowed with a gear more than the others, while in "Deep Inside" and "When the Leaves Fall down" Electro pop gets the upper hand over the remaining Prog metal structures.

The Teutonic combo had already released the popular CD "Presets", containing shorter and more immediate songs, but the label has decided to risk a little (and without risks there's no gain, nor any spice in life) with this more sophisticated product, in order to show another side of the band, the one closer to Queensryche, Fates Warning, but also Genesis, Marillion, Pendragon, RPWL, Porcupine Tree and other protagonists of the new wave of Prog rock. In spite of these marketing and career subtle calculations, what's stunning is that at the end of these listenings the impression received is the one of a professional act who is still miraculously spontaneous and in good terms with one another, like when they founded the band over ten years ago with just one untraumatic replacement at the guitar a few years ago. A rare fact today when everybody seems so easily replaceable, which is correct to stress out in a world where only bad news catch most of the attention.

MARKUS GANZHERRLICH - 2nd April 2008