In a sea of cheesy and corny stuff like today's music so-called extreme world, a CD and an attitude like Sarcophagus's doesn't pass unobserved, and it's indeed more surprising they come from the US, so first of all I repute proper we all congratulate with them for their stubbornness and strength to resist the shitloads of trends they're engulfed by in a way like no other place in the world.

From them the only material I've listened to is my copy of the same CD once released thru DieHard and Pulverizer Recs. in '96, which featured a different artwork and the same songs tho' in a diverse order, here at last re-issued (with 4 rehearsed trax) because of the sunset of the East Coast Death Metal and the unique, sincere and constant commitment of the US label thru the harsh past years.

Their art product is Black Metal-rooted, thou enriched by a few melodic parts balancing the extreme ones, several fluent time changes together with a kinda apocalyptic riffing; some growling appears from time to time, too.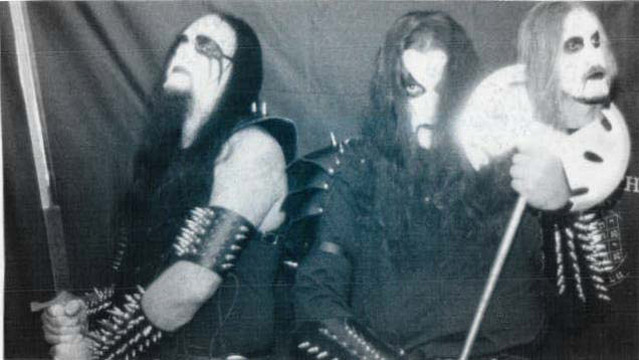 All of this is clear especially from "Damned Below Judas" on, accompanied by an anguishing keyboard work in the beginning. Wonderful are the neck-stretching breaks in the following "One Black Autumn". S.'s Black Metal becomes quite grinding in "Fuck Pig" and "Wrath", whereas we meet choking Sabbathian aeons in "Agony's Tale", displaying not only screaming black vocals, but also suffering and whispered ones; inspired ideas like these make "For We..." real fun and deign of respect.

In the 4 rehearsal tracks the recording quality goes - as easily expectable - remarkably low, with a loss of high frequencies and consequent high reproduction of the middle range, notwithstanding it remains on sufficient levels.
Interesting the unreleased 3 songs + intro, as they're highly wicked and raw, the essence of pure evil!!! (just listen to the vocals and tell me if I'm mistaken...).

Serious, original enough, without compromises, unkind and obscure. If you guys look for a (Black Metal) band owning these characteristics, you won't ever repent; and even if you're fans of brutal death mainly and you usually find Black Metal boring or sterile, you gonna enjoy this CD. Sure as death and taxes to pay the 4 last songs shall make your blood freeze like the best Necrophagia only can, of course in a wholly different way.


MARKUS GANZHERRLICH - 21/08/02