-A sum of your biography for those who don't know you yet. Did you release any CDs with your previous bands?
Miranda: My history on music was passed between very garage-amateur Rock and Metal bands as guitar player or vocals. I released a Demo CD ("Beyond God and Devil") with a former death-metal band 'Necrofily' were I was on the vocals.

-The songs are so different one from another because they were written during two years or because the members' influences differ very much?
Miranda: All the "Revelations" songs and much more were written in the first year of PhaZer's existence, the second year we spent it in the studio recording the album. The differences between PhaZer's songs, I believe they are in that way because of the open range of the musical preferences from each member, and the purpose of the band as well, which is mixing many sounds from Rock, Metal, funk, Prog-rock, etc…We like it that way.

-How are your songs born usually? Do you start the classic way, I mean from a riff?
Miranda: Actually, it always happens to us that way. The first ideas come from Gil (a complete song in a raw state) and in the first step I check Gil's first ideas with some vocal lines, and then, we bring the raw state song into the garage, and we make the musical arrangements on that. Sometimes Gil just shows us all his ideas and we build the music in the garage all together.

-Your debut is extraordinary. Have you already been offered a deal by a label?
Miranda: Thank You Markus. We've recently signed with a German promotion company a promotion deal (AMK Legacy Music), and we are negotiating with other companies in Europe for the same purpose, promotion and record distribution. But at the time, we have no label and no proposals on the table.

-Are you all self-taught or did you take lessons, especially Gil to learn all those various styles (Funk, Flamenco, Rock, Metal…)?
Miranda: All PhaZer's musicians are mostly self-taught, Gil had some lessons, but he quit because it was boring for him, the lessons weren't creative, neither appealing enough for him. Henrique, our bass man also has some classic knowledge on music and the clarinet instrument.

-What topics do you your lyrics regard?
Miranda: We talk about human experiences and emotions, mine and others' I am aware of, always from the human inner perspective to the outer one. We deal with love, death, fear, discover, religion and social vanity.

-How many times do you rehearse a week? Do you have other hobbies besides alcohol and groupies?
Miranda: Twice or three times a week, we wish it were more, but due to our professional affairs we haven't the suitable conditions to work more at this moment. In the future we hope that we'll have the conditions to work full time. Our hobbies are various, like, going to see gigs from any bands we like, going to see movies (I am personally a movie freak), reading, travelling, hanging out with friends and especially have quality time with our family.

-Are you good old friends out of the band or are you just 'colleagues'?
Miranda: We just met within the band, we found ourselves in an internet ad to form a band. With my exception, I have already known Gil for 4 years; we were coworkers in our last job places. So when we all met, we began as colleagues but we are good friends now.

-If you could be opening band for a big big band even of the past, who would you like to have the honour of playing with?
Miranda: Metallica, Deep Purple, U2, Rolling Stones, Whitesnake and many others Rock monsters!




-I learned you have a great deal of fans and groupies abroad. In which countries did you have more success?
Miranda: Naturally in Portugal, at the moment we are best represented in Portugal, although we also have fans worldwide who have already contacted us from many countries, like Brazil, Peru, Chile, USA, Canada, Mexico, France, Germany, Japan, and others I can't remember right now.

-Which Rock or Metal Portuguese bands do you recommend to those who want to deepen the knowledge of your underground Rock/Metal/Hardcore scene?
Miranda: At the moment we don't know anything in the Rock scene appealing to us, but as for different styles from us we recommend you get info about the project band [F.E.V.E.R.] at http://www.myspace.com/feveronline.

-Is your debut-CD buyable only by you or also through foreign distributors?
Miranda: In Portugal from January 2007, we will have have the "Revelations" record distributed in the biggest record stores across the country. For the rest of the world, it is available only in internet stores, like our website, cdbaby, i-Tunes, and many other internet stores.

-Do you have enough new songs for a new CD?
Miranda: Yeah, we already have new material available to record a new CD.

-Which plans do you have for your band for the next 2-3 years?
Miranda: In this stage we want to continue promoting the "Revelations" EP, hit the road all over the world with the "Revelations Tour", and get a label record deal to the following works.

-Add something to our readers and your potential new fans that I forgot to ask you about.
Miranda: Hope you guys have a listen to our tunes at www.gophazer.com and if you like it please order the "Revelations" EP from our website or i-Tunes and keep an eye on us every time we move. Maybe tomorrow PhaZer will be in your street rocking and head banging with you!!! Rock On. Soon we will Phazer you!!!!!!


MARKUS GANZHERRLICH - November 10th, 2006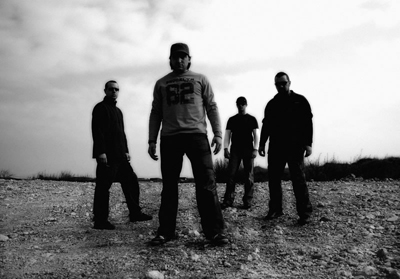 Line-up on this record
:
Miranda, v.
Gil Neto, g.
Henrique Martins, b.
Miguel, d.
Contacts:
Gil Neto, Praceta Garcia de Resende, Lote 7, 6° esq. Alfornelos, 2700-408 Amadora - Portugal
E-mail
:
info@gophazer.com

Official sites:
www.gophazer.com
Demo-/Disco-graphy:
-Revelations (CD - June 2006)