A compilation of new, rare or unreleased tracks with members' comments is what you'll find in "From the Abyss They Rise". More precisely it is a partly professionally recorded EP with an unedited demo of Black Metal tainted with Prog and melodic breaks, which might often sound original enough especially if you've never listened to any material from this band before like in my case.
The new tracks are the first Pantheon I have written/recorded with the involvement of new guitarist Aethyris (aka Shandy MacKay – Horizon Ablaze, ex-Absu, as well as live session work for both Melechesh and Khonsu) and keep being based upon death, darkness and hellish themes as purists of this music style require.

This abundant hour of music begins with "Pariah", wicked, yet not primitive mid/fast-paced Black Metal tempo song containing a Prog Rock break before the guitar solo and another variation recurring to spoken words, clean vocals and a cello that precede the conclusive blastbeat.
Starting in the vein of Marduk/Dark Funeral, "Martyr" is interrupted by flamenco arpeggio guitars on which suffering vocals and earthquake drums are added to so as to enhance the contrast. Irresistible are the Mediterranean/Middle East vocals and the powerful rest of the sounds, distanced by fast merciless Black Metal parts coupled with intimidating background vocals. This composition occasionally but strongly reminds me of the early Celtic Frost.
A melancholic arpeggio opens "I'll Come Back As Fire", soon turning to frosty Black Metal first and tragic one later. What stands out in the central insertions are the whispers, sighs and raucous clean vocals that alternatively seduce and threaten the listener. Past and new are mixed, with intensive teamwork by guitarists and drummer, still it's the vocals to reign supreme in the refrain and in the remaining structures. First highlight of the record hands down.
Elegant beginning and quick raw Black Metal right away with drums mixed higher than previously are the first ingredients for "What Lies Beneath"; the drumwork speeds up when necessary but doesn't hit to cover neither the tremolo guitar, nor the punishing riffs luckily. This is an aggressive, rapid and traditional track with some slight drumming fault that may be acceptable after all.
The title track merges Black Metal, elegant baroque elements, and even brief Death Metal vocals until the nth arpeggio and symphonic portion kick off and a violin appears tag teaming with a cello. The next brutal breakdown is the icy on the cake.
With "Core of the Soul" the sounds get decidedly unpolished and primitive, while the plot becomes belligerent without renouncing to interwined elaborate riffs; the ferocious vocals continue in Emperor's cover ("Thus Spake the Nightspirit"), suspended only when a rift is generated and melody arrives along with whispers and spiccato cello bow strokes, whereas the ear-piercing guitars never leave space for rest.
The match represented by cello and bloody Black Metal goes on in "Transparent", but providentially for my ears the sounds here are not so exaggerated on high frequencies as before. The riffs are still ultra fast and have no mercy but at a certain point a break that sounds like from beyond the grave is offered and a handful of demonic vocals are delivered. When the cello comes back the mid tempo pattern is restored and soon the heartbreaking riff returns before the final blastbeat. A good song with dynamic guitars and drums all right.
Vicious and attack-prone immediately, "Is This A Prophecy" is more of a Death Metal track with diabolical guttural intrusions; after a Thrash/Death instrumental part, here come clean male and female vocals, as well as a cello weeping in unison drawing near My Dying Bride's territories. After that, the animalistic blast reappears and only the already heard Doom/Death Metal part is chosen to close everything. That's the way you master a tricky composition.
"Myopic Dark Eyes" includes guitars that turn out to be a bit dirty, Black Metal vocals which were mixed distant, and furthermore bass sounds that were mixed low. Now that is a song that makes you understand this is a really unedited demo track owing a lot to Slayer in the initial chop and in a later fragment. There are some accelerated Black Metal parts and a long one with spoken words in between reminding of Metallica's "One" introductory section.
I just can't but congratulate with Pantheon I everytime "A Shadow" is launched: acid infernal vocals, Prog Thrash Metal riffs in the vein of the very early Voivod. This brilliant piece abruptly changes direction, recurring to rocky drumming, a violin and then superevil vocals come out together with swift blastbeats.
Black Metal first technical and then frozen and unrefined with the cello in the distance once in a while constitute a fraction of "Impious Spirit"; the other half is made of catchy, engaging riffs, a Death/Black Metal frame with Progressive touches abandoned later in favour of a mid tempo of traditional inescapable Black Metal alternated with extremely rapid onslaughts. My compliments go to the guitar players for their creativity and performance one more time..
Marduk influences show up one last time at the beginning and end of "Enter the Pantheon", a song that doesn't submit anything new, yet can satisfy and not disappoint the most demanding fan thanks to awesome vocals, an interlude calling Immortal to my mind and a shower of fire and bullets after a central lick.

These Norwegian guys have proven to be deft, able to go from one genre of Metal to another with ease and this compilation is a good start for beginners to approach them, actually a solid and sadistic introduction to their manic violence. Give it a try, you Black Metal connoisseurs in love with Keep Of Kalessin, Emperor, Ram-Zet, Watain, Marduk, Behemoth, Den Saakaldte, Enthroned, Belphegor and, why not, Shining from Sweden.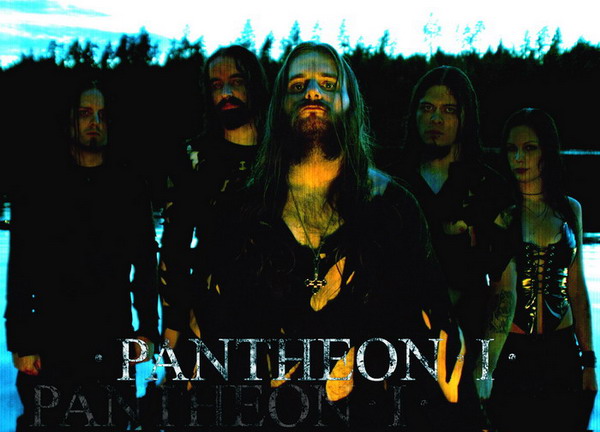 Line-up on this record:
John Espen Sagstad - g. (also in Trollfest, Metal Militia, ex-Sarkom, ex-Abiotic (N))
Tjalve - v., g. (also in Den Saakaldte, Horizon Ablaze, Svartelder, From the Vastland (live), Alvheim, Midnattsvrede, ex-1349, ex-Nidingr, ex-Sarkom (live))
Seidemann - b. (also in 1349, Svart Lotus, ex-Tyrann, ex-Den Saakaldte, ex-Nidingr, ex-Vidsyn, ex-Koldbrann (live), ex-Dead Trooper, ex-Slavia, ex-Alvheim, ex-Hofdingi Myrkra)
Julianne Kostøl - cello
Mads Guldbekkhei - d. (also in Isvind, Black Hole Generator (live), Zeenon, ex-The Allseing I, ex-Sulphur, ex-1349 (live), ex-Dead Trooper (live))
Aethyris MacKay - clean v., g. (also in Grotesque Hysterectomy, Horizon Ablaze, Khonsu (live), ex-Infernal Oak, ex-Absu, ex-Melechesh (live))





Contacts:
Oslo - N
E-mail:
Official site: https://www.facebook.com/pantheoni





Demo-/Disco-graphy:
-Demo MMIII(demo - 2003)
-Pantheon I (single - 2004)
-Atrocity Divine (CD - 2006)
-The Wanderer and His Shadow (CD - 2007)
-Serpent Christ (single - 2009)
-Worlds I Create (CD - 2009)
-From the Abyss They Rise (CD compilation - 2014)