Canada, and especially Quebec, must have something special in the water, as there keep on coming more and more bands as worthy as Cryptopsy.
The 5 piece debuts with 10 tracks barely exceeding 24 minutes in length, arising interest and awe in all fans of Cryptopsy (Lord Worm's era), as well as Retaliation, Blockheads, Engorged, Hemdale and so forth, but most of all of Flesh Parade, whose song-book they seem to unvoluntarily pillage from galore.
Frantic drums outbursts, hysterical scorching vocals alternated with more common Death growls, mid-tempos without many crushing slowdowns in the vein of Devourment (the only one is at the end of "Dead Jeremians"), since - as they rightly claim - Nervous Impulse take a lot from the Death/Grind European school and little from the Texan area.
There's also an exception to those bands just cited in the middle of "The Bells of Immorality", where an unexpected structure, less brutal than the rest, reminds of the latest Kataklysm.
The highlights of the album in intensity and velocity are "Why Did You Shake Our Baby" and "The Collapse of Evolution", but the tracks I go on playing more often are "Rockstars Faggotry" (amazing comic title, by the way!) and "Pure Hate", including all the above-mentioned influences, dusted with brief Suffocation and Pyrexia passages.
If you are an expert or simply a lover of this form of Extreme metal, then order the CD without hesitations, also thanks to a clear and powerful production, where the bass and the other bass sounds remain a bit hidden in the background in favor of trebles and middle frequencies, the way the Death/Grind tradition requests. A violent, tight debut album for few with titanium eardrums.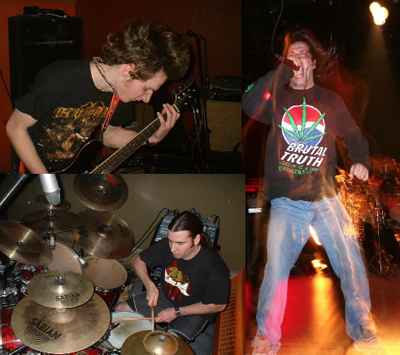 Line-up
:
Eric Fiset - v. (also in Empathy Denied, Enrage (CAN), Obscene Crisis)
Robert Guimond - rhythm g.
Vincent Malo - lead g.
Félix Bourcier - b.
Yan Chamberland - d. (also in Dying Dawn, Empathy Denied, Enrage (CAN), Joyless (CAN), Obscene Crisis)
Contacts:

2965 Fletcher, Montreal, Quebec H1L4C8 - Canada
E-mail:
nervousimpulse@hotmail.com

Official sites
:
http://www.myspace.com/nervousimpulse
Demo-/Disco-graphy:
-5 song promo (Demo-CD - 2009)
- Enough For Dementia (CD - 2009)