I still find the fact that pure Grindcore doesn't have a good reputation among Hard Rock or Metal heads - and sometimes even Death or Black Metal fans - rather unfair and degrading; guys, it's not easy to do a good album of grindcore as it isn't for a hard rock one; the risks lie in the possibility of repeating oneself or old patterns, and therefore spread the bored listener's jaw open wide in both of the cases.

This premise has been needed because some could think in a whining voice: "No, it's the same old noisy flat grind crap; I won't listen to that!" If what you want is a sort of groovy old school grind/core matched with tortured vocals in the way of the latest Brutal Truth (the best are in "Garbage"), with the addition of a personal edge, as expressed by the explosive opener "No Ideas", or the imperious "Only for Yourself", you have it all here; by the way, I must say that the lyrics are based on social themes, a few about 'big' problems like smoke forbiddances, ahah (the title-track, "Kühle frische Milch"). Included are also several stoned or amusing vocal intros or interventions (my favourite is absolutely the intro within the title-track, deign of a low budget hippie porno flick or a demential commercial). Sometimes we have looped intros ("Langweilig"), so that the very beginning of "Pampered Grumbler" is identical to the end of "Fashion Destitude".

When Mindflair speed up and intricate their structures, they vaguely remind me of Dillinger Escape Plan a little or other bands in Relapse's roster. On certain occasions, the riffs are not wicked and violent as usual, thus we have almost joyous ones like in "Political Self Service". Other than that, Moshfred's barks CONSTANTLY come straightta ya face in a remarkably violent manner (with particular regard to "Puberty Conditioned Murder Career", Retaliation-like).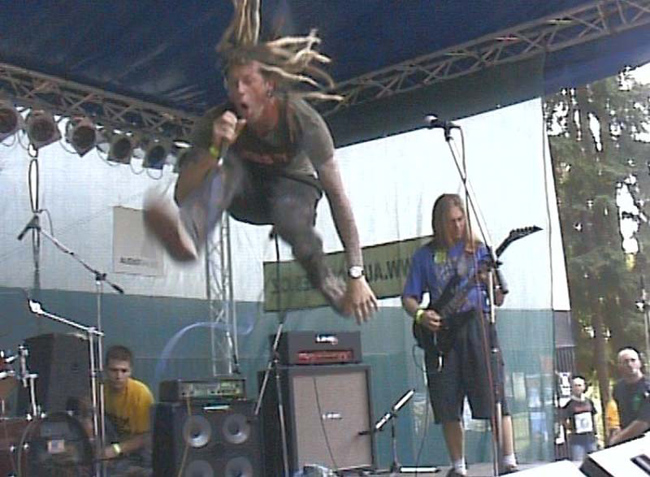 Songs like "No Reason No Fun" and "Fashion Destitude" show off an intensely effective mix between pure HC riffs, grind and even some death metal passages, the funny titled "Ticket Terror" contains vocals who could draw more than a crustcore vocalist's envy; "Despite of Existence" and "Kühle frische Milch" take no prisoners by proceeding all in one go; finally, tremendous proves to be the change in the middle of "Blurred Personality"; as you can see there's plenty of sheer devastation in various forms for all tastes!

I'd really love to see them live, cuz Mindflair are a hella brutal fun act, and there must be good hemp or ganja amongst their roadies and fans circulating; that's why I'm surprised they don't have any live dates planned in - I won't say Christiania's Copenhagen - but at least in the near Amsterdam! Well, maybe in time we'll hear of them opening for Cannabis, ahem, sorry, Cannibal Corpse in the Nederlands, but for now we can be very satisfied with this young band bringing new sap to the Grindcore elite's ears.


MARKUS GANZHERRLICH - 12/11/02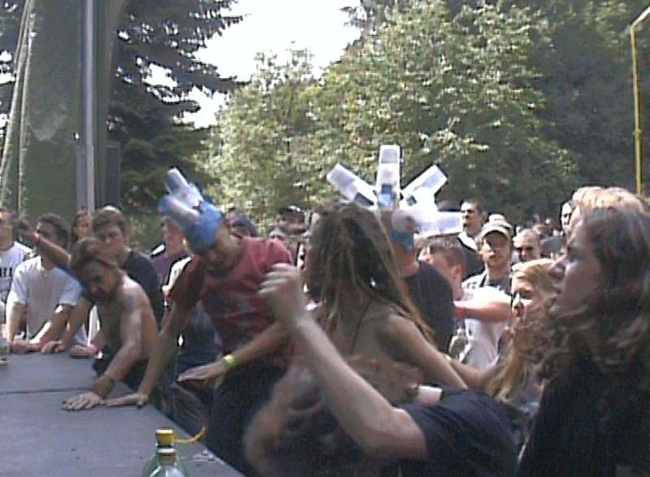 Contacts: Manfred Lahmers, Mannheimerstr. 108 - 67655 Kaiserslautern - Germany
moshfred@web.de
www.mindflair.de.vu


Demo-/Disco-graphy

Demo '96 (1996, sold out)
Demo '97 (1997, sold out)
Demo '98 (1998, still available)
Split-Live-tape w/ Four seats for invalides (1998, still available over NAPALM Recs.)
Split-Live-tape w/ Utopie (1999, still available)
CD's Split-CD w/ Belching Beet (1998, still available over DELIRIA NOISE OUTFITTERS)
Split-CD w/ Running Guts (1999, still available over BONES-BRIGADE Prod.)
10" Split w/ Suppository (2000, still available over PW Prod.)
"NO SPEED LIMIT vol.3" comp. released through CIVILISATION Recs. in 2002
Green Bakery (Oct 2002 - Bones Brigade)