This the 2nd professionist full length of the Roman 5-piece led by brothers Cafolla; usually bands led by brothers always have clear ideas and their baby is a confirmation of this. The tracks are based on an interesting sci-fi concept regarding the dissolving of the long-time friendship between Alan and Jason, both working for a federated multinational; Jason happens to find out the company's secret plans, that is 'Project Insider', an artificial uterus destined to replace women by a virus called 'Insider', so as to give birth to selected children. Alan reveals the details, repented, but is killed, while Jason confined to an asylum and the scandal hushed up by bribing journalist Sharon Kerley, the only potentially troublesome person still alive to be informed about the Federation's aim. Needless to say the story is very realistic and anticipates an unremote future, and I appreciated the fact that there's no happy end, for it reveals that evil has always prevailed on earth and always will, just because the evil are numerically more, much more powerful than the good and the law is in their hands, sad but true.

However, musicalwise the CD offers several shades, starting from the great bass lines of the joyful opener "Friendship", representing the thoughtless childhood days of the 2 friends and protagonists through the theatricality typical of musicals such as the Rocky Horror Picture Show, followed by the vigorous "The Project"; a song owing the Queensryche of "Operation Mindcrime" very much vocal-wise, made precious by a memorable chorus, a superb riff, excellent drum structures and a fine use of crash cymbals and rides.
"Temptation" is an instrumental close to Rush with a pleasant accelerated powerful break and a final time change as good as that. "Never Say Die" mixes the brightest Dream Theater with Christian rock choruses, and things improve with "Eyes of a Betrayer", my favourite; here you have fast heavy metal with a drumming showing traces of Nicko McBrian's style strengthened by power metal injections.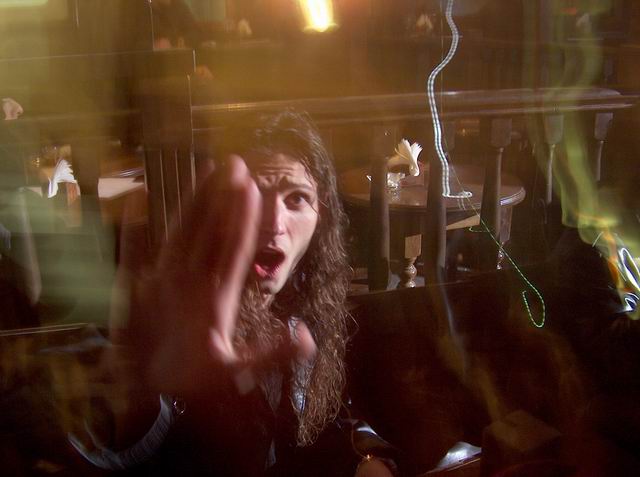 Dark are the notes of the instrumental arpeggio of "Into the Cell", preceding the raw 80's power metal shape of "Lies", at last a really remarkable drumming, skillful Maidenian axe solo, full of highs and lows, great refrains and exceptional vocal hooks, while "The Killing Hand" starts on Savatage's path and then follows the most inspired Queensryche's trail once again; I adore all of Mauro Gelsomini's vocals here included as he uses the full range of his warm and emphatic vocal timbre, and the theatrical choruses too, because they're aggressive this time. It's a long composition exceeding 8 minutes, whose highlights are the central melodic intermezzo (Savatage's ghost looms up), the main strong riff matched with the extremely precise drum work.
It's time for sadness again and the melancholic arpeggio of "Stardust" slowly makes way for a triumphal refrain enriched by a long guitar solo; I'm sure this song will convince everybody, alive or on CD, about Kingcrow's arranging and most of all composing ability. The shores of classy hard rock are touched with "Save Me", entwining the guitars as good as possible. The closure is entrusted to "Finale", starting with an obscure arpeggio that David Lynch would like to utilize as a soundtrack for a hoped "Twin Peaks 2"; this is the most progressive song of the ones here proposed and also the one best representing man's self-destruction, the end of life fading away into the swamps of dumbness; the keyboards are followed by the journalist's words, surrendering to the masters and representing the betrayal with respect to wretched Jason. Should there still be dubious people, skinbeater Manuel Cafolla exploits the web of this song to best show how pathos and technique can co-exist effectively, so fucking cool a hell of a job, man!

Though too joyful sometimes, and cold not because of the recording but owing to the scholasticism the way they often play, I can't find other faults in the band; you can't question their cleverness and I don't care at all if what they play is old-fashioned; to be even clearer I'll say that I expect a 3rd full length with sharper sounds, fatter and heavier drums, and a better pronunciation by the singer; but now let's just enjoy the marvellous vocals, the lively riffs, the top-notch solos, the precise drums and the deep bass lines pulsating, especially the ones in "Lies", which should be taken as a paradigma for the next rehearsal sessions. I feel I do have to recommend "Insider" to all the fans of the genre, since the big efforts made by the label as to the refined production (from the 80's Maidenian guitars to the triggered kick drums), booklet, and the band as for the recording, overdubbing, care for dialogues and concept, are crystal-clear. So thank you both Kingcrow and Consytech, you're not simple performers and I can feel you're doing your job with passion and pleasure.

MARKUS GANZHERRLICH - 02/3/04



Contacts:
Ph.: +39 (0)69995401
E-mail: consytech@email.it
E-mail: band@kingcrow.it
www.kingcrow.it


Demo-disco-graphy:
-Eyes of Memories (demo-CD, 1998)
-Hurricane's Eye (demo-CD, 2000)
-Something Unknown (CD, 2001)
-Matzmariels (3 track promo CD, 2003)
-Insider (CD, 2003)