After 4 years of hard work, here's another chapter of the concept about existance got to the step of adult life. This time the extreme transalpine grinders seem to have made things big, thanks to a great enhanced CD section and a particular care in the booklet graphics as well.
As for music, the co-ordinates are still the same, in that the band doesn't surrender to business and never will! True independent underground music for true underground people, that seems to be their motto.

"No Answer" is a fast in-your-face song where you can already admire and enjoy the huge production put into this record: never have their guitars been so crushing and the drumming so distinct and hammering. "A Trip" is a song that concerns all small bands and like "For Lust", which takes back the theme of the old "Satyriasis", is groovy death with ultra-guttural uneffected scrapings; it seems incredible but it's the truth, so let me congratulate with Christophe for this result, man, what do you have in your lungs? Gimme the name of your puseher, pkease! Such gurglings are destined to excite the envy of bunches of brutal vocalists, trust me! There are also other kinds of extreme vocals and an excellent drum work confirming that Yannick never wants to disappoints us by staying at the same level of the previous record.
Death rattles await you at the beginning of "Blasted (History of a Dive)" before the typical grind attack; really well chosen to represent a safe death situation, where the only human intervention possible is the decision to be made between 2 different kinds of demises.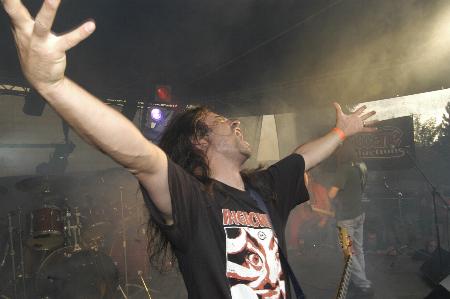 I find the songs more defined and the structures more distinguished in comparison with "Growth", and there's even more variety (consider we're talking of a grind band), as clearly listenable in "Destiny?" or the vicious "Labyrinth", gifted with a great middle riff. "I Want to Kill Some...(Part IV)" is a track longer to write than to listen to (actually consisting of 3 seconds), whereas a very positive example of how grindcore was played in the beginning is the following "Sickness Is the Law". Another gutter vocals come from "Sons of Earth", including other aggressive ones too. This song and "The Fight" displays the best lyrics of all the album: wonderful, straightforward and against the muzzle of close-minded people who consider this society evolved thanks to technology but they don't think about the coldness or loss of feelings and keep their fears low by placing their safety hopes into gods created by few men to enslave the herd exactly like politics does, no matter which side or colour you choose to observe.

A little quality drop is in "N.D.S." and the fast drummed "The Scorpion"; I hope Inhumate won't feel any resentment, but there's something not fully convincing me here, like for example some vocals in the latter and the arrangement of the former, which could've been improved, yet "Thank You" brings the 32-smile on my face again and the thumbs up immediately cause it's a top-notch song, and my mind can skim the perfection of heaven with the extremely intense "Rage"; everybody bow to this song and the follower "One Day", a little early Napalm Death influenced, with an intelligent text as well. The end is entrusted to "Life", which is a part of the show the French had last 2001 when they opened for Sepultura, so it's a good occasion for neophytes to deal with the old stuff for the first time.

As I said music, recording, artwork and attitude are far more than alright, just add that there's a multimedia section about all of their releases, info, CD/demo covers, 40 photos and 3 killer crazy video clips shot at the Obscene Extreme festival, then I think we just can't ask Inhumate for a bigger effort. If only there were 10,000,000 people in the music business working their asses off like them and with the same positive attitude, then the world wouldn't be infested by rockstars anymore and the people who put passion into music (bands, labels, journalists...) wouldn't have to surrender to compromises like doing other shitty jobs to get to the end of the month (like the undersigned). In a nutshell, Inhumate deserve the maximum respect without ifs nor buts.

MARKUS GANZHERRLICH - 2/4/04


Line-up:
Christophe Knecht - v.
David Loessl - g., backing v.
Fréderic Anton - b.
Yannick Giess - d.


Demo-/Disco-graphy:
Abstract Suffering (demo 93, sold out)
Grind Your Soul (demo 95, sold out)
Internal Life (CD 96, Grind Your Soul distro, sold out)
Ex-pulsion (CD 97, Grind Your Soul)
Growth (CD 00, Grind Your Soul)
Life (CD 04, Grind You Soul )
+ lots of compilations, compilation and split tapes)

CONTACTS:
Inhumate
c/o Fred Anton
1, rue du Collège - 67170 Brumath - France
Tel: +33 (0)3 88 68 35 74
E-mail: inhumategrind@wanadoo.fr
www.inhumate.com

Grind Your Soul prod. distro:
c/o Yannick Giess, 4 rue de Remiremont, 67170 Brumath - France
TEL : 00.33.(0)3.88.51.82.43
E-mail: professeur.burp@wanadoo.fr