Brutal grind is miraculously taking on a new lease of life in the fertile region surrounding Strasbourg, and Inhumate represent the top of this phenomenon, bringing on a heptalogy about the concept of life and abolition of time. "Internal Life", the first part of it is an illustration of the antenatal life, "Ex-pulsion" depicts the moment of birth, "Growth" doesn't need explanations and then "Maturity", "The 5th Season", "Death" and "Eternal Life"(concerning mankind's journey through infinity) are gonna follow.

After "I Want To Kill Some...(Part 3)", a pure short grinding blast, the derangement starts with "Underground", powerviolence grind injecting granitical riffs. The Transalpine 4-piece try to space out the genre cliches as much as possible like with "Copyright" (interluded by a psychotic laugh), or "Grind God" (stressing out odd drum times and phlegm expectorations), or even more during "Grind to the Core" (a sort of bizarre groovy grind nu-metal that might perfectly belong to Katklysm's repertoire!).

A strong point in Inhumate's music stands in the utilization of different vocals and voice effects divided bewteen Christophe Knecht (vocals only) together with David Loessl (all guitars and backing vokillz), especially in "Clock", "Vanite?", "Karamazov" and "Satyriasis", alternating growls, aggressive voices, expectorations-like ("The Fright", "Grind to the Core" for instance), and most of all extremely cool 'wash-basin gurglings'.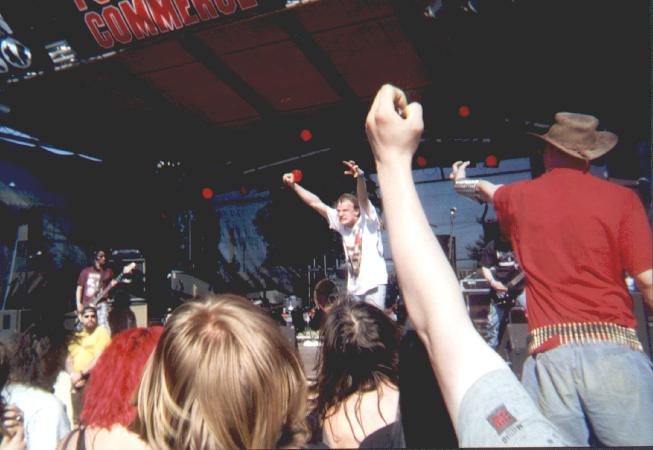 All the album is constantly on high quality levels, however, if I were asked which my fave tracks are the choice would go to the pulsing "Grind God", "Vanite?" - super riffs and sudden mega acceleration -, and "Karamazov", gifted with an ever devastating vocal attack.

Important to be emphasized are also the use of lyrics and song titles in English, French and German, besides a quite clear, yet massive production, in which crushing riff onslaughts are silhoutted, along with frantic grind drum structures, sometimes influenced by Napalm Death's Danny Herrera's, even if Yannick Giess (drums) sometimes seems to have more arms than an octopus (just listen to the ultra fast "Satyriasis"), and it has to be said he does his job with true heart-and-soul commitment, enriching each of the 17 tracks here included.

Of course it's no easy task to write various songs in a style like grind, still Inhumate seem to have achieved this goal till 80%; notwithstanding I'm convinced that if they added a 2nd guitarist, they would exploit their potential at the best.

"Growth" is one of the most valid grind albums I've been listening to in the last years, apart from Hemdale/Exhumed's split, Hameorrhage/Depression's split and Nyctophobic's latest, nevertheless only the French brutish purveyors are so clever to merge UK's old school mid-80's grind with the 2nd generation one, without boring or losing an ounce of malice. Contains a rich 12-page booklet.
RECOMMENDED!!!

MARKUS GANZHERRLICH - 27/10/02


Line-up:
Christophe Knecht - v.
David Loessl - g., backing v.
Fréderic Anton - b.
Yannick Giess - d.


Demo-/Disco-graphy:
Abstract Suffering (demo 93, sold out)
Grind Your Soul (demo 95, sold out)
Internal Life (CD 96, Grind Your Soul distro, sold out)
Ex-pulsion (CD 97, Grind Your Soul)
Growth (CD 00, Grind Your Soul)
+ lots of compilations, compilation and split tapes)

CONTACT: Inhumate
c/o Fred Anton
1, rue du collège - 67170 Brumath - France
Tel: +33 (0)3 88 68 35 74
E-mail: inhumate@ifrance.com
E-mail: inhumate@evc.net
www.inhumate.com