The more and more often naked Ronaldinha's land keeps on giving birth to shitloads of interesting bands, and the name of Distraught immediately goes to make the list longer. Death/thrash and an ounce of power mixed with aggressive vocals and one solo for each song following the pure 80's record tradition is a blend no metal estimator can resist. Wonderful, fast and crackling drums that would provoke a positive acclaim from Dave Lombardo, Gene Hoglan, Steve Asheim and many others complete the picture. Tiago Oliveira has been replaced by Ricardo S. Silveira and I hope the latter can re-play the same parts as his predecessor, like in "Removing the Rubbish", who was a(n in)human machine-gun in "Umbral".

It's true that the title track includes a riff and a structure before the axe solo that remind of the "Beneath the Remains" Sepultura, but it's just for some seconds and it's the only part of the 10 tracks so close to another band; it'd be rather reductive to catalogue them as Sepu-dependant, I hope this is evident, since Distraught are quite personal, as some odd riffs in "Science, Philosophy, Religion" witness.

The 5 guys are a true war machine based on phylosophical and social lyrics, usually ferocious but on some occasions suffering, as in "Umbral". The older fans will appreciate the speed metal rifferama in "Spiritual Reward", a really suffocating and spasmodically tight track.

With the instrumental "The Cut" we can enjoy some evocative quietness minutes, while "Tufão" isn't too fast, yet most devastating as the title suggests. Great riffs and a superb refrain make it the best song ever! The apex of brutality is touched by "Dusty Land", including memorable vocal effects and my favourite lyrics; heard them from a Brazilian band sounds a bit weird to me, and maybe it means there're still people who sincerely feel these problems, while in Europe they're as rare as white flies.

Finally, the closing track "Slaves of Creed" is raw and straightforward in a way that Krisiun, Rebaelliun, Abhorrence and other Brazilian bands have made a popular trademark, before an onirical outro.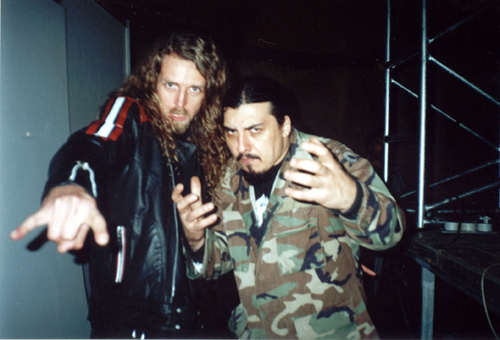 (Distraught and Krisiun)




Power, catchiness and unforeseeable time changes: Distraught's recipe works out so well that I dare to say that if this CD had come out before 1988, these guys would be well-known throughout the whole planet! Did I make myself clear?

MARKUS GANZHERRLICH - 19/12/03




Contacts:
Andre Meyer
Av.Nestor de Moura Jardim 1060 - Bairro Colina, Guaiba - RS - Brazil CEP: 92500.000
Tel./Fax: +51 4801073
E-mail: distraught@bol.com.br or banda@distraught.com.br
www.distraught.com.br or www.distraught.cjb.net


Demo- disco-graphy:
-To live better (demotape, 1990)
-Ultimate encore (Split-CD with 2 SP bands)
-Advance tape (Demo, 1995)
-Nervous system (CD, 1998)
-Infinite Abyssal (CD, 2001 - Encore records)