This is the re-release of the 1992 demo from the Costa Rican act, but the track list is a bit different, there's a bonus and a few tracks from the original demo are missing; moreover, none of the original members appears in the 2009-reunited combo, but we can say that this EP on a limited CD pressing represents 80% what Colemesis were like in 1992.
The lyrics deal with hypocrisy, human misery and corruption mostly, and the recording is clean enough and balanced, yet lacking bottom end, and punch for that matter.

Although they're often defined simply a Death Metal quartet, the truth is that there is much more to be found in here: after the tribal acoustic intro "Otomicosis", here comes "Paralelismo Umano", Death Metal that may occasionally remind Death's "Human" with a Central/South American edge; blast-beats and mid-tempos are cleverly mixed with the bass drawing slow lines and the vocalist growling not too deep but extending his throat emissions longer than average. Extremely interesting are the closing axe solos delivering a Prog touch that elevates the quality of this song.
The title-track is faster and more brutal and may bring something from the early Sepultura to mind, although a bit more technical.
"Hypergeo" begins in an original manner, then blends growls and Black Metal screams, adding top-notch scorching Hard Rock guitar solos that all together were brave enough back then and this is a plus conforming the musicians were young but had strong personalities.
Closer to Kataklysm, "Equilibrio Capital" is opened by a crushing riff, whereas later it proposes a few Rock riffs, a couple of amazing guitar solos and Death/Doom structures with layered growls that make you understand that the Latin group had talented songwriting which went unnoticed when the time was crucial and the competitors too many to emerge; so this and the following demo just landed them to a debut album on a tiny local label, two EPs and the split in 2002.
Finally, the rotten Mortician-like "Outro" is followed by "Maldicion Malinche", a bonus track on a number of occasions straying from the rest of the previous material in a modern way, and sometimes showing a bridge to the past style. Even if more elaborate and displaying Progressive patterns, additional clean female backing vocals, this is the composition that thrilled me the least.

"Viviseccion" is a good start to get to know the four-piece for those who - like the undersigned - missed them in the golden days of Death Metal and may get interested in its second full-length, too.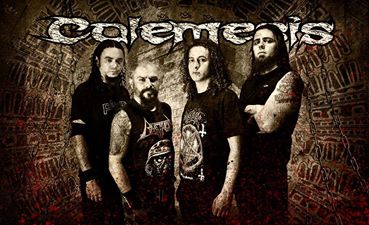 Line-up on this record:
Fabbian Bonilla - v., g. (ex-Muerte, ex-Insepulto, ex-Mantra, ex-Paganus Doctrina)
Michael Mory - b., choruses
Emilio Cortes - d.
Gabriel Morales - lead g. (ex-Corpse Garden, ex-Kaintorment)





Contacts:
Heredia - Costa Rica
E-mail: fabianbonilla@hotmail.com
Official site: https://www.facebook.com/colemesis/?fref=ts





Demo-/Disco-graphy:
-Viviseccion (demo - 1992)
-Postbiosis (demo - 1993)
-Still Oppression Rules (CD - 1995)
-Live Oppression (Live - 1997)
-Colemesis (EP - 1998)
-Jalapenos in Burger Republic (EP - 2000)
-Hombre Pez (single - 2012)
-Peace Was Never An Option (single - 2013)
-Hellritage (CD - 2013)
-Vastamente Profundo (single - 2014)
-Viviseccion (single - 2014)
-Ocaso 2:35 (single - 2014)
-Viviseccion (CD - 2016)