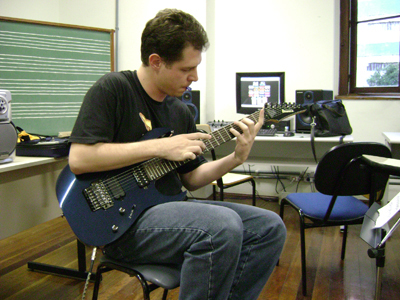 Line-up on this record
:
Carlos Lichman (also in Neverland, X Project) - guitars and bass, keyboard programming on track 11
Rodrigo Cordeiro - drums
Vernon Neilly - guest guitar on track 9
Thiago Marques - guest keyboards
Theodore Ziras - guest guitar on track 8
Contacts:

Porto Alegre (Rio Grande do Sul) - Brazil
E-mail:
carlos@carloslichman.com

E-mail:
carlos_lichman@yahoo.com.br

Official site
:
http://www.carloslichman.com/
He also recorded a guest solo on Brazilian Guitar Player Magazine project called "O Solo é Seu". The solo number is six (rom 4:09 to 4:56). Check link below:
http://profile.myspace.com/index.cfm?fuseaction=user.viewprofile&friendid=430605046
He also participated the TV show Bigorna Na TV:
http://bigorna.tv.br/
Order Firestorm CD using the links below:
Guitar Euro Shop:
http://www.guitareuroshop.com/catalog/carlos-lichman-firestorm-p-1112.html?osCsid=ece217c92989c17846d5eb687e5d56ed
Die Hard:http://www.diehard.com.br/lojaweb/detalhes.asp?codprod=19419
Boosweet Records:
http://www.boosweet.com/merchant2/merchant.mvc?Screen=CTGY&Category_Code=Lichman
Music Gate:
http://www.musicgatebrasil.com/produto.php?id=204
Guitar 9:
http://www.guitar9.com/firestorm.html
Fret Tunes:
http://www.frettunes.com/title.php?t=firestorm&i=98
Demo-/Disco-graphy:
-Planet Rock (Single - 2003)
-Intense Guitar Playing (EP - 2005)
-Celebrando Mozart (Live DVD - 2006)
-Contramão (Compilation CD - 2007)
-Firestorm (CD - 2007)
-Rock Soldiers (Compilation CD - March 5th, 2009)
He also recorded a guest solo in the project "O Solo é Seu" from brazilian Guitar Player Magazine.
The lead guitar is from 3:09 a 3:32. Listen to it here:
http://www.myspace.com/revistaguitarplayer
-Genocide (CD - 2010)