Metal innovators Candiria are amongst the first to have massively unleashed thick doses of metal along with a bunch of several diverse genres, taking back the inheritance given by Faith No More, Red Hot Chili Peppers, Beastie Boys, Voivod, Bad Brains, Suicidal Tendencies, Living Colour, Bad Brains, and the likes, tho in a much heavier direction than the previous cited bands, kinda like Mr. Bungle or Naked City, even if they play different, and that's why I consider them as an incredible secret to the mainstream metal world.

Actually, under the monicker of Candiria who recorded this double CD are a great deal of musicians, graphics, rappers, poets, filmamakers, record producers, web designers and performance artists making it seem like a rap band where the known important musicians are 3 or 4, while the whole 'family' is constituted by many more; for example the 1st disc includes songs from the long outta print 2nd LP "Beyond Reasonable Doubt", gifted by a new remixing, remastering, bass parts by ex-Merauder Michael MacIvor, new additional guitar parts by John LaMacchia and new supplementary vocal parts by Carley Coma.

The C.O.M.A. Imprints is the vehicle for 360° Candiria's creativeness (C.O.M.A. stands for 'Children of Mental Awareness'), and the alliance with Lakeshore Entertainment and its first class record and film divisions provides the C.O.M.A. Imprint a unique position in the indie record world. To name a few of the huge results achieved, a Candiria's song recently appeared in the climactic scene of Lakeshore Picture's feature film "The Mothman Prophecies" with Richard 'fucking' Gere!; moreover, MTV news lately showed a 4 minutes' "You Hear it First" segment, "Without Water"'s video has been added to the hard rock playlists of MTV2 and Much Music, lots of enthusiatic reviews were published by Kerrang, Rolling Stone, La Weekly, and Candiria was a highlight of Asia's first metal festival, the Beast Feast in Yokohama (Japan), sharing the stage with Pantera, Slayer, Sepultura and over 30 other big bands.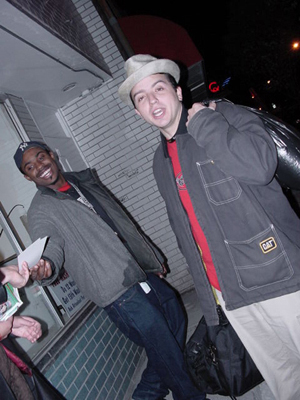 As to the music, the 1st CD starts with the bizarre metal with rap vocals of "Paradigma Shift"(splitted in 6 chapters), which early Voivod-like distorsions are set on along with angry or psycho vocals, not far from murder metallers Macabre's; then you have jazz passages, others absolutely outa mind, more than No Means No/Hanson Brothers; death vocals, nu metal structures and that's only the first track!!!
"Year 1" presents the same characteristics of the previous song, but also has some death metal riffs, pissed off Hardcore vocals, deign of the best Dillinger Escape Plan ( band they know quite well after the 2002 U.K. and rest of Europe tour along with Raging Speedhorn and Clutch too), under which we hear piano phrasings. "Peel This Strip and Fold Here" is a powerful instrumental jazz composition reminding the (not only Italian) 70's prog rock geniuses, after which razorblade guitars are innested, before the track becomes jazz again and finally a little space rock.

"Faction" is not only tight hardcore/metal; it contains so many time changes and manifoldnesses that it'd be wrong and boring to mention them all. Let me just tell you that jazz recurs again here later and the voice here is, to put it lightly, STUNNING!
You'll find energetic rap and metal in "Bring the Pain/Multiple Incisions", a cover version of a song origianlly written and performed by Prince Rakeem "RZA", glued to a 2nd song composed by Candiria for this occasion. "Riding the Spiral" is the intro to "Tribes", an irresistible blend of tribal percussions, crushing guitars and vicious vocals. Sepultura should dig it very much. In the end the percussions slow down and the vocals become hip hop before some lonely goodbye-waving trumpets. Similarly in "Primary Obstacles" (aggressive metal, jazz intermezzoes, trumpets and rap vocals), while "Molecular Dialect" is simply indecipherable and impossible to describe, followed by "Divided", a sorta modern metal onslaught in the vein of Stuck Mojo melted with jazzy elements. Didgeridoos stand out in "R-Evolutione-R", before - after 2 minutes - the drums come out together with a melodic guitar, leading us to the moment in which the keyboards become protagonists in a delicate way; finally, the closure is on the notes of a solist guitar.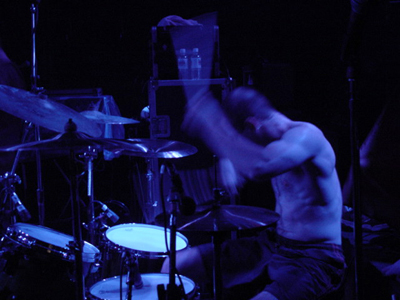 The 2nd CD features 6 songs excerpted by compilations or CD's:
"Blue Suede Timbs" is by Carley Coma, I'd define it noisy rap, just to give an idea. Comes from the "Coma New York - Lyrical Assassination- Volume 1" compilation.
"Collective Unconscious" is from John LaMacchia's "The Moons Project": synth-based music: from the classic EBM imprint to trip hop, lounge, all top-notch; in the end there's also room for nice bass lines. Another track from the same CD is "Hypnotic Oceans", pleasant too but more commercial than the other song.
"That Which Survives" and "Richard Dreyfuss" are from the "Ghosts of the Canal" CD, so check out the corresponding review.
Kenneth Schalk presents us his "Let the Mic Go" from the "Coma New York - Lyrical Assassination- Volume 1" compilation as well; here you get some rap again with diverse bases, dinamic and fresh.


Different from Mr. Bungle, weirder and more lunatic than Voivod, more involving and daring than Melvins, proud of an EXCEPTIONAL production and a detailed cool artwork, the world has to stand a new bombastic blow by these avantgarde musicians destined to enthrone with Naked City and stay there long. And don't you try to call it a CULT band only, Candiria are pioneers and music heroes; they could play nu metal or latest Metallica metal/rock, but, no way! It's not they're allergic to money, it's just that they prefer to gain popularity and lasting success without renouncing their integrity. I really don't know what more one can ask of Candiria.

MARKUS GANZHERRLICH - 19/03/03


Contacts:
www.candiria.com
www.lakeshore-records.com