May
Belgian death/thrash band EDGECRUSHER is finishing their second CDemo >'Impressions of Mankind', featuring God Dethroned's drummer Ariën Van >Weesenbeek. The album will be released in June and only 300 copies will be >made. For more info/bookins/interviews, please contact us through >www.edgecrusher.be." >BIOGRAPHY >EDGECRUSHER was created early 1999. The line up consisted of JO (guitar), >Sientje (drums) and Freddy (bass). To make it >more interesting and to get a bigger sound by doubling some guitar riffs, >ISAAC (guitar) joined the band in the summer of that >year. A couple of months before the recording of their first CDemo "Damnatio >Memoriae" back in 2000, EDGECRUSHER >finally found a singer. Not only did DAVY (vocals) a good & hard job on the >demo, but he also released it on his own label SOLAR >RECORDS. Meanwhile Freddy decided to leave the band, as he was more into >oldschool hardcore. A couple of weeks later Thijs >(bass) joined us and was ready to rock. >EDGECRUSHER started to make new songs, which sounded more death/thrash and >less hardcore/thrash. It seemed JO and >ISAAC suddenly found the right track. This led to more powerful songs and >better structures, of which Impressions Of Mankind >is the result. Due to personal problems, Sientje left in the winter of 2001 >and the search for a new drummer began. In the meantime >Michael (who was their sound engineer for the first CDemo and for the gigs) >helped them out. But since they already had the plan >to record the new stuff, ISAAC contacted GOD DETHRONED's drummer ARIËN to >play drums on this demo. Drums were >recorded on juin 8th 2002 in the Trax Audio Recording Studio in Ghent, >Belgium. And because of a lack of dedication, >Thijs was fired a couple of weeks later. >The intention was to record the bass, guitars and vocals on the computer at >home, but as the guy who'd do the job had lots of other >things on his mind, EDGECRUSHER still decided to go to MICHAEL's studio. >After a lot of months, problems and frustrations, >we started the recordings in february and finished them at the end of april >2003. The songs still need to be mastered. >Right now EDGECRUSHER is already writing new songs in the manner of >Impressions Of Mankind and they are looking for an >acceptable record and distribution deal & gig offers in the European >underground scene. They still havn't found a drummer with >ARIEN's skills, but if the God Dethroned scedule allows it, EDGECRUSHER >would do a couple of shows with ARIEN. > > >SALESPOINTS >* all bandmembers used to play in other underground bands before and >consequently have a lot of experience >* though we all listen to different music, EDGECRUSHER is coherent in their >musical style. This explains why the line up has >changed so many times; the sense of belonging and the music itself take >priority >* ISAAC and ARIËN are students at the Pop Department of the Rotterdam >Conservatory; they know where to pay attention to >* Since the booklet of the first CDemo ruined us financially and wasn't what >we expected, JO and ISAAC spent hours on the >artwork of IOM; also the official website adapted for the new album. > > > >Let me know if you've add this to your zine and if you want a demo to >review. >Thanks in advance for the support and take care! > >Sincerely, >fingercrusher Isaac >(by the way, www.edgecrusher.be will only be available from next week on... >we forgot to pay the bill. Hehehe...) > >-- >Isaac Delahaye >Maarschalk Haiglaan 72 >B-8900 Ieper >Belgium >0032(0)474/329864 >info@isaacdelahaye.be >http://www.isaacdelahaye.be


OBSCENE extreme 2003 - 10.-11.-12. July 2003 in TRUTNOV - Czech rep. MACABRE (Usa), DEAD INFECTION (Pol), CRIPPLE BASTARDS (Ita), OBSCENITY (D), INHUMATE (F), CENTINEX (Swe), DENAK (Spa), PERVERSE (Pol), INTERNAL SUFFERING (Col), SANATORIUM (Slo), KATAFALK (Hol), BOWEL STEW (Ita), COREY (Ita), FUBAR (Hol), CROPMENT (Swi), RZEZNIA (Pol), SPACE TO BEING (Cz), MASTIC SCUM (A), WHO IS MY SAVIOUR (D/Bra), RESURRECTED (D), DESECRATION (Wales), ABADDON INCARNATE (Ire), PIGNATION (Pol), GRIMNESS (Ita), FLESHLESS (Cz), PUTREFY (Ire), NEURAL BOOSTER (Hun), DIABOLICAL (Swe), PORTAL (Swe), ISACAARUM (Cz), INGROWING (Cz), LYCANTROPHY (Cz), NEUROPATHIA (Pol), INCARNATED (Pol), MEATKNIFE (D), MALIGNANT TUMOUR (Cz/Hol), WELKIN (B), KRUSH (Hol), DESTROYING DIVINITY (Cz), INHUME (Hol), BILE (Hol), PURULENT (Col), AHUMADO GRANUJO (Cz), CEREBRAL TURBULENCY (Cz), LANIENA MENTIS (Cz), PROTEST (Sk), & more... info >>> www.obscene.cz






Cruachan... will be attending a Metal Convention in Belgium on the 25th of May. Keith, Karen and John o' Fathaigh will be there to sign autographs and to answer questions on the new album and an important change in the line-up. For more information on the Metal Convention check: www.metalorganisation.be. For more info and tourdates on Cruachan check: www.cruachan.cjb.net Divercia... are currently building their own recording studio and the band is working on demo-versions of their new songs. Furthermore Divercia recruited a new drummer in the person of Petri Eklund (former member of Violent Solution). For more info and tourdates on Divercia check: www.divercia.com Dimension F3h... the debut-album "Reaping the World Winds" just being released, mastermind Morfeus already started the pre-production for the next album. Besides the band will play the Elements of Metal Festival in Sandefjord (Norway) on the 23rd of August. For more info and tourdates on Dimension F3h check: www.dimensionf3h.com Hearse... latest news from the Hearse-camp is that the band started working on new material. Furthermore the band is planning a Benelux mini-tour, probably in September. For info & booking on this mini-tour contact Tjerk at Loud Noise Productions : tjerkmaas@home.nl. For info and tourdates on Hearse check: www.medlem.spray.se/hearse Mercenary... will head to the States in September where they are invited to play this years Prog Power Festival in Atlanta (with a.o. Nightwish, Evergrey, Symphony X). Besides the band will play the Elements of Metal Festival in Sandefjord (Norway) on the 23rd of August. On top of that Mercenary is about to record the vocals for their new, yet untitled album. For a studio diary and more info/toudates on Mercenary check: www.mercenary.dk Necrophobic... the Swedish satanic Death Metal horde plays the Fuck The Commerce Festival on the 29th of May in Germany. For more info and tourdates on Necrophobic check: www.necrophobic.net Primordial... will be playing a lot of festivals this summer. The band is already confirmed for Party San Open Air, Summer Breeze and Wave Gothic Treffen in Germany. Besides the band is preparing the re-release of their demo 1993 (and bonusmaterial). Last but not least Primordial will support Paradise Lost on their Dublin-show. For more info and tourdates on Primordial: www.primordialweb.tk Satariel... the band is busy writing new material for their upcoming album "Hydra". For more info and tourdates on Satariel check: www.satariel.com Thyrfing... will replace Amon Amarth at the 2000 Decibels Festival in Bengtsfors, Sweden. The festival will take place on the 17th of May and other acts on the billing are Candlemass, Pain, Vintersorg, Clawfinger and many more. For more info and tourdates on Thyrfing: www.thyrfing.com

April
Cd's soon out: Grave Digger, Empire, Sinister, Secret Sphere, ZZ Top, Passenger, , Brazen Abbot, DSG, Skinless, Vital Remains (W G.Benton on voc.), Entombed, Zyklon, Usurper, Goatwhore, Sepultura, Callenish Circle, Dysrhythmia, Force of Evil, Josh Todd, Kreator, Willow Wisp, Al Atkins, Tragik, Razamanaz, Klimt 1918, Rain Paint, Forgotten Sunrise, Circle II Circle, Forest Stream, Led Zeppelin (live), Bloodflowerz, Stryper, Quireboys, Emerald Rain, Royal Hunt, lamb of God, Lynch/Pilson project, Vanishing Point, Mörk Gryning, Bon Jovi, Joe Lynn Turner, Star 1, Mystic Prophecy, Type O Negative, Goldbrick, Liquid Sunday, Edguy, Faro.

Hate Eternal: had a car accident back from a gig in Wisconsin. Only Rutan got some vertebra damages.

Mayhem: during a gig in Bergen they were ripping a sheep on stage, the head detached from the vocalist's knife and hit a 25-yr-old boy; Mayhem are risking a 6-month-arrest, and promised to give the boy free tickets for future shows...

Impaled Nazarene/Finntroll: Teemu "Somnium" Ralmoranta (born on 19.5.1977), guitarist of both bands and ex-Thy Serpent, Barathrum and Utuk Xul died in Helsinki on 16.3.2003 in an alcohol-related falling accident.

DISSIMULATION Maras LP March 13th 2003 debut album of blasphemous Lithuanians is finally out on LP. Maras is pressed on golden vinyl and comes with exclusive cover art, once again masterly executed by Roswa as well as lyric sheet with translations. Maras LP is limited to 333 hand-numbered copies only, so - be quick or be dead. Maras T-Shirt First ever T-Shirt of Dissimulation meanwhile is under designing stages. Ledo Takas hopes to present the clothes to the public in late spring. There are some details we would not like to speak much right now, but it might be that shirts will be pressed in two versions [maybe with different design], one of which will be quite a revolution [sic!] for a shirt printing market in Metal circles. Dissimulation live March 11, the band has presented Maras live in a yearly traditional show to hail the restoration of Lithuanian independence. the band played together with Obtest, Eudine Seythe, Loits and Diktatura. April 11 Dissimulation will present Maras live in Riga, Latvia, sharing the stage with Count De Nocte [Finland] and Preternatural Flaying [Latvia]. Dissimulation European tour is in works for September/October 2003. All interested parties should get in touch for details or keep checking the Ledo Takas website. Dissimulation talk Read the Vampire webzine interview with Stabmeldys here.
OBTEST Tukstantmetis LP March 21st is the date when the first album of perhaps the most acclaimed Lithuanian heathen war metal band is out on vinyl, for the first time ever. Earlier released on tape and CD, Tukstantmetis is too classic heathen/black metal record to remain "vinylless". Ledo Takas puts it out on exclusive picture disk with redesigned artwork and remastered sound! 12"record is limited to 333 copies only, so move your ass in order to get it in time! Auka Seniems Dievams tape version At last, Fatal Ecstasy Productions from Belarus have issued the tape version of latest full-length studio album by Obtest! This edition is totally pro-manufactured with coloured inserts, including English translations of lyrics and great sound quality. Ledo Takas has licensed this deal for worldwide distribution of tapes, so all those interested in carrying the thing should get in touch directly with Fatal Ecstasy. Dvylika Juodvarniu pic. 7"EP Finally, official news about first ever Obtest material after Auka Seniems Dievams album. Ledo Takas is proud to announce the renewed deal with the band, the result of which is upcoming picture 7"EP Dvylika Juodvarniu. It is a special release with exclusive material dedicated to the memory of Martynas Meskauskas [RIP], close friend of Obtest and eternal brother in arms through out all these years. It is Martynas' hand that painted Obtest logo, it is his spirit that was, is and always will be behind Obtest. The band has dedicated one track to Martynas, and will record Anubi cover song in addition which will be featured on this 7"EP. No release date has been settled yet. New album prospect Obtest are still writing material for their third yet untitled record that is scheduled for autumn release via Ledo Takas. From the rough material that is circling around the rehearsal room it is evident that it will be the best Obtest album to date, and Ledo Takas will put all the efforts available to make it the best produced label's album so far. Obtest talk Read the Vibrations of Doom webzine interview with the band here
LOITS New signing on Ledo Takas Records Estonian Black Metal crew with a patriotic WarShiping attitude, namely Loits! They have been around for quite some time already, putting out tapes and self-released CD-R's with excellent music that has been gaining much of praise in Baltic States as well as outside. Loits have been participating in most of the Metal festivals and tours in Baltic States through years. Ei Kaheste Midagi demo has sounded good enough to propose the band a 7"EP deal. Four new tracks go under the name of Legion Estland, which Ledo Takas will release in limited edition of 658 copies later this year.
THOU ART LORD DV8 vinyl to be out on Ledo Takas Records We are very proud once again to announce a new release under our evergrowing "Hellenic branch" of the label: the cult of Thou Art Lord has bound their Satanic majesties with Ledo Takas! Active participants and co-founders of the Greek Black/Death Metal sound are back with a new album after many wasteful years! It is called DV8 and released on CD under the banner of Black Lotus Records. Ledo Takas has licensed the DV8 album for exclusive vinyl edition, later in the year. For those unfamiliar, Thou Art Lord have always been the demon-offspring of The Magus [Necromantia] and Sakis [Rotting Christ]. They have done two albums in early/mid nineties in order to burn out straight after, yet the Lord was re-awaken again in 2002! This time with superb addition of Set on vocals and Akis on drums [both - Septic Flesh]! Needless to say, the new album has turned out simply a masterpiece of Hellenic Black/Death Metal, easily the best they have ever done. No wonder having in mind those incredible deliveries by Rotting Christ, Necromantia and Septic Flesh in form of their latest albums. HORNA Risti Ja Ruoska 7"EP has got an incredible response in the Black Metal underground and has been literally sold out in few weeks. Still few copies are left for direct sales from Ledo Takas.
NECROMANTIA New shirt It has been in production for months, and seems like another curse has taken over this item! People behind the production of Cults Of The Shadow shirt claim it was sent our way weeks ago, but we still wait it to appear over here. Brand new exclusive Necromantia shirts were designed with fragments of IV: mAlicE CD design, and come now in limited edition of 100 copies, including all sizes from S to XXL. We'll keep you posted when shirts are here and available to order.
Ledo Takas Records release schedule: LETA 008 LP/TS DISSIMULATION [LTU] Maras LP/TS out now!! LETA 010 LP OBTEST [LTU] Tukstantmetis LP out now!! LETA 011 EP LOITS [EST] Legion Estland 7"EP spring/summer 2003 LETA 012 EP OBTEST [LTU] Dvylika Juodvarniu 7"EP spring/summer 2003 LETA 013 LP THOU ART LORD [GRE] DV8 LP spring/summer 2003 LETA ??? LP/CD/TS OBTEST [LTU] tba 3rd LP/CD/TS autumn 2003.

March

Gospel of the Horns + In Aeternum + Razor of Occam:
09th May - Holland / Bladel / Pazzop * 10th May - France / Paris / Locomotive 11th May - Italy / Voghera / Thunder Road ** 12th May - Serbia / Belgrad / Dom Omladine 13th May - Hungary / Budapest / Trafó club 14th May - TBA 15th May - TBA 16th May - TBA 17th May - Germany / Kobelnz / Headbnagers Festival *** 18th May - Belgium / Ghent / The Frontline 19th May - traveling day 20th May - Finland / Helsinki / Semifinal 21st May - Finland / Kuopio / Laituri 22nd May - traveling day 23rd May - Germany / Berlin / K17 24th May - Germany / Bitterfeld / Festung club **** 25th May - Poland / Warsaw / Przestrzen Grafenberga * with MARTYR ** with DISMEMBER & HANDFUL OF HATE ** *** with NIFELHEIM, PENTACLE, URN, ANGELWITCH & MORTUARY DRAPE **** with DESTROYER 666 -----------Another news I want to announce is Razor Cross Europe Tour planned for September 2003 with: SHINING BLOODLINE URGEHAL Shining will be performing on the tour with Hellhamer on drums. Bloodline is a new band of Mr Nattefrost of Carpathian Forest featuring Aborym and Diabolicum members. The band will be promoting their debut album for Selbstmord Services. There's also officially confirmed that Bloodline will be playing live tracks from both: Carpathian Forest and Aborym...!!!


Severe Torture + Deeds of Flesh + Hate Eternal + Dying Fetus:
04.09. London - Underworld (UK) 05.09. Bradford - Rio (UK) 06.09. Dublin - Music Club (IRE) 07.09. Milton Keynes - Pitz (UK) 08.09. Colcester - Soundhouse (UK) 09.09. Paris - La Locomotive (FRA) 10.09. Essen - Zeche Carl (GER) 11.09. Munster (Breitefeld) - Live Arena (GER) 12.09. Eindhoven - Effenaar (NL) 13.09. Vosselaar - Biebob (BEL) 14.09. Groningen - Vera (NL) 16.09. Hamburg - Markthalle (GER) 17.09. Berlin - K17 (GER) 18.09. Warszawa - Proxima (POL) 19.09. Praha - Black Pes (CZE) 20.09. Engelsdorf - Hellraiser (GER) 21.09. Vienna - Arena (AUS) 22.09. Budapest - Kultiplex (HUN) 23.09. Ljubljana - Metalkova (SLO) 24.09. Milano - Transilvania (ITA) 25.09. Cesena - Vidia (ITA) 27.09. Athene - Ann Club (GRE) 28.09. Thessaloniki - Hydrogios (GRE) 30.09. Pratteln - Z7 (CH) 02.10. Irun - Tunk (SPA) 03.10. Madrid - Caracol (SPA) 04.10. Barcelona - La Capsa (SPA) 05.10. Murcia - Moloko (SPA) 06.10. Porto - Hard Club (PT) 08.10. Perpignan - Crock More (FRA) 09.10. Villeurbanne - CCO (FRA) 10.10. Amneville - After Club (FRA) 11.10. Rotterdam - Baroeg (NL) 12.10. Rijsen - Lucky (NL)

Metallica: Robert Truilljo is the new bassist player.

Bon Jovi: visit www.davidbryan.com, their keyboardist's site, containing new pics, press clips, home videos, updates and an exclusive merchandising line.

Kiss: Gene Simmons is looking for talents for his exhumed Simmons rec. (which was distributed by major RCA/BMG in the 80's). Teenage pop bands and original rock bands can send a package to:
Simmons rec. - Po Box 15097 - Beverly Hills, CA 90210 - USA.

Iron Maiden: working on their 13th CD at Brave New World's same studios, i.e. Kevin Shirley's 'Cave' since January; the CD is to be out around June and will feature the following pecularities: 2 songs are over 9 minutes, and the album will also include Nicko McBrian's 1st song; an epic song by Gers will show lyrics about a France's special religious period, confirming Bruce's love for history; on this album we'll also listen to Steve Harris playing acoustical bass. The album will also be released as a DVD with a 5.1 mixing!!!

Dimmu Borgir: in studio for the follower of 'Puritanical', they've hired Prague's orchestra (as fashion demands nowadays).

Mötley Crüe: reprinted all of their 11 albums with bonus tx + 2 DVD's are out these days + Nikki Sixx's book, "The Heroin Diaries", is about his life between X-mas 86 and 87's, including the underhand intrigues during the recording of 'Girls, Girls, Girls', the tours, the front page on Rolling Stone, the O.D's and arrests.

Ex-Morbid Angel/Acheron/Nocturnus Mike Browning has ended the recording of a demo with After Death.

Exodus: Steve Sousa is back in and will record with'em the new CD out for CCC rec.

Arcturus: Garm (aka Tricky G) has announced the band's split by assessing it not serious enough, so as to dedicate himself to his own Jester rec.

Speed Kill Hate: this is the name of a new old-school thrash project feat. Dave Linsk, Derek Tailer, Tim Mallare (ex-Overkill), and singer Mario (ex-Anger on Anger)

Ufo/Schenker: the history between MS and UFO is more and more similar to the old one between Liz Taylor and Richard Burton! The axeman is again out of the band and Paul Chapman is back; we'll wait & see what'll happen after the good 'Sharks'...

Guns 'n' Roses/Steelheart: singer Michael Matijevic is preparing a soloCD and working on a side-project along with Slash, Izzy, Duff and Matt Sorum.

Threshold: have just recorded an acoustic CD for the fanclub only, including 2 very early tracks dating back to when they still had never been signed!

Crimson Glory/7 Witches: their ex-voc. Wade Black is working on a band called Tiwanaku together with ex-Nocturnus's bassist-voc. Emo Moweri and Iced Earth's drummer Richard Christy.

Cd's soon out: Manes, Kickhunter (Ex-Helloween), Circle II Circle (Ex-RATM), Cradle of Filth (Black Metal with raspy/growling vocals meets Slayer), Agent Steel, Soilwork, Entombed, Gorgoroth, Sinister, Deeds of Flesh, Stromrider, Enthral (with Martin Skywalker as a guest), Sodom (live), End of Green, Alchemist, Ballistic (Ex Jag Panzer, Wardog), Byfist, Fear Factory, Cryptopsy (live), Paradise Lost (live), Aeternus, Steel Attack, Fairyland, Gamma Ray (2 live CD's), Chinchilla, Dark Moor, Cydonia, Edguy (100-minute-long-and-40-page-enriched live CD), Bob Catley, Mystic Prophecy, Stryper (best of + 2 new songs), Skid Row (DVD with unreleased stuff), Black Label Society, Magellan, Powergod, King's X, Guardians of the Flame.

February

Strana Officina: Guitarist Marcello Masi (also in Bud Tribe Band) died last month.
Visit www.masimusic.net

T-Rex: drummer Mick Finn died last 11/01 for unknown reasons.

CD's soon out: Battlelore, Ahrcana, John Arch, Runemagick, Mental Home (new sensation from Russia, also including a cover of Depeche Mode), Black Label Society, Backdraft, Saigon Kick, Manegarm, Tenet, Circle of Dead Children, Infliction, Gotthard, TNT, , Ken Tamplin, Lamb of God, M.O.D., Susperia, Destruction, Lullacry, Tourniquet, Fire Trails, Rosae Crucis, Tree of the Sun, Enslaved, Concerto Moon, Rikki Rockett, Sonata Arctica, Ephel Duath, Dismal, Edenbridge, Voivod, Sinister.

January 2003

1. KRIEG in New Jersey! 2. Blood Fire Death label news 3. Bethlehem CD rom 4. Dark Fortress release party/gig! 5. Baphomet 6. Look into the Mirrorthone 1. Krieg live KRIEG took care of Northern New Jersey on a past Saturday eve alongside BLACK WITCHERY, ALGOL & WOMB. The new KRIEG album is recorded and will again be issued by Red Stream in early 2003. > 2. Blood, Fire, Death will vomit forth (in order of release): > > Lugrubrum's "De Totem" CD. This is a Belgian alcoholics dream! "De Totem" is a long out of print homage to evil, midgets and Darkthrone! Lugrubrum creates music for sick minds, out of their own mental illness! > > Finland's Pest and their one and only CD "Hail The Black Metal Wolves of Belial" will be released on BFD in early 2003. These guys really are Black Metal Wolves (and members of Satanic Warmaster). > > DEBAUCHERY's debut, "Dead Silent Scream" which is a sadistic Black Metal assault-glorifying the total worship of death. 3. Bethlehem CD-rom The apocalypse-sons Bethlehem issue shortly their "Suicide Radio" interactive CD-rom with video clips, remixed songs, photo gallery flash animation, discography and more. The band is also writing an entirely new album that will be released on Red Stream. It is said to be a combination of all known Bethlehem styles. 4. Dark Fortress release party/gig! Dark Fortress prepares to release Profane Genocidal Creations with Sear Bliss and Cirith Gorgor at their release show/party! This show will take place on February 15th, in Landshut, Germany. 5. Baphomet Baphomet prepare to release the following batch of blackness: Eternal Silence's CD. This band composes majestic and atmospheric Black Metal from the snow filled landscapes of Norway! Svartpest's debut CD. Svartpest is sexcellent Norway Viking Metal debut by two NECROPHAGIA members (Fug & Frediablo). Soul Forsaken's "Tales of the Macabre" which is aggresive and brutal melodic metal by Fug and Frediablo! 6. Look into the Mirrorthone Red Stream will release the debut CD of Mirrorthrone from Switzerland. The aim of Mirrorthrone is to create a music that is bearer of feelings allowing dream and imaginary but also reflection and introspection, without being prevented by any limit. All tempos are used, from a kind of ambient music that might remind Arcana to a never equalled violence and speed of Extreme Metal. One can sometimes feel some Heavy Metal influences but the dominant point is the symphonic aspect. The work was mostly based on melodies for the programming of classical instruments but also for the guitars and the voices. Thus, the music has an aura of magical and mystical strength that freezes, makes shiver and travel through icy landscapes.

Cd's soon out: Darkthrone, Ken Tamplin, God Dethroned, Runemagick, Stigmhate, Thunder, Dream Evil, Narnia, To/Die/For, Fu Manchu, Racer X, John Sykes, Entombed, Apocalyptica, Lullacry, Blazing Eternity, Gorgoroth, Mark Ferrari, Usurper, Stryper, Firehouse, Crush40/Sons of Angels, Finntroll, Queensryche, Osy, Firefly, Omen, Haunted, Diamond Head, Blaze Bayley, Gotthard.

December

Cd's soon out: Supared, Drive, she said, Johnny Lima, Dragonspoon, Anthrax, Apocalyptica, Great Deceiver, Gathering, Tyrant Eyes, Seraphim, Talisman, Dream Evil, Zodiac Mindwarp & the love reaction, Darkthrone, Leadfoot, Arena, Nostradameus, 7 Witches, Sea of Green, Antropofagus, Ancient Rites, Beyond dawn, Katafalk, Crustacean, Circle II Circle, Lord Belial, Kamelot.

Gorguts: drummer Steve MacDonald, killed himself after fighting for years against manic depression.

Confessor: the band's reformed and is about to record new material. Meanwhile, earache's assembling a CD with old live (Gods of Grind tour) & studio songs.

The Irish masters of melancholic & epic Dark Metal... - PRIMORDIAL - finally on European Tour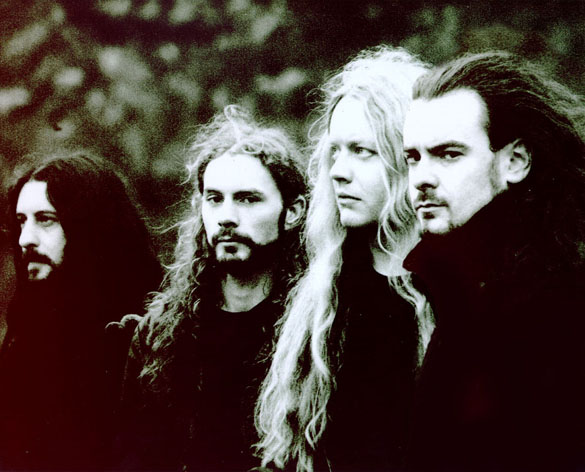 November

Aborym: ex-Mayhem singer Csihar Attila Gabor arrested in Italy because found with 158 ecstasy pastils hidden in sandwiches to push.

Dissection: out on 17th Feb. with "Live Legacy", CD containing their 96 show in Wacken. They're also working on new stuff with Faust behind the skins.

Marduk: their next CD has been titled "World Funeral" and was recorded with P.Tätgren at the Abyss. On Jan. also a single out feat. Possessed's cover "Phantasm".

Amorphis: their new song "Kuusamo" will be used in the soundtrack of the film "Menolippu Mombasaan".

Michael Kiske: out on Jan. with his project Supared.

Mike Tramp: has started the recording of his next solo-CD at Copenhagen's legendary Sweets Silence Studios together with as legendary Flemming Rasmussen.

Raw Power: the old Italian HC/Metal band lost Giuseppe Codeluppi because of a heart attack last 6th Oct.

Suidakra: are looking for a new guitarist; if interested mail to: contact@suidakra.info

RATM/NIN: vocalist Zack de la Rocha has recorded some trax with T. Reznor for his solo album.

Buckcherry: their ex-singer, Josh Todd, has started a band named Shotsfired.

Bal Sagoth: their new CD will be recorded by the end of 2002 and the cover will be by Martin hanford, one of the UK's most popular fantasy artists.

Altaria: is the name of Sonata Arctica's guitarist Jani Liitmatainen's solo-project, out in the early 2003 and temporarily titled "Invitation".

Agathodaimon: the songwriting of their new CD is going on, but Romanian singer Vlad is out, because of his decision to move to the USA and devote himself to other music styles.

Jon Olive: is working on a solo CD between Beatles and Black Sabbath.

Without face: have moved from their Hungarian hometown Veszprem to London.

For My Pain: is composed by members of Nightwish and Eternal Tears of Sorrow and will release their 1st single next Dec.

Chris Poland: Ohm Underground is the name of his LA-based prog-fusion trio.

Candlemass: are writing an album darker than "Epicus..." and "Nightfall".

Strapping Young Lad: have entered Vancouver's Armoury Studios for their next CD out on Feb. 2003. Feat. monolithic Gene Hoglan!

DGM: are preparing a new CD; meanwhile their singer Titta Tani, already drummer in Daemonia's Claudio Simonetti's horror project, is playing the drums on Necrophagia's new CD, "The Divine Art of Torture".

Cd's soon out: Kult ov Azazel, Internal Bleeding, Apocalyptica, Biohazard, Abominator, Sublime Cadaveric Decomposition, Marty Friedman, Cheap Trick, Spike (Quireboys), American Head Charge, SUFFOCATION, Suicidal Tendencies, Dying Fetus, Masterplan (Helloween/B.Guardian members), Helloween tribute, Cockstar (Nikki Sixx +Traci Guns), Skinless, Loudness, Annihilator (live), Darkthrone, Carnal Forge, Unruly Child.


October

SKULL FUCKED PROD. presents SFP 001 GERBE OF LIFE / REPUDIATE Split CD
Both bands on this Split CD are French bands. GERBE OF LIFE will crush you face with 11 tracks of fast and furious grinding death, REPUDIATE will make your ears bleed with 6 tracks of pure death blasting fucking metal. Get this album for 12 $ or 12 € (world - post paid) at SKULL FUCKED PROD. c/o Fred ANTON 19 rue des paturages 67310 ZEINHEIM FRANCE skull.fucked.prod@ifrance.com http://www.skullfucked.ht.st or SKULL FUCKED PROD. c/o Phil CATT 3 rue Catherine de Bourgogne 67000 STRASBOURG FRANCE skullfucked@noos.fr http://www.skullfucked.ht.st BE SKULLFUCKED !!! VOMIT ON MUSIC BUSINESS !!!

URSHURARK "Architecture Of Perfect Damnation" CD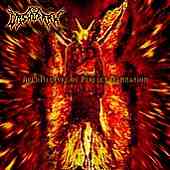 Band: URSHURARK Title: Architechure of Perfect Damnation Format: CD Style: Perfect Black/Death Metal Cat.N: BM 004 Songs: 1. Triumpant in Pandemonium 2. Hallucinated Messiah 3. Excellent Art of Cruelty 4. Decade of the Tyrant 5. A Puzzle of Flesh (download mp3) 6. Solar - Execution - Eclipse 7. At the Palace of Moloch 8. AntiChrist Maniac -------------------------------------------------------------------------------- Rating from reviews: Stargazer Mag. (10/10) Vincentius Webzine (87/100) Xtreem Music (7/10) Necromance Mag. (7/10) Holymetal Mag. (9/10) Trashworx Mag. (9/10) Fleshrites Mag. (9,75/10) Review: URSHURARK is the new italian metal sensation. This band plays killing Black/Death Metal. Luca and Co. present us one perfect conception of their music and their Black/Death is not only traditional style (mix between two styles). In their music every extreme fan will listen more ideas, typical for this band. This is good, that they are not standart band (they are like......)!!! Maybe only one band is their antipode - DIMMU BORGIR, but URSHURARK's music include more Death Metal, Symphonic parts, Ambient, etc.

Finally we can announce the long awaited debut-album "DOMINION REPTILIAN" from one of our latest signings... HEARSE. The album was recorded during 4 weeks in the summer of 2002 in the Stockholm-situated studio DOG POUND AUDIO (a.o. Entombed, Terra Firma) together with studio technician JONAS EDLER. Some of the titles on the album are COSMIC DAUGHTER, RAPTURE IN TWILIGHT, END OF DAYS and title-track DOMINION REPTILIAN. HEARSE consist of the following bandmembers:
JOHAN LIIVA (ex - ARCH ENEMY / FURBOWL) --- VOCALS AND STRINGS
MAX THORNELL (ex - FURBOWL) --- DRUMS AND STRINGS
MATTIAS LJUNG --- STRINGS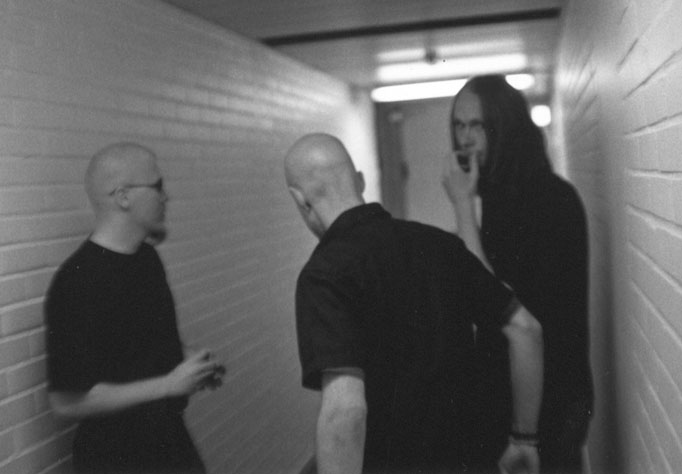 According to the band the sound on Dominion Reptilian has the old Furbowl vibe with a touch of Merciful Fate in it. Not a big surprise ofcourse since Johan and Max used to be in Furbowl together between 1990-1994. Mattias brought that Merciful Fate influence into the music. We at Hammerheart Records just say... " HEARSE is melody! HEARSE is that remarkable voice! HEARSE is tight drums! Hearse is great riffs with killer solos! What more do we want from a Metal band !?!? " As an appetizer Hammerheart Records recently released a strictly limited edition (500 copies) 7" EP with two exclusive songs, Torch and Avalon.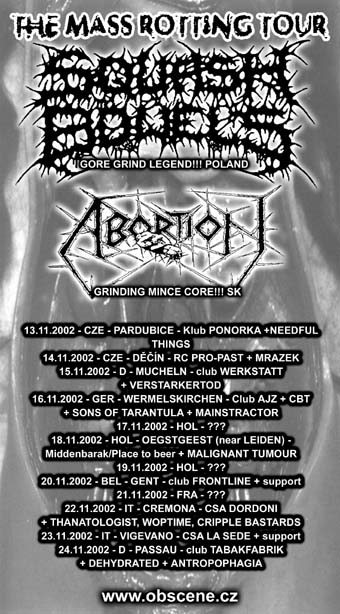 CRUACHAN... are rehearsing very hard for their upcoming Benelux mini-tour early December with labelmates Thyrfing. This is the first time ever that the band will play live in Europe so don't miss this unique opportunity. www.cruachan.cjb.net
DEMONS OF DIRT... bassplayer Pontus Jonsson recently left the band. Anyone interested in the job contact Magnus Olsson at demonsofdirt@urme.com. Furthermore the band will enter the studio in November again to record the follow-up to their debut album "Killer Engine". www.demonsofdirt.net
DIMENSION F3H... have recently finished the recordings of their debut album "Reaping The World Winds". Mastermind Morfeus is now working very hard on the album cover. The band is also rehearsing to sharpen the edge further regarding live shows. www.dimensionf3h.com
IMPIOUS... will release a limited edition mini-CD titled "The Deathsquad" for their European tour. Tracklist: The Deathsquad, Extreme Pestilence, Trapped Under Ice (Metallica-cover), Soldiers of Hell (Running Wild-cover), Live Wire (Mötley Crüe-cover). Besides, the band will do a few gigs in Sweden with Blood Red Throne and The Forsaken as a warming up for the full European tour with Necrophobic and Impious in January 2003. www.impious.net
MACABRE... hit the road on November 7th and will not return home until after Christmas for their 5th annual Holiday Of Horror show. Macabre will tour North America with Cannibal Corpse and Hate Eternal before flying to Europe for the No Mercy - Xmass festival tour with a.o. Six Feet Under, Marduk, Impaled Nazerene, Hate Eternal and Immolation. The band will play a varied set featuring new and classic songs. www.mindmelt.com MORIFADE... will start the recordings for their new album in January 2003. The new, yet untitled, album will be recorded in Los Angered Recording Studio again with producer Andy La Roque. The mix is scheduled for April so a release is only expected in the 2nd half of 2003. www.morifade.com
NECROPHOBIC... will finally hit the road!!! In January 2003 they will do a full European headline-tour with Satariel and Impious as supports. Check the complete tourschedule below in the newsletter. Furthermore Hammerheart Records will re-release the first 3 Necrophobic-albums in 2003. On top of that the band is planning to record a limited edition 7" EP. www.necrophobic.net
PRIMORDIAL... just returned from a successful Benelux-mini-tour with Callenish Circle and Danish labelmates Mercenary. The band are now checking out the possibilities to go on a full European tour to promote their latest album "Storm Before Calm". More news soon! www.primordialweb.tk
SATARIEL... are preparing themselves for their upcoming European tour with Necrophobic and Impious in January 2003. The next album "Hydra" will be recorded in March 2003 in Dug Out Studio, again with producer Daniel Bergstrand. www.come.to/satariel THYRFING... will finally tour the Benelux again!!! The band will do 4 exclusive club shows early December together with Irish labelmates Cruachan and Dutch support Shadowbreed. Since the band will not do a big European tour, this will be the only chance to see the Svea Vikings live on stage for a while. So don't complain afterwards we didn't warn you about it! www.thyrfing.com

HAMMERHEART BANDS ON TOUR: MERCENARY (DK) 02.11 – Studenterhuset in Aalborg (DK) 09.11 – Paraplyen in Vejle (DK) 14.11 – Tobakken in Esbjerg (DK) DISMEMBER (SWE) – THYRFING (SWE) + 2 supports! 29.11 – The Shrine in Stockholm (SWE) THYRFING (SWE) – CRUACHAN (IRE) – Shadowbreed (NL) 06.12 – Patronaat in Haarlem (NL) 07.12 – Effenaar in Eindhoven (NL) 08.12 – Biebob in Vosselaar (B) 09.12 – Goudvishal in Arnhem (NL) Info @ HAMMERHEART RECORDS : promo@hammerheart.com / www.hammerheart.com
MACABRE (USA) on the upcoming NO MERCY – XMASS FESTIVALS 11.12 – Zeche Carl in Essen (GER) 12.12 – Columbia Fritz in Berlin (GER) 13.12 – Alarm in Zwickau (GER) 14.12 – Planet Music in Vienna (A) 15.12 – Schlachthof in Wels (A) 16.12 – Konzertfabrik Z 7 in Pratteln (CH) 17.12 – Babylon in Munchen (GER) 18.12 – Markthalle in Hamburg (GER) 19.12 – Rockfabrik in Ludwigsburg (GER) 20.12 – La Laiterie in Strasbourg (FRA) 21.12 – Hof Ter Loo in Antwerpen (B) 22.12 – 013 in Tilburg (NL) Info @ METALLYSEE AGENCY : metallysee@pandora.be / www.metallysee.com NECROPHOBIC (SWE) – SATARIEL (SWE) – IMPIOUS (SWE) 03.01.2003 – Eastclub in Bischofswerda (GER) 04.01.2003 – K 17 in Berlin (GER) 05.01.2003 – t.b.a. 06.01.2003 – Easy Schorre in Halle (GER) 07.01.2003 – Guru Club in Zilina (SK) 08.01.2003 – Plastic Club in Presov (SK) 09.01.2003 – Planet Music in Vienna (A) 10.01.2003 – Hafen in Innsbruck (A) 11.01.2003 – Siddartha in Florence / Prato (ITA) 12.01.2003 – Konzertfabrik Z 7 in Pratteln (CH) 13.01.2003 – Zeche Carl in Essen (GER) 14.01.2003 – Röhre in Stuttgart (GER) 15.01.2003 – Schwimmbad Musikclub in Heidelberg (GER) 16.01.2003 – Markthalle in Hamburg (GER) 17.01.2003 – Vera in Groningen (NL) 18.01.2003 – Baroeg in Rotterdam (NL) 19.01.2003 – 013 in Tilburg (NL) --- t.b.c. Info @ CRUSH CONCERTS : Crush_Concerts@t-online.de / www.crushconcerts.com

Necrophobic + Satariel + Impious - European tour 2002
03.01.2003 - Eastclub in Bischofswerda (GER) 04.01.2003 - K17 in Berlin (GER) 05.01.2003 - t.b.a. 06.01.2003 Easy Schorre in Halle (GER) 07.01.2003 - Guru Club in Zilina (SLO) 08.01.2003 - Plastic Club in Presov (SLO) 09.01.2003 - Planet Music in Vienna (A) 10.01.2003 - Hafen in Innsbruck (A) 11.01.2003 - Siddartha in Florence/Prato (ITA) 12.01.2003 - Konzertfabrik Z7 in Pratteln (CH) 13.01.2003 - Zeche Carl in Essen (GER) 14.01.2003 - Röhre in Stuttgart (GER) 15.01.2003 - Schwimmbad Musikclub in Heidelberg (GER) 16.01.2003 - Markthalle in Hamburg (GER) 17.01.2003 - Vera in Groningen (NL) 18.01.2003 - Baroeg in Rotterdam (NL) 19.01.2003 - 013 in Tilburg (NL) --- t.b.c. - BOOKING & ORGANISATION BY CRUSH CONCERTS - EMAIL: Crush_Concerts@t-online.de WEBSITE: www.crushconcerts.com

GERBE OF LIFE Brutal Grind/Death: http://site.Voila.fr/GERBE
NEXT RELEASE: it won't be a split CD with SUDDEN DEATH (Ger) as they had to cancel their studio sessions. This split will be with REPUDIATE, a french Death/ Grind band. Released around sept 2002 on SKULL FUCKED Prod. NEXT GIGS: - 10/02: Skull Fucked Fest/ Strasbourg w/ INHUMATE, BLOCKHEADS, C.B.T, REPUDIATE, ABRASIVE - 12/02: Festival - tribute to Chuck Shuldiner/ Evry.

Bruce Dickinson: has become an air pilot; as a matter of fact the charter company Astraeus has confirmed he performs the duties of 1st official on a Boeing 737 that usually flies from/to the UK from/to the rest of Europe, North Africa and Middle East. Well, the next time you take one of these flights don't forget to ask the hostess if there's a Bruce Dickinson driving!

OSI: the prog-metal superband including Dream Theater's Mike Portnoy, Fates Warning's guitarist Jim Matheos, Chroma Key's and ex-D.Theater's keyboardist Kevin Moore and Gordian Knot's and ex-Aghora's bassist Sean Malone have ended their debut "Office of Strategic Influence", out in early 2003 on Inside-out.

Exciter: founder, sniger and drummer Dan Beehler's started a band called The Beehler Project, where some songs are old Exciter's classics re-played with 2 guitars this time; the new stuff also includes what already appeared on T.B.P.'s demo "We Are at War". More info at: www.beehler.net

Turbonegro: are back together and will release a new CD in spring 2003 on Burning Heart.

Danzig: Joey Castillo's out and's joined Queens of the Stone Age.

Entombed: will soon record a show in Stockholm that will become their next live-CD.

Sentenced: have conquered their 1st golden record with "The Cold White Light" in Finland, where they've already sold 20,000 copies.

Fear Factory: Guitarist Dino Cazares is looking for a singer and drummer for his project band.

Skid Row: Sebastian Bach's father, David Bierk, has died at the age of 58. He had the idea for the "Slave to the Grind" artwork.

Aerosmith: Joe Perry's own label, Roman rec., has signed the 1st deal with Porch Ghouls, act from Memphis.

Soundgarden/Kyuss: Guitarist Kim Thayil has started a band with drummer Alfredo Hernandes.

Dark Angel: have reunited with the following line-up: Jim Durkin(g.), Eric Meyer(g.), Ron Reinehart(v.) and Gene "skin monster" Hoglan(d.).

Guns 'n' Roses: Slash, Duff and Matt are looking for a singer; send demos to: Slash, c/o 13636 Ventura Blvd. #434, Sherman Oaks, CA 91423 - USA.

Angel Witch: have reformed and will partake 2003's Bang Your Head Festival.

- Rubén Barreto original drummer of the band has been reinstated to MASTIFAL at the end of September after Leonardo Fernandez left the band for health problems. .- In January of 2003 we will record the next study work, this maetrial will contain 14 tracks. .- The album "Holocausto mental" has been published in Peru by Infected Voice and in Ecuador by Brutalidad total. Visit the official page of MASTIFAL in www.mastifal.com.ar . MP3, Videos, info, tabs, pictures, comments, etc.





BLOOD RED THRONE recently finished the recordings for their upcoming (2nd) full-length album entitled AFFILIATED WITH THE SUFFERING. TCHORT and his partners in crime recorded their new opus at DUB STUDIOS in Kristiansand, Norway. The album was produced by ENDRE KIRKESOLA and Tchort himself. Mastered at STRYPE AUDIO by TOM KVALSVOLL. Some songtitles on the new album are UNLEASHING HELL, A DREAM OF DEATH, RAZOR JACK and title track AFFILIATED WITH THE SUFFERING. The album first comes in a limited edition digipack, featuring two exclusive bonus tracks (MERCY KILLINGS and DEADLY INTENTIONS (OBITUARY-cover). The vinyl version (strictly limited to 500 copies!) contains the MASSACRE cover CRYPTIC REALMS. BLOOD RED THRONE PERFORMS AGGRESSIVE, GROOVY, OLDSCHOOL DEATH METAL EXCLUSIVELY !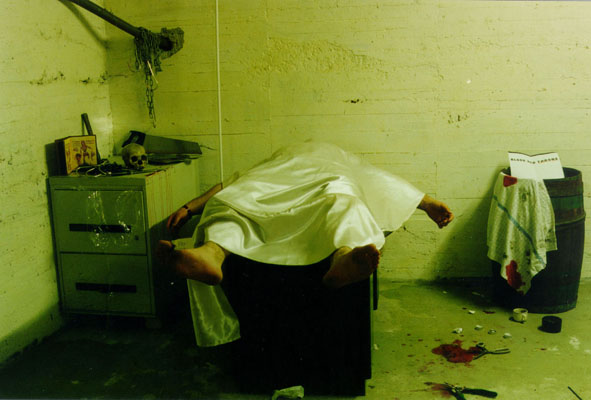 BLOOD RED THRONE recording and live line-up:
Tchort - Guitars
Dřd - Guitars
Mr Hustler - Vocals
Espen "Beist" Antonsen - Drums
Erlend Caspersen - Bass

For more info on BLOOD RED THRONE visit www.get.to.bloodredthrone - Release: 20th of January 2003



Hereby we proudly announce the new SEPTIC FLESH masterpiece, to be released on HAMMERHEART RECORDS on the 27th of January 2003. The new album is titled SUMERIAN DAEMONS and some of the songtitles are UNBELIEVER, RED CODE CULT, DARK RIVER, FAUST and MECHANICAL BABYLON. Sumerian Daemons was recorded in the Sweden based FREDMAN STUDIO with producer FREDRIK NORDSTRÖM, known for his work with bands like Arch Enemy, In Flames and Dark Tranquillity just to mention a few. Without exaggerating we can say that the sound on this album is absolutely top notch. The musical direction on the album is the apotheosis of extremity in all forms and a praise to the dark ancient ways that still live on, disguised with the skin of the new age... the new sound is a huge wall made from brutal guitars, with nightmarish, mesmerizing melodies while the deep low vocals of SET<'H> are combined with the cinematic style of a full choir directed from CHRIS A. and the returning dramatic voice of NATALIE RASOULIS. The photo-shoot/artwork is done in coöperation with the famous FX MASTERS (THE AZAHOULOS BROTHERS) in Greece, also known for cinema and TV-productions. Here you already get a sneak preview of what to expect: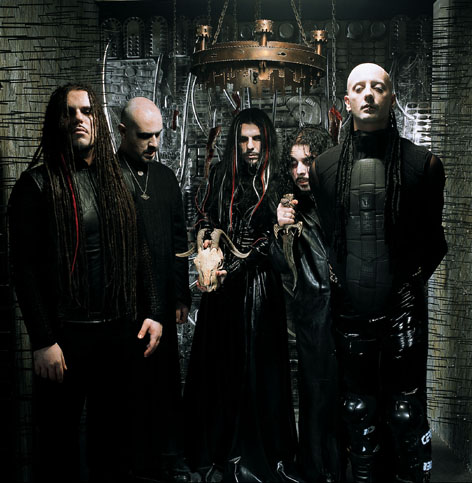 SEPTIC FLESH line-up:
SET<'H> - Bass & Vocals
SOTIRIS - Guitars
CHRIS A. - Guitars & Samples
AKIS K. - Drums
GEORGE Z. - Keyboards

FOR MORE INFO ON SEPTIC FLESH : www.go.to/septicflesh - RELEASE DATE : 27.01.2003.


NECROPHOBIC "Swedens leading cult Death Metal-band... finally touring Europe!!!" SATARIEL "3rd millenium X-TREME metal" + IMPIOUS "this explosive Death/Thrash-machine takes no prisoners... there is a killer on the loose" - ROCK HARD PRESENTS - 03.01.2003 - Eastclub in Bischofswerda (GER) 04.01.2003 - K17 in Berlin (GER) 05.01.2003 - t.b.a. 06.01.2003 - Easy Schorre in Halle (GER) 07.01.2003 - Guru Club in Zilina (SLO) 08.01.2003 - t.b.a. 09.01.2003 - Planet Music in Wien (A) 10.01.2003 - Hafen in Innsbruck (A) 11.01.2003 - t.b.a. 12.01.2003 - Konzertfabrik Z7 in Pratteln (CH) 13.01.2003 - Zeche Carl in Essen (GER) 14.01.2003 - Röhre in Stuttgart (GER) 15.01.2003 - Schwimmbad Musikclub in Heidelberg (GER) 16.01.2003 - Markthalle in Hamburg (GER) 17.01.2003 - Vera in Groningen (NL) 18.01.2003 - Baroeg in Rotterdam (NL) Tickets for GERMAN shows only: * METALTIX * Tel : + 49 (0)4627 18380 www.metaltix.de * TICKETCENTER NEU ISENBURG * Tel : + 49 (0)1805 237241

Red Stream news:

2. The imminent RAVENOUS mini CD is now called THREE ON A MEETHOOK. This piece of death is on the threshold of release, in a morose looking digipack. RAVENOUS is back with four brand new tracks of gruesome, bloody digital shock! RAVENOUS consits of members of NECROPHAGIA, S.O.D., NUCLEAR ASSAULT, HEMLOCK, ABCESS, and AUTOPSY, in case you didn't know. This is a must have for those that miss or even overlooked the ill sound of AUTOPSY, who disbanded some years ago.

3. NECROPHAGIA has recorded two select tracks for their upcoming DVD. These tracks, titled "To Sleep With The Dead" and "The Fog", will not appear anywhere else. RED STREAM and NECROPHAGIA have already solidified a strategy to start filming, which is actualy already in progress.

4. THANATOS will discharge their "Beyond Terror" CD on BAPHOMET. THANATOS covers the past and present sound of Deathrash Metal, devoid of repetition.

5. BLOOD FIRE DEATH is in heavy negotiaions with NARGAROTH for a possible live 7" EP. Speaking of live tours, KRIEG just completed a German stint that was a total victory with masses of people attending the shows, which typicaly finished in total fucking bedlam, of course!

6. BETHLEHEM is finnishing up on "Suicide Radio" - an interactive CD-rom, which features the band's music, short movies/videos, pictures, links, hidden secrets and more. This is a first-rate, up to date presentation from this utterly distinctive band.

7. HIDDEN have started work on their next record, which will be released under the BAPHOMET label.

8. NOKTURNE put out their second CD through BAPHOMET. Sick and immoral Black Metal, including a Destruction cover. A number of you might recall this act from their World War III release a year or two ago.

Swedish masters of melody SKYFIRE just returned from the studio where they recorded the follow-up to their very successful debut-album "Timeless Departure". The new album is again recorded at the legendary ABYSS RECORDING STUDIO in Sweden, together with producer TOMMY TÄGTREN. Title of the new album is "MIND REVOLUTION" and some of the song-titles are SHAPES OF INSANITY, DAWN WILL BREAK, THE CLOUDS LIE SILENT and EUPHORIA. Artwork will be done by GRAAL (www.g-r-a-a-l.com). According to bassplayer Jonas Sjögren we can expect a more diverse, better structured and even better sounding album. Already presenting us a very high acclaimed debut album, we expect SKYFIRE to gain worlwide recognition and set new standards with their upcoming masterpiece in melodic metal. You have been warned...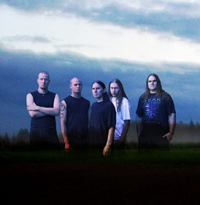 Expected release: early April 2003. For more information on SKYFIRE surf to: www.listen.to/skyfire


SOULREAPER signed a multiple album-deal with HAMMERHEART RECORDS. The band, featuring ex-Dissection members Johan Norman (guitar) and Tobias R. Kellgren (drums), recently finished the recordings of their 2nd full-length album entitled LIFE ERAZER. The new album is recorded & mixed at LOS ANGERED RECORDING STUDIO with producer ANDY LA ROCQUE (Evergrey, Witchery, Morifade). Musically we can expect killer Swedish Death Metal... with LIFE ERAZER the band will show the world how they want Death Metal to sound. Some of the songtitles are GODLESS REAPER OF SOULS, SON OF THE DEAD, SLOW FALL OF DEATH and the title-track LIFE ERAZER. According to guitarist Stefan Karlsson the new album is way more mature in arrangement... "the fast parts are faster, the heavy parts more heavy and the brutal parts are crushing everything that has been done. A killer album for sure".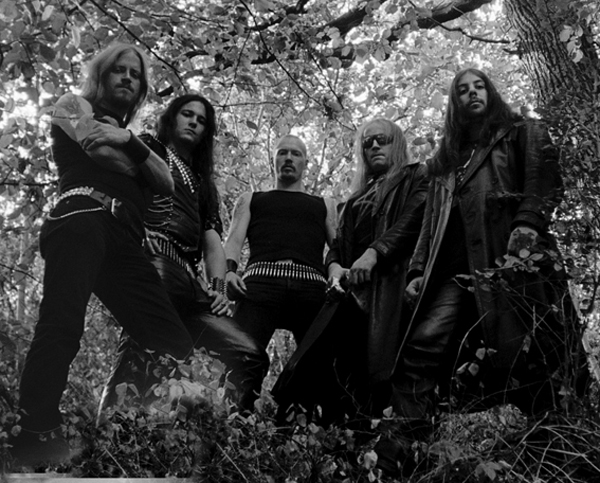 Line up from left to right on attached photo:
Stefan Karlsson : guitars
Mikael Lang : bass
Tobias R. Kellgren : drums
Christoffer Hjertén : vocals
Johan Norman : guitars

Expected release: March 2003. For more information on SOULREAPER check: www.drink.to/soulreaper

CD's soon out: Seven Witches, Red King, Amon Amarth, Exmortem, Hanoi Rocks, Journey, Pissing Razors, Jeff Scott Soto, Overkill (DVD), Kreator (DVD/CD), Six Feet Under (DVD/CD), Rick Renstrom, Tribe of Judah, Symphorce, Circle II Circle, Nasty Savage, Dionysus, Lynch/Pilson Project, Fates Warning (DVD+re-issues of all old albums with bonus tx), Kaledon, Heraldry.

September

HARDBOILED www.hardboiled-music.com

DIEHARD www.diehardmusic.com

JAMES MURPHY just played two solos on the new Malevolent Creation album which will be out later this year, good to see him back again!

Machine Head: Split with Roadrunner and guitarist Luster (too close to Incubus and Cold Play stuff).

New Cd's soon out: Sugarcreek, Hughes/Turner, Blood Red Throne, Opeth, Entombed (cover-CD), Mob Rules, Power Symphony, Psychopunch, Axel Rudi Pell, Lunaris, Asgaroth, Chris Robinson (Black Crowes), Unmoored, Negura Bunget, Blackmore's Night (live), Paradise Lost, Grave, Akron, Chalice, Bobby Rondinelli, Affair, Anthrax (at last!!!), Raging Speedhorn, Aghora.

Doro: is in a spot with female boxe-championess Regina Halmich, for whom the German singer's written a song, "Fight", that accompanies her during her every ring entry. The 1st time happened in Berlin last August before the match Vs. the other woman champion Yvonne Caples, and was braodcast by German TV ZDF.

Probot: Dave Grohl's project on RCA. Guests: Lemmy, Cronos, Tom G.Warrior, Lee Dorrian...

John Corabi: the ex-Motley Crue has formed a new band called 'Zen Lunatics' with drummer Jimmy d'Anda (ex-Bulletboys) and bassist Steve Bruno.

King Diamond: is working on a new CD, "The Puppet Master" in his Dallas' home studio and the same is doing guitarist Andy la Rocque in Sweden's Los Angered Studios. All of the musical parts will be finished by the end of October, while the concept will be ended by the end of the year. In February a part of the equipment will be moved to Dallas and re-mounted at King Diamond's house. Only then the parts of rhythm guitar, bass and keyboards will be recorded, while all the rest will be finished next summer. So the CD is gonna come out on 2003's Halloween.

Usurper: are at work with producer Neil Kernon. Cd will be out for Earache and some...Manowar members will play on that too!

SEVERE TORTURE... BANNED in Switzerland and CENSORED in Germany !!! Dutch Death Metal maniacs SEVERE TORTURE are banned from the stages in Switzerland. The band was scheduled to play in the Z7 venue in Switzerland on their upcoming European tour as support for Cannibal Corpse. Official reason for this ban is the (according to the local promoter) perverse, disgusting and very offensive cover artwork of their new album MISANTHROPIC CARNAGE, which (also according to the local promoter) shows a total lack of respect for other human beings. Severe Torture hereby appologizes to their Swiss fans and they hope to play in Switzerland soon! On top of that the normal album-version got censored for the official shop distribution in Germany. So for Germany the album is available in a limited edition with censored cover artwork.

Cudgel new releases:
Depression/Gonorrhoeaction split ep
Rotten Sound/Mastic Scum - split ep
Mastic Scum - Scar (Nov. 02) (grrroovin grindrock blast attack).

Deep Purple: Entity Rec. is looking for bands from all over the world interested in being present in a tribute album dedicated to the English band. For more info: Ian Artford at ianharford@aol.com

Magnum: We wish Tony Clarkin a quick recovery after the heart attck he suffered from at the Sweden Rock Festival.

Megadeth: Ellefson, Degrasso, Pitrelli and Friedman are looking for a vocalist for a new band they've created.

Ritchie Blackmore: Young Scottish actor Iain Robertson will play Ritchie in a film titled "Telstar", set in the '60s when the ex-Deep Purple was in a band called The Tornados.

Death: Chuck's mother, Jane Schuldiner, said he got a book written by an Iranian fan, containing lyrics in English written by Chuck. The US unlucky musician liked it so much that she thought it good to make it available. It's 134 pages long and costs $ 15/20 + 4 for dispatching per copy. Requirable at: Jane Schuldiner, 613 E Citrus Street, Altamonte Springs, FL 32701 USA. Or at: www.emptywords.org

Cd's soon out: Blitzkrieg, Dave Meniketti, Symphony X, Disharmonic Orchestra, Deep Purple, Anvil, Aemerald, Steel Prophet, Therion, Lacuna Coil, Limbonic Art, Biloxi, Wildherats, 40 FT. Ringo, Bret Michaels, Jack Russel, Wuthering Heights, Sinphonia, Judas Priest Tribute Album, Aftermath, Lake of Tears, Deranged, Eternal Gray, Threshold, Hughes Turner Project, Konkhra, Eternal Flame, Hardline, Highlord, Insania, Magellan, Spiritual Beggars, Hate Eternal.


August

RUNEMAGICK - moon of the chaos eclipse - LIMITED CD & ULTRA LIMITED PICTURE 10" LP OUT 26 / 8 - 2002!!!! Just a few months after the massive release of their 4th strike "Requiem of the Apocalypse", they are back with a new work, but this time ONLY for the fans and followers! "Moon of the Chaos Eclipse" is limited to 1,000 copies on CD and 300 copies on a great picture vinyl 10", and the preorders are already storming in! Be fast to obtain YOUR copy! RUNEMAGICK is the Darkest Death Metal you can find! For you who still haven't got their "Requiem of the Apocalypse" CD, have a look on what the media said so far: 6 / 6 Scream Magazine, Norway "Great All the Way Through" AMPUTATION MAGAZINE #8, Sweden 8 / 10 points APHELIUM WEBZINE, Holland "High-caliber Swedish death metal!", BLACK BEYONDS MUSIC, USA 7,5 / 10 DARKWAVE NEWSLETTER, France 8,25 / 10 FLESHRITES ZINE, Spain 8 / 10 points GOTHCORE ZINE, Holland 89 / 100 points HM PORTAL WEBZINE, Italy "This is the good stuff. It has soul." - Lotfp, USA 75 / 100 points - LORDS OF METAL E-ZINE, Holland "A must have!" - Cheryl/METAL GOSPEL WEBZINE (www.metalgospel.com) "Very Good Doomy Death Metal" - Spencer Murphy / METALWAR, USA 4 / 6 Martin Kvam of MONSTER MAGAZINE, Norway "Really a finest jewel" - Bart Donarski/MASTERFUL MAGAZINE, Poland "Svensk Death Metal af hřy klasse" - Past and Present Webzine, Denmark 8 / 10 points PRO-ROCK MAGAZINE #5, Bulgaria "A very good and varied release" - Vincent Eldfors/TARTAREAN D. WEBZINE 8 / 10 points TENSER MAGAZINE #4, Portugal

Haavard Holm Aftermath Music Box 721 N-7407 Trondheim Norway tel: +47 73 93 30 95 (18-23) / +47 98 45 05 72 (cell - 09-24) NOTE NEW HOMEPAGE! http://www.aftermath-music.com Out now: RUNEMAGICK "Requiem of the Apocalypse"CD and Limited CD AZAGHAL "Helwettilainen" 7" EP POEMA ARCANVS "Iconoclast" CD Out Next: RUNEMAGICK "Moon of the Chaos Eclipse" CD / PIC 10" VINYL (lim. 1000 copies CD / 300 copies VINYL) (out late August 2002 - preorders taken now!) COMING: RUNEMAGICK "On Chariots to Hades" TSHIRTS RUNEMAGICK / ?? "Death Magick" 7" SPLIT EP (we need a 2nd band!) AZAGHAL "Harmagedon" TSHIRTS.

Cruachan: John O' Fathaigh, the flute, tin-whistle player and brother of band main-man Keith, is no longer a part of Cruachan. The move came after a meeting between John and Keith about the bands future, the prospect of more and more shows abroad was something that John could not commit to for personal reasons so both brothers agreed that leaving the band was the best thing to do. John was not "kicked out" of the band, leaving Cruachan was a hard decision for him to make after the years that he has been a member. Although nothing has been clarified, Keith is confident that John will still be involved with the band in the future, maybe as a guest on recordings etc. As of now, Cruachan are looking for a replacement member who can play either flute, violin or keyboard, anyone interested should contact: cruachan@ireland.com

July

Absu: announce departure of co-founder/guitarist/bassist/songwriter Equitant Infernain who's gonna pursue other musical enterprises and solo projects.
Replacement must have appearance, intellect power, drug-addiction, and contact absumanager@hotmail.com or send demonstration efforts to: PO Box 743307 &endash; Dallas, Texas 75374-3307 &endash; USA.

Exciter: After Jacques's leaving last Sep, they regrouped 2 months ago and are looking for a new vocalist throughout all the world.

Cudgel agency: have now released the debut CD of the german death/grind hordeTEARS Of DECAY. Expect a fast and intense US-styled brutal death metal masterpiece, this CD also contains a hiddentrack and two live videoclips from the Fuck The Commerce 3 The just released CD "live-reincarnation-ground zero" of THE SIXTH INCUBATOR (with Chris Mummelthey /ex-INCUBATOR) will from now on be distributed from cudgel agency, since this CD is strictly limited to 500 copies only you must be fast to get one. German deathers PROFANITY splitted with their label cudgel agency. This was done with the agreement of both sides in a friendly way. MALEDICTIVE PIGS will play in October two mini-tours, at first the will crush the stages together with ILLDIPOSED and SOUL DEMISE, and later on they will appear for some dates on the running tour of PUNGENT STENCH, DISHARMONIC ORCHESTRA und DISASTROUS MURMUR The german grinders of DEPRESSION have just finished the recording session for the upcoming vinyl 7" e.p. with the goregrinders of GONORRHOEACTION. Also in Sptember will be released on cudgel agency a split vinyl 7'' e.p. of ROTTEN SOUND and MASTIC SCUM, which have recorded four tracks for this piece, ROTTEN SOUND will appear with 4 excellent recorded live songs. Releases: 29.07.02 TEARS OF DECAY - saprophyt CD THE SIXTH INCUBATOR -live-reincarnation-ground zero CD September 02 ROTTEN SOUND (Fin)/ MASTIC SCUM (A) -split 7'' e.p. DEPRESSION (Ger)/ GONORRHOEACTION (Ger) -split 7" e.p. live: MALEDICTIVE PIGS, ILLDISPOSED, SOUL DEMISE
cudgel agency Collegienstr.21 06886 Luth. Wittenberg Germany Fon: ++49 (0)3491 400227 Fax: ++49 (0)3491 400228 Home: www.cudgel.de

Morbid Angel: After losing bassist and singer Jared anderson, Trey Azagtoth and Pete Sandoval are preparing new stuff in view of the next album in Louisiana.

Machine Head: have enroled guitarist Phil Demmel (ex-Violence/Technocracy) as a substitute for the resigning Ahrue Luster.

Napalm Death: soon out with a new live DVD, called "Punishment in Capitals", containing material recorded live in London and Chile, inties, and more.
As to the new CD, the old UK grind-deathsters have finished recording the drum parts at Hastings' Parkgate Studios, and it should be out between Sep and Oct.

Ratt's guitarist Robin Crosby (4/8/60) died on 6/6/02 in his Hollywood's flat. Coroner said he couldn't state if because of a heart attck or AIDS.

Whiplash/Into Another's ex-bassist Tony Bono died on 28/05/02 owing to a heart attack.

Mike Stone: At age 51 the famous producer of Asia, Journey, Kiss, Queen...died.

New Cd's out soon: Paradise Lost, Grave, Celebratum, Moon of Steel, Neil Turbin (first ex-Anthrax's singer), Arena, Spocks Beard, Aurora Borealis (with ex-Hate Eternal's drummer Tim Yeung), Carpathian Forest, In Flames, Alastor, God Forbid, Heir Apparent, Lunaris (with members from Borknagar, Satyricon, 1349, Spiral Architect), Limbonic Art (lunatic guest appearance by Attila Csihar), Katklysm, Eric Martin (with 2 different bonus in Europe and other 2 in Japan), Motley Crue (Jap box edition only with their 8 CD's + bonus tks + 14 live songs!!!), Loud N Nasty, Lillian Axe, Morning Wood (Europe reprint), Heavenblast (released by Underground Symphony), Lost Weekend, Ralph Santolla (Millenium's guitarist), Vital Remains, Running Wild (live CD/DVD), Yngwie Malmsteen, Derek Sherinian, Fallen, L.A. Guns, Megiddo, Ronnie Le Tekro (TNT's guitarist), Babylon Whores, Maze of Torment, Boston (tribute album in October with tons of sharers and mix+mastering by Pete Coleman).

Exodus: Steve Sousa has engaged guitarist Glen Alvelais, already with Forbidden and Testament, for his brand-new band, F Bomb.

Biohazard: Guitarist Carmine Vincent, already in the band in '86-87, has come back to replace Leo Curly, allegedly gone out of Brooklyn's band in a friendly way.

Enslaved: R.Kronheim hasn't been in the band anymore since the end of their last UK tour. Curious that Kronheim himself voted for his exit! Meanwhile the band's recruited 2 session-men in consideration of the scheduled shows: lead guitarist Arve and keyboard-player Oyvind. Also note that the Norwegian band has also changed their management from Hard Rock Entertainment to IRIS Artistery and is to begin the recording on Sep.

Twisted Sister/Skid Row: T.S.'s Eddie Ojeda has founded a fun-band with Rob Affuso, called...Skid Sister!

Fleshgore: Ukrainian brutal death masters' debut 7-track CD "Interuterine Dreams" is out (in Italy distributed by Subordinate, please check details in the labels section).

June

Immortal: guitarist Saroth (also bassist in Pain) has become an effective member in place of Iscariah.

Queensryche: guitarist Kelly Gray is out. Unknown his successor.

Tankard: the German thrashers will feast their 20-year career with the release of the new LP "B-Day" on AFM.

Kiss: will keep their activity with Eric Singer and Tommy Thayer in the place of the old P.Criss and A. Frehley.

Exciter: are searching for a substitute of the resigning singer Jacques Belanger.

Rob Zombie: is in studio with producer Scott Humphrey to write the soundtrack of the flick "The House of 1000 Corpses".

Metallica: are in northern California since the beginning of May to assembly the material for the new album.

Ozzy Osbourne: it's about to come out "The Story of the Ozzy Osbourne Band", a book of 350 pages written by Garry Sharpe-Young, documenting the true story of Blizzard of Oz, since the first line-up of '77 with Randy Rhoads. Lotsa inties with the band, friends...We also inform you about a post-office box for his fans: Ozzy Osbourne, PO Box 5249, Beverly Hills, CA 90209 - USA.
Ozzy's daughter's recorded a cover of Madonna's "Papa Don't Preach" for the reality sit-com "The Osbournes", featuring ex-B.Sabbath's curious family, seen on MTV by more than 6.000.000 people a week.

Alice in Chains/Mad Season: in the night of last 20th April Seattle's police found the rotted corpse of the 34-year-old singer, prob'ly died because of a heroin overdose.

Jimi Hendrix: his father, James Al Hendrix, died at 82 owing to heart disease. He was the honorary president of the Experience Hendrix, association run by his daughter Janie L. Two years ago old James wrote the book "My Son, Jimi"; authentic icon of '60's rock, died with overdose in '70 at 27, Jimi began playing a ukulele given by his father and was the youngest of 4 children born from a theater actors' married couple gron up in Canada. James Al left school for job in the mid-30's, roght after his father's demise and in '40 he moved to Seattle, winnning many boxing matches. He also worked as a plumber, electrician and gardener before retiring in '79 because of health problems.

Krux: the band including bassist Leif Edling, guitarists Jörgen Sandstrom and michael Amott, drummer Peter Stjärnvind and vocalist Tomas Parson has signed for Mascot Rec.

Nocturnus: have split up before entering studio to record their new CD. Emo and Mike seem to be planning to build a new band.

Nevermore: their drummer Van Williams is working on the side-project Pure Sweet Evil with multi-instrumentist Chris Eichorn. On the promos also played axemen Jeff Loomis and Curran Murphy.

Voivod: guitarist Piggy is playing on Gathering' s new full-length as a guest musician.

Megadeth: ex-guitarist Marty Friedman is working on a fully instrumental solo CD with drummer Dean Castronovo. Bassist Dave Ellefson is helping Dry Kill Logic in the songwriting and will co-produce Canadian Warmachine's debut.

Ceremony: the band featuring M.Angel's bassist/singer Steve Tucker and C.Corpse's guitarist Pat O'Brien has recruited ex-Emperor's skinbeater Trym for their 2nd CD.

Vital Remains: vocalist Jake Raymond and guitar player Ron Green have left the band to form a new project called Cast of Vengeance.

Joe Satriani: out with new CD "Strange, Beautiful Music" on Epic. Featuring contributions from Robert Fripp, Matt Bissonette and Jeff Campitelli.

Ac/Dc: Brian Johnson is working on a musical with UK actor Brendan Healy called Helen of Troy.

ZZ Top: are on a US tour touching a lota casinos.

Yes: Rick Wakeman is officially in the band again on tour.

Guns 'n' Roses: should play next 23 August at Carling Leeds Festival, going back to the UK after a 9 years' absence.

New CD's out soon: Ken Tamplin, Filter, Saviour Machine, Soulfly, Anthrax, Anvil, Masterplan, Riot, Jack Russell, George Lynch, Annihilator, Satyricon, Destroyer 666, Sinner, Steel Prophet, Sixty Watt Shaman, Dirty Deed, Thy Majestie, Darkane, ...and Oceans, Novembers Doom, Thy Infernal, No Fear, Agoraphobic Nosebleed, Bongzilla, Limbonic Art, Chastain, Firewind, Axel Rudi Pell, Dark Tranquillity, The Meats of Asphodel/Mayhem, Agalloch, Michael Monroe, Sinister (cover death metal classics CD), Shadows Fall, Oratory, Trash Brats, Enuff Z Nuff, Kristy Krash Majors, Roxx, , Nasty Idols, Roxx Gang, Hard Knox, Lost Weekend.

May

Systematic: For a month in studio so far Paul Bostaph's new act to record an album to be released by Elektra.

Immortal: After 3 years Iscariah's left because of the too many dues but will still play with various bands.

Blue Murder: Soon back with a new CD and a new drummer, Aaron Rossi.

Tuff: Back in old guitarist Jorge DeSaint who's supposedly made peace with boss Stevie Rachelle.

Queensryche: Out on June Geoff Tate's solo-CD and new Q. CD for Sanctuary.

Sepultura: After long negotiations haven't signed for Sanctuary and decided to look to elsewhere. In the meantime I.Cavalera's working at a side-project with Billy Graziadei.

Soulfly: "III" is the simple title for their next CD for Roadrunner, released next 24 June and mixed by Terry Date.

Randy Castillo: Last 26th March died at 51 after long cancer disease. www.randycastillo.com

Confessor: Condolences to the band after guitarist Ivan Colon's demise.

Voivod: Will start to record the new CD in summer with Jason Newsted and Snake!

CD's SOON OUT: Inrage, Majesty, Symphony X, Grave, Dark Tranquillity, Holy Moses, UFO, Quiet Riot, Skinless, Adam Bomb, Forlorn, Shy, Push, Michael Kiske, Avantasia, Tracy White, Soundisciples, Machine Head (live), Divercia, Doro Pesch, Disarray, Deformity, Autumn Tears, Novembers Doom, Robert Plant, Arachnes, Ted Nugent, Shadowman, Hardline, Robert Fleishmann, Darzamat, Gathering, Voodoo Glow Skulls, Honeymoon Suite, Mr. Big, Great Deceiver, Ablaze My Sorrow, Dragonlord, Sepultura (live), Burnt by the Sun (cover-CD), Star Queen, Merauder, Freedom Call, Myrkskog, 7 Months, Saga (re-prints of the 1st 3 CD's with bonus tx), Rose Tattoo (with Bernie Marsden,.

Hanoi Rocks: After 1984's tragic Razzle's death during their 1st US tour, Michael Monroe and Andy McCoy are working together again for the 1st time in a studio!

Every Mother's Nightmare: Old drummer Jim Phipps is back after Kris Beavers.

Scanner: Seasoned Germans out with new CD for Massacre.

Hate Eternal: Ended recordings of new "King of All Kings" at E.Rutan's Dimensional Sound Studios.

Suicide Shift: New project of Steve DiGiorgio, Darren Travis (Sadus) and Chuck Billy, along with contributors like Jon Allen (Sadus) and Per Jensen (Haunted).

Prong: back with new line-up: T.Victor (g./v.), Dan Laudo (d.), Rich Gonzalez (Diesel Machine, g.), Brian Perry (ex-Lizzy Borden, Dirty Looks, b.).

James Murphy: On 19th May in Indianapolis a benefit show with Deceased, Fleshgrind, Skullview, Corpse Vomit, etc. to collect funds that will afford the unlucky guitar lord to afford better treatments.

Anathema: Vocalist Daniel Cavanagh's left the band headed for Duncan Patterson's and Michael Moss's Antimatter.

Celtic Frost: Confirmed their reunion CD with the original members along with Apollyon Sun's guitar player Erol Unala.

Konkhra: Started a month ago the recordings of the new CD; pix and trax already downloadable at their website www.konkhra.com; unknown release date, but confirmed a show at a big festival in Turkey at the end of June.

Dying Fetus: Guitarist Bruce Greig's left the band.

Malevolent Creation: Signed a deal with N.Blast but lost drummer Dave Culross's help meanwhile.

Criminal: With ex-Pentagram Anton Reisenegger are now COF's ex bassist Rob Eaglestone, ex-ENT Zac O'Neil and Entwined's keyboarder Mark Royce.

Winds: Prog atmospherical monster Norwegian band out with "Reflections of the I", featuring Hellhammer, Carl August, and a section of Oslo's philarmonic orchestra.

Guns 'n' Roses: maybe it's the right time! Long-awaited "Chinese Democracy" could be out at the end of 2002. Line-up: Axl Rose, Dizzy Reed, Tommy Stinson, Robin Finck, Paul Huge, Buckethead and Brian Mantia, more guests like Brian May, Steve Salas, Dave Navarro, Gary Sunshine, Shaquille O' Neal, Dave Abruzzese, Zack Wylde, Josh Freese and Chris Pittman. Choice will be among a list of 70 songs!

Fleshcrawl: Axeman Stefan Hanus's left the band to have more time for himself and long travelling, thou he'll keep on loving death metal.

Savatage: Guitarist Jack Frost out to make way the re-entering Al Pitrelli, after Megadeth's downfall. Jack's quite angry and said Savatage are traitors and not true friends, because they fired him through a simple phone call after touring long with him. He also added not to be an etilist nor a drug addict. Jack will now have time for his own band, Seven Witches, currently on tour in Europe.

SUBORDINATE p.&.d. we are looking for bands into brutal, grind or gore to plan the future release contact us to: Gianpaolo Zanon c.p. 536 Trento 9 38100 TRENTO ITALY
matrix@cr-surfing.net available for possibile trades: WICKED INNOCENCE: "Worship" (Headfucker, 1999, HF05) RETALIATION: "The Execution" (Headfucker, 1999, HF06) CATHETER: "s/t" (Headfucker, 2000, HF11)

Absu/Slayer: in spite of the good start, Proscriptor has been turned down by Slayer on account of his paranormal contour.

April

Burzum: Vikernes has just released a 16-page book called "Irminsul". More details at his editor's website: http://www.cymophane.com

Absu/Slayer: Proscriptor, Absu's drummer, has been chosen among tens of US skinbeaters. In just 3 days he was aksed to play 11 songs and he videoed all playing his parts simultaneously with Slayer's; the tape was sent to Araya and Co.'s management and later to Kerry King, who invited Absu's drummer for an official auditioning, during which "Postmortem", Raining Blood", "Disciple" and "Hell Awaits" were played. The test went well and Proscriptor's waiting for an answer.

Otto's Daughter: Femme fatale Jacqueline van Bierk's NJ's goth/industrial/punk/rockers' impending come-back, titled "Renew", will be released in May 2002, but it'll be available on Amazon and Cdstreet.com already next May. The guys ain't jokin' cuz their full-length will be released by Metropolis and has been mixed by nonetheless than the respected Neil Kernon (Queensryche, Death SS, Queen...). www.ottosdaughter.com

Sweet: Uk glam-rockers' drummer Mick Tucker died at 54 with leukemia after a 5-year-battle.

Megadeth: DAVE MUSTAINE -- FOUNDER, VOCALIST, AND LEAD GUITARIST OF METAL PIONEERS MEGADETH -- SUFFERS SERIOUS INJURY, ANNOUNCES DEPARTURE FROM MEGADETH; GROUP DISBANDING AFTER NEARLY 20 YEARS TOGETHER During the first week of January 2002, while Megadeth was on hiatus, in Texas, I suffered an injury that caused severe nerve damage to my left arm and hand. It was diagnosed as Radial Neuropathy - specifically, a "compressed radial nerve." My doctors tell me it will take about a year to make as complete a recovery as I can, and even then, we don't know how complete that is going to be. I am working hard with a great team of doctors and physical therapists daily, and God willing, someday I hope to play guitar again. In the meantime, while I work on rebuilding my arm, I will take this opportunity to reappraise my career and my future. For the time being I have decided to exit Megadeth, and explore other areas of the music business where I might make a contribution without being able to play my instrument. I have had a terrific time singing and playing for you while I was in Megadeth. I am truly grateful for all of the numerous Gold, Platinum, and Multi-Platinum Records I have been awarded, as well as the many International Record Awards. And I can never thank you, our fans past and present, enough for your loyalty and affection over the years. My immediate goals now are to do what I can to make something good come out of this terrible situation. First and foremost, I want to use this opportunity to devote more time, energy and attention to my wife Pam and my two children, Justis and Electra. Pam has done a wonderful job carrying the load while I was a long-distance husband and father in the studio or criss-crossing the world on tour, but in terms of being a Gold or Platinum parent, I have a long way to go, and I'm eager to get started. In closing I would like to depart with the beautiful French words I wrote on the record Youthanasia: "A tout le monde, a tous mes amis, Je vous aime, Je dois partir." (To all the world, to all my friends. I love you, I have to leave) Dave Mustaine April 3rd, 2002
www.megadeth.com

March

Fuck the Commerce V: don't absolutely miss this fest from 9th to 11th of May 2002 in Neiden bei Torgau, Germany, feat. Deeds of Flesh, Benediction, Grave, Disgorge(US), Illdisposed, Brodequin(cancelled), Disinter, Godless Truth, Jack Slater, Kadath, Malignancy, Retaliation, E.N.T., Beheaded, Centurian, Wolfbrigade, Necrophagist, Severe Torture, Retaliation, Disastrous Murmur, Seirim, Disavowed, Pyaemia, Forsaken, Isacaarum, Gurkkhas, Sanity's Dawn, Blockheads, Impure, Uppercut, Driller Killer and some more.

Nuclear Assault: are back with the original line-up! Confirmed at the next Wacken Open Air.

Cult: have broken the contract with Lava, a division of the major Atlantic Rec.

Ozzy Osbourne/Motley Crue: some songs of theirs will be included in the flick "Spun" soundtrack with Mickey Rourke.

Exodus: Paul Balhoff, historical singer of the US thrashers in their '85's debut "Bonded by Blood" and live "Another Lesson in Violence" died last 31 Jan at Oakland's Highland Hospital, CA, at the age of 41. The doctors, after consulting his friends and his only traceable relative, decided to detach the machines that still kept him alive, struck by a 2nd heart attack which had provoked him irreversible damages. My comment and tribute to this undervalued and unlucky boy is: "Goodbye Paul, I'll miss U cos I lived the thrash golden era and I know how U were into that and what a positive person U were. Life was not as generous to U as U were with others".


Iron Maiden: All the band is helping ex-drummer and friend Clive Burr, afflicted with multiple sclerosis; there's no cure to heal it, but he's trying new substances to help his body the best way. We remind the youngest he joined the band in '79, playing on I.Maiden's 3 first albums. Maiden have opened a foundation at his name through which they'll try to get as much money as possible, and are playing two benefit shows at London's Brixton Academy on 20th and 21stMarch.
Megadeth: Out on Loud Rec. a remixed and remastered version of their classic debut-CD, "Killing is my Business, and Business is Good", also feat. the "Last Rites/Love you to Death", "Skull Beneath the Skin", "Mechanix" and title-track demo-versions. Victor Entertainment has just released a double-CD live Megadeth recorded at Tucson, Arizona, on Nov. 2001.

Kiss: Their recent 5-CD box has already been certified as golden album in the US for selling more than 100 copies.
Overkill/Judas Priest: Both soon out with a live DVD.

Pantera: Vinnie Paul has recently stated that their new CD will be out not before the start of 2003. In summer, however, a DVD called "Pantera 4" will be available.
Slayer: Dave Lombardo goes back home! Yes, he's come back to enterprise the "God Hates us all" US tour, which started last 24th Jan from New Haven, Connecticut. Paul Bostaph had to surrender due to his chronic elbow problems, convinced not be able to give his best potential.
Nasum: Besides their new CD, which is being recorded at Soundlab Studios, the band is gonna release a double CD/box called "Blueprints for Extinction", containing 129 songs!!!!!!!
Cradle of Filth: Next May they're recording their first album for a major; some demos are already ready, and they were recorded at Peldon's New Rising Studios, the same of "Bitter Suites", and the temporary title chosen for the CD is "Damnation and a Day".
Uriah Heep: The historic British band is about to release the follower of the very good "Sonic Origami", which is gifted with Pip Williams's production. Their tour started from Finland in May and will end in London at 20th April.
Diamond Head: The 4 original members are playing together anew and a reunion seems possible. Meanwhile, boss Brian Tatler keeps on working on a mysterious project with Mr. Dave
"I am Megadeth" Mustaine.
Internal Bleeding: They got a new singer, ex-Bodyfarm's Jerry Lowe, whom we'll listen to on their next full-CD "Hatefuel".
Stratovarious: Timo Kotipelto seems ready to release his new solo-album, recorded at Finnvox with Mika Jussila. Cover by the legendary Derek Riggs.
Guns 'n' Roses: Steven Adler is writing a memory book titled "No Bed of Roses", where he'll tell his story without censures, compromises, nor falsehoods.
Ten: After many auditions the band has announced Vinny Burns's replacement, i.e. 25-y.o. Chris Francis from Kent; Chris got a degree at London's Guitar Institute in '99, then won some competitions from the well-known "Guitarist" mag., and finally released a solo homonymous album containing 9 instrumental tks. Stylistically, he's said to be a mix between Eddie Van Halen, Nuno Bettencourt and Malmsteen.
Savatage: Zachary Stevens is working on the debut of his new act, CircleIICircle; on the CD will also be songs written at 4 hands with Jon Oliva.