The ten-track attack is perpetrated first by "Hellbound", a brief clattering roller-coaster propped up by most heavy accelerations and wild screams from Phil, sometimes replaced by his declamations. The song is then seconded by a tremendously intense riff at the conclusion, and for some it's basically "Sandblasted Skin Pt. 2"

"Goddamn Electric" is Groovy Metal with a riff that struts about alternated with one more lively and destructive. The central break was made just to unleash stage-diving thanks to a riff you immediately fall in love with, enriched by an echo and distant ethereal vocals. An unsurmountable axe solo ensues until the Groovy reprise concluded by sweet distorted whammy bar noises added until the end. This is the outro by Kerry King recorded in a toilet at the Ozzfest and followed by Dimebag's voice.

An instantaneous attack is delivered in a tough and crushing way by "Yesterday Don't Mean Shit", whose refrain, if shot by a wall of amps, might split asunder the foundations and later on demolish a skyscraper. It's one of those anthems that get stuck in your head at once and prompt for its repeated singing when the song is over. In general, the platter's finest vocals are here, along with a rapidly stinging drum work and bass work that leave no possibility to breathe. The guitar reaches the top when it's playing venomous diverse solo before the refrain comeback and the final assault.

A thick tom tom drum work opens "You've Got to Belong to It" and then Vinnie goes in countertime, Dimebag offers palm-muted riffs, squeals, while Phil's reverberated vocals seem fallen from the sky. There appear other muscular vocals and other whispered ones that might be coming from the nether world after a crack suddenly opened in the Earth's crust. Absolutely lovely is the chorus with additional vocals in the background placed over the winding riff. A semi-acoustic break follows on the trail of Led Zeppelin, with Phil first coughing and then speaking and shouting in turn. It's also nice hearing drums, guitar and bass briefly exploding a few times before getting back 100% at maximum volume in order to close with the refrain and the initial part, constituted by guttural spoken words and great fast guitar embroidery in the last moments.

"Revolution Is My Name", for many fans, Pantera's favorite composition, kicks off proceeding forward heavy and slow with a pachydermatous bass as a company. In this song Rex's bass lines are the only ones where he's not forced to mirror the guitars. This song pays homage to Black Sabbath until a classic riff that only Darrell could have given birth to arrives. The number becomes real involving from the pre-chorus to the mid-tempo chorus, till the groovy break embellished by never-aging precious guitar interventions, subsequently replaced by a strophe, the pre-chorus and the chorus again. More licks one tastier and catchier than the other make this track a complete masterwork. It's no coincidence it was chosen to be accompanied by an official video available here, that is always putting me in a good mood even in these dark times 21 years later. Maybe it's because Phil looks like a blend of Charles Manson and Jesus Christ or because of the bearded kids, or simply because we can see the band members young, committed and genuinely willing to give the audience their heaviest repertoire. What matters is that whenever I watch it I stop thinking what they would have done if they hadn't called it quits and if they were still alive. I just enjoy the magic fury and the talent of four guys who 'literally saved Metal', to quote Mr Scott 'Not' Ian.

Fast Thrashy drumming with scorching squelaing guitars and viper vocals with a repeated rattelsnake noise after every final 's' is what you get from "Death Rattle". There are also further aggressive vocals preceding the main cool groovy riff in the refrain, there's an instrumental acceleration, as well as an ear-piercing guitar solo, odd-timed drumming and finally an end in the sign of the menacious refrain. Only die-hard fanatics know that an edited version of this song was used on an episode of Spongebob Squarepants in 2001.

"We'll Grind That Axe for A Long Time" begins with a monumental riff sending us back to the times of "Vulgar Display of Power". This piece feeds upon a contrast between so-called groovy structures and sped-up ones, reinforced by the nth perfect intertwining between drums and guitar, and also by guitar acrobacies. It has to be noted that the guitar here first sounds like a chainsaw and later like an electric welder before the first repeated verse, and this leads the track to become the typical case of a tune destined to be insistently replayed and sung along.

The only track I didn't assimilate quick is "Uplift", but in time I learned to appreciate its obsessive riff, sometimes overdubbed and its easy drum patterns. It also happens to have some seconds where drums and voice remain alone up to the moment an atmospherical fuzzy breakdown comes. That, in turn, is followed by an oppressive short apocalyptical section with screams borrowed from the times of "The Great Southern Trendkill". Pure drums in countertime, occasionally blast-beating, and a closing fragment that takes the listener back to the starting chunk is what you'll meet in the last seconds, instead.

Long and psychedelic, "It Makes Them Disappear" turns out to be a true Sludge Metal piece until a monolithic riff incredibly similar to Machine Head's "Davidian" kicks off, emprecioused by extreme suffering screaming and somber vocal lines. The same plot is done again, stressing out the imaginative, powerful and enthralling manner of playing fills by Vinnie. After a melancholic portion a guitar solo pops out, this time slowed down, overlooking together with twisting bass lines until the refrain is fading away.

Without a pause comes in "I'll Cast A Shadow", and it's clear right from the start we're in front of another highlight, on account of a hypnotizing riff that captures the attention with the sometimes overdubbed vocals and the cutting 's' pronunciation of the beginning of the word 'shadow' during this song. The refrain, backed up by stinging kick drums, ends up being the icy on the cake. There's a mid-tempo interruption with a destructive riff alternated with licks free from any scheme. Afterwards, a Sabbathian structure with wah-wah effect during a Bluesy bass riff ensued by several spoken words completes the opus.


As for the radio edits found in the second disc following the 10 songs with Terry Date's new mix, we immediately notice that they're all shorter and the main difference is heard in "I'll Cast A Shadow".


The opener of the third disk is "Avoid the Light", which has a sort of "This Love" feeling once in a while, but for the rest is an original great tune with a vampiric edge, since it was the soundtrack for "Dracula 2000". It captures the hearer's listener thru its semi-acoustic refrain and another irresistible solo from the Jimi Hendrix of Groove Thrash Metal, good ol' Dimebag, and also as it reveals another pleasant side of the Texan four-piece's songwriting.
"Immortally Insane" is a rocky musical creation upheld by a potent kickdrumming, an energetic refrain and corrosive final vocals. Think of Black Sabbath meet Down with Dimebag.
Things are quite different with "Cat Scratch Fever", an amusing cover version (already appeared on the "Extreme Steel Plus" EP) of a classic by Ted Nugent's, faithful enough to the original for three quarters of the time, while Black Sabbath's "Hole in the Sky" is the best-rendered cover version, enjoyable immediately. Anselmo rarely contains himself, but in this song he does offer his utmost.
The last cover version is one more borrowed from Black Sabbath's repertoire, "Electric Funeral". This song contains vocal lines typical for Pantera, but in many others it really seems Ozzy's behind the mic! The composition has come out so well that I wouldn't have hesitated to include it in the album if I'd been the record company guy responsible for the tracklist.

The instrumental rough mixes are usually just a little more than academic and work well as a background or as a means to practise for those who want to learn or record Pantera's cover versions.
On certain occasions they help stress out the structure of a part of a song; for instance the Techno-Thrash Metal constitution of "Goddamn Electric", the badass riff present in "Yesterday Don't Mean Shit", the intricate drumwork in "Revolution Is My Name", the manipulations of the guitar sounds in "Death Rattle", the intense intertwining between drums and guitar in "We'll Grind That Axe for A Long Time", or lastly the crushing riff inside "I'll Cast A Shadow".



Actually Pantera aren't reinventing themselves here because every member brought a list of their fave 5 Pantera songs to get inspiration from during the songwriting sessions. What counts is that Pantera's 9th offering is good from start to finish, it stupefies and never bores, therefore it beats me why it gets so much hate. Its standout points are drums aimed at the feel, Anselmo's improved diction, trying some variations and exploiting his just-accessed lower vocal timber capacity due to his age without losing incisiveness in his screams.
All of that despite the tensions within the group resurfacing now and then that would in the end lead to the formation's demise and birth of Down and Damageplan.

The Texan quartet might've been in its declining phase as some claim, but these 10 songs prove that it still had a great deal of inspiration during the songwriting, verve, accuracy in performance and still many other strings to its bow.
It's a pity that Pantera haven't been able to record more material, however this remains a stellar way to end their career.

If Pantera hit the stores again in 2020 receiving so much feedback with this well-acclaimed and much sold triple album, then my theory concerning the widespread hunger and feeling of missing the band is even more confirmed still after all these years.

A capacity of conveying feelings, a musical landscape made of vivid images, a unique lyrical method to make the 10 compositions of "Reinventing the Steel" unforgettable are characteristics of the original and this re-issued album of pure Southern Groove Thrash Sludge Metal. An album that saved my sad 2020 and did the same in this year!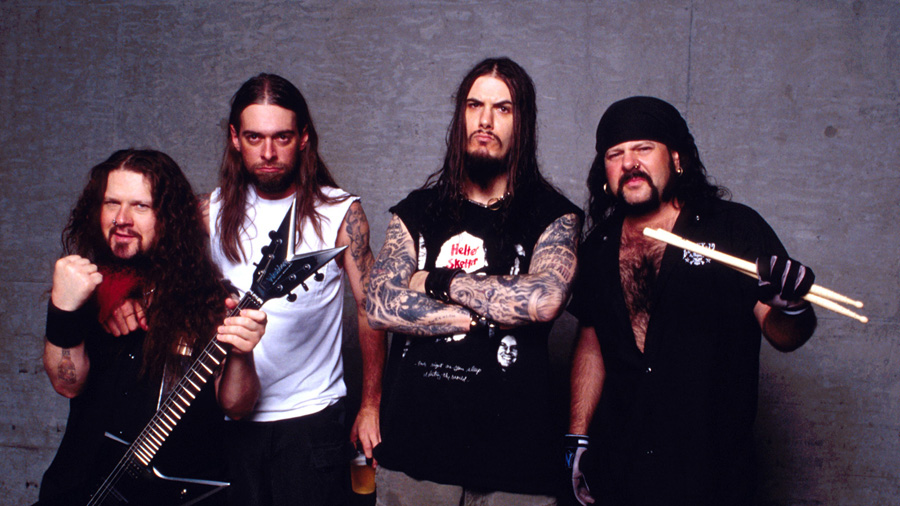 Tracklist:

CD 1
01. Hellbound
02. Goddamn Electric
03. Yesterday Don't Mean Shit
04. You've Got to Belong to It
05. Revolution Is My Name
06. Death Rattle
07. We'll Grind That Axe for A Long Time
08. Uplift
09. It Makes Them Disappear
10. I'll Cast A Shadow


CD 2
01. Hellbound
02. Goddamn Electric
03. Yesterday Don't Mean Shit
04. You've Got to Belong to It
05. Revolution Is My Name
06. Death Rattle
07. We'll Grind That Axe for A Long Time
08. Uplift
09. It Makes Them Disappear
10. I'll Cast A Shadow)

Radio versions
11. Goddamn Electric (Rough mix)
12. Revolution Is My Name (Radio edit)
13. I'll Cast A Shadow (Radio edit)
14. Goddamn Electric (Radio edit)


CD 3
Bonus tracks
01. Avoid the Light
02. Immortally Insane
03. Cat Scratch Fever
04. Hole in the Sky
05. Electric Funeral

Instrumental rough mixes
06. Hellbound
07. Goddamn Electric
08. Yesterday Don't Mean Shit
09. You've Got to Belong to It
10. Revolution Is My Name
11. Death Rattle
12. We'll Grind That Axe for A Long Time
13. Uplift
14. It Makes Them Disappear
15. I'll Cast A Shadow






Demo-/Discography:

Metal Magic (full-length - 1983)
Projects in the Jungle (full-length - 1984)
I Am the Night (full-length - 1985)
The Hot 'n' Heavy Home Vid (video - 1985)
Power Metal (full-length - 1988)
Cowboys from Hell (full-length - 1990)
Cowboys from Hell (video - 1991)
Mouth for War (single - 1992)
Rock Hard Presents New Metal (split - 1992)
Light Comes out of Black (collaboration - 1992)
Vulgar Display of Power (full-length - 1992)
For Those About to Rock - Monsters in Moscow (split video - 1992)
Walk (single - 1993)
Vulgar Video (video - 1993)
Feel It to Believe (split - 1993)
Vulgar Display of Cowboys (compilation - 1993)
5 Minutes Alone (single - 1994)
Planet Caravan (single - 1994)
Hostile Moments 12" (EP - 1994)
Driven Downunder (boxed set - 1994)
The Badge/Temporary Phase (split - 1994)
I'm Broken/Slaughtered (single - 1994)
Far Beyond Driven (full-length - 1994)
Alive and Hostile E.P. (EP - 1994)
The Great Southern Trendkill (full-length - 1996)
The Singles 1991-96 (boxed set - 1996)
Becoming (EP - 1996)
Cemetery Gates (Demon Knight Edit) (split - 1996)
3 - Watch It Go (video - 1997)
Official Live: 101 Proof (live album - 1997)
3 Vulgar Videos from Hell (video - 1999)
3 for One (boxed set - 1999)
Ozzfest Sampler (split - 2000)
Reinventing the Steel (full-length - 2000)
Extreme Steel Plus (EP - 2001)
Revolution Is My Name (single - 2001)
The Best of Pantera: Far Beyond The Great Southern Cowboys' Vulgar Hits (compilation - 2003)
Reinventing Hell (compilation - 2003)
Essential Music Videos: Alternative Metal (split video - 2004)
Essential Music Videos: Extreme Alternative (split video - 2004)
HiFive (EP - 2006)
Vulgar Display of Power/Far Beyond Driven (compilation - 2008)
1990 - 2000: A Decade of Domination (compilation - 2010)
Cowboys from Hell: The Demos (compilation - 2010)
Original Album Series (boxed set - 2011)
Piss (single - 2012)
The Triple Album Collection (boxed set - 2012)
The Badge (split - 2014)
History of Hostility (compilation - 2015)
The Complete Studio Albums (boxed set - 2015)
The Great Southern Outtakes (compilation - 2016)
Live at Dynamo Open Air 1998 (live album - 2018)
Reinveting the Steel - 20th Anniversary (triple album reissue - 2020)






Line-up on this record:

Philip H. Anselmo- v. (also in Down, Phillip H. Anselmo & The Illegals, Scour, Arson Anthem, Bill & Phil, Body & Blood, En Minor, Metal All Stars, Metatron Nganga, ex-Christ Inversion, ex-Superjoint, ex-Superjoint Ritual, ex-Viking Crown, ex-Alice In Chains (live), ex-Eyehategod (live), ex-Warbeast (live), ex-Necrophagia, ex-Razor White, ex-Southern Isolation, ex-Amicuss, ex-Eibon, ex-Enoch, ex-Samhain, ex-The Satanic)
Dimebag Darrell - g. (ex-Damageplan, ex-Gasoline, ex-Rebel Meets Rebel, ex-Tres Diablos)
Rex Brown - b. (also in Rex Brown, ex-Crowbar, ex-Down, ex-Kill Devil Hill, ex-Arms Of The Sun, ex-Gasoline, ex-Rebel Meets Rebel, ex-Tres Diablos)
Vinnie Paul - d. (ex-Damageplan, ex-Machine Head (live), ex-Hellyeah, ex-Gasoline, ex-Rebel Meets Rebel, ex-Tres Diablos)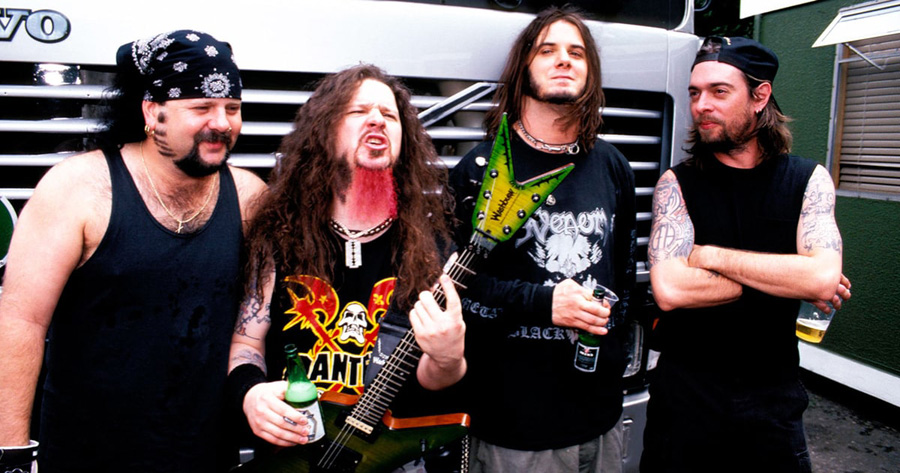 Contacts:
Arlington/Ft. Worth, TX - USA
E-mail:




Official links:
Facebook
Twitter
Instagram
Homepage
Spotify
Youtube
Deezer
Reverbnation
Soundcloud




DON'T MISS THIS ALBUM'S VIDEO REVIEWS IN ENGLISH AND ITALIAN:
Pantera_Reinventing the Steel digipack triple CD English video review:
https://www.youtube.com/watch?v=YLtW1Vnbghw

Pantera_Reinventing the Steel digipack triple CD Italian video review:
https://www.youtube.com/watch?v=6t57Is17k3E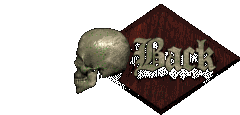 (back to homepage)