Two years after an EP the Ryazan musicians come back with an 8-track digipack displaying a marvellous multi-subject artwork and a clean professional production that satisfies in part because the guitars are too low and often end buried in the mixing.
The lyrics are inspired by a book and talk about a furious killing troll who can't sleep and ends up getting killed by peasants. A riddle: a snow blanket in the forest, the noise of a broken branch and worthless words together with 8 corpses. A northern seaman who drives a ship throuhg violent waves in a sea where a monster and a dragon live. A long-awaited day finally arrived. Ragnaroll. A ball with a chain and thorns. A wild boar. An invitation to a girl to enter a forest from a hairy, bearded, toothless being who claims to be good and rich, yet he has a rope, a hatchet, a knife and is dirty with blood.

"Бешеный Тролль" is opened and closed by animal cries; metallic bass lines and a martial drum machine are immediately noticed, along with a symphonic violin, a crazy guitar solo and theatrical vocals.
" головолом" is a mid tempo track with bagpipes interventions. Screams the way people sneeze and Death growls come in company with tribal drumming.
A wave roar from the North Sea and bagpipes introduce "Торкланд", followed by plam-muted riffs, 2 guitar solos in mono recording while the drums lead a fast rhythm, until the keyboards fulfill the task of concluding the composition.
The title track and the previous song, which already appeared on a digital single one year earlier, are my favourite ones, with "Рагнаролл" seeing the violin as protagonist, and drunk unbecoming vocals conquering the listener as fast as the memorable refrain.



Melancholy and intricacy characterize "Ачад", a song which is partially mid-tempo and partially really fast, with the drum machine luckily never sounding too cold for this genre.
The violin just has an accompaniment function in "Шар, Цепь, Шипы", Doom Metal opened by a crushing riff and recurring to pirate-like vocals and a few depressive breaks, whereas "Вепрь" is plain Viking Folk Thrash containing a pair of unsavoury Prog Metal axe solos.
The closing track "Пойдём Со Мною В Лес, Красотка" mixes Folk, Rock and Roll, growls and a bagpipes solo, and everything shines out with a humouristic twist.

As stated above, the positive aspects overcome the negative ones by a large degree, still the lacking effort in producing better solos and the intention to hide the guitars is something I can't accept properly during the listening. In the end, a good album that had the potential to be a masterpiece but failed to make the last necessary tiny step. Still, Onkel Hryum possesses a very rare quality: when you listen to its songs, it never reminds you of any band, in that it boasts an original approach, a special songwriting that is both avant-guarde and brave. Perfection has never been so at hand...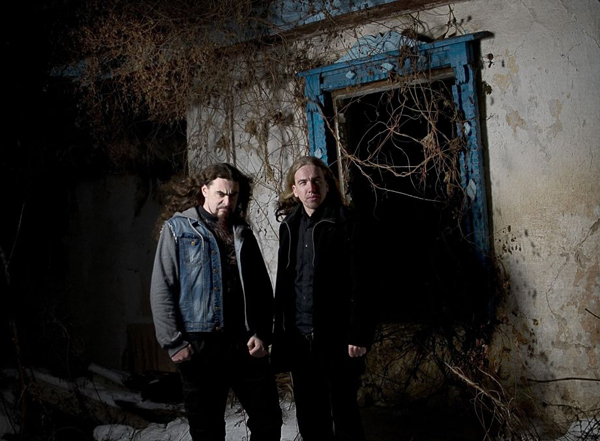 Trivia: Дядька Хрюм ("Onkel Hryum") means "Uncle Grunt" in Russian.

Tracklist: Бешеный Тролль, Торкланд, Рагнаролл, Ачад Шар, Цепь, Шипы, Вепрь, Пойдём Со Мною В Лес, Красотка




Discography:
Захребетник (EP 2013)
Торкланд (single 2014)
Ragnaroll (CD 2015)
Суровый моряцкий затяг (EP 2017)
Кошмар (single 2017)



Line-up on this record:
Yuri Shumbasov - bass, vocals (see also: Grobut Neerg)
Anton Chugunov - guitars (see also: Grobut Neerg)

+ guest musicians:
Ivan Burobin - bagpipes
Dmitry Kokarev - guitars (tracks 1 and 8)





Contacts:
Ryazan - Russia
https://www.facebook.com/onkelh