Hatebeak is a US Death Metal band whose singer and leader Waldo is a 19-year-old grey parrot: https://en.wikipedia.org/wiki/Hatebeak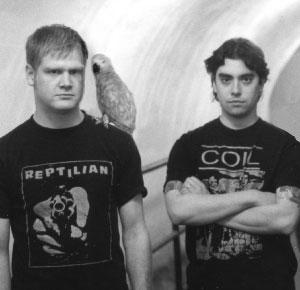 Caninus was a Deathgrind act born as a side-project of Most Precious Blood's guitar player Justin Brannan: https://en.wikipedia.org/wiki/Caninus_(band)













Apr 2019
Mar 2019


(03.28) Unmerciful will enter the studio in June to record their 3rd album.

(03.28) Deivos have satarted recording their new album.

(03.27) Release of the new Napalm Death album has been pushed back to 2020 for various reasons including the band's touring schedule.

(03.27) Beheaded's new studio album is called "Only Death Can Save You" and it will be released on June 14th via Agonia Records.

(03.25) Bass tracking has begun on the new Nile album.

(03.19) The new Hour Of Penance album starts mixing today at Hertz Studio.

(03.18) To listen to the new Aflockalypse song 'On Steel Wings We Rise', visit https://www.youtube.com/watch?v=ouZ-V6jfQcA It is a power metal project about a cartoon chicken metal band called Aflockalypse; the song features Stu Block from Iced Earth on vocals.
(03.16) To listen to the new Devin Townsend song 'Evermore', visit https://www.youtube.com/watch?v=-zIxPUPWVq8

(03.13) Hideous Divinity have signed with Century Media records, and plan to release their new album fall of 2019.

(03.12) To listen to the new song 'Mind Asylum' off the new Origin demos album "Abiogenesis - A Coming Into Existence", visit https://www.youtube.com/watch?v=vCrnou_gmtA
(03.09) Internal Bleeding bassist Shaun Kennedy has left the band for personal reasons, and is now permanently replaced with Ryan Giordano.

(03.07) Tool's new album is in the mastering stage.

(03.04) Disavowed have finished recording vocals for their new album.
(03.04) Pathology will head back into the studio next month to finish their new album.

(03.01) To listen to the new song 'Garden In The Bones' off the new Periphery album, visit https://www.youtube.com/watch?v=oHbpsxzZa0U
Feb 2019

(02.28) Apparently the siesta is over for Broken Hope, who are now looking to new music and touring in 2019.

(02.22) To listen to the new Devin Townsend song 'Genesis', visit https://www.youtube.com/watch?v=1n7uvokARQ4

(02.22) To listen to the new Darkwater song 'In Front Of You', visit https://www.youtube.com/watch?v=Mu0NTxesa0k
(02.22) Origin will be releasing a Demos type album on May 3rd called "Abiogenesis - A Coming Into Existence". The first half of the album will be rerecorded demnos from the band from before they officially became Origin. And the end of the album will be the out of print "A Coming Into Existence" demo.

(02.21) Depravity have finished recording drums for their new album.
(02.21) Skinlab have started recording their new album with new drummer Fabian Vestod.
(02.19) Wormed has finished recording their new album.

(02.16) Despondency will be releasing a new EP called "Excruciating Metamorphosis", go here for the track 'Divine Ceremonial Mutilation': https://www.youtube.com/watch?v=MmLWRKUuWK0

(02.16) Napalm Death is mostly finished recording their new album.

(02.15) Aeon have added drummer Timo Häkkinen to their ranks. Tos ee one of his audition songs, check here: https://www.youtube.com/watch?v=4PLvqwK0imU
(02.14) Vader will be releasing an EP called "Thy Messenger" in late spring. Go here for the cover artwork: http://assets.blabbermouth.net.s3.amazonaws.com/media/vaderthymessengerep.jpg Vader plans to release a full brand new album before the end of the year.

(02.13) Morbid Angel will start writing music for a new album this year while continuing to do tours.

(02.11) The new Fear Factory album will be called "Monolith". Go here for the cover artwork: http://assets.blabbermouth.net.s3.amazonaws.com/media/feafactorymonolithcoverbrown.jpg
(02.09) The new Tool album should be out in May or June of this year.

(02.08) Putrid Pile's 6th full length album "Revel In Lunacy" will be released spring/summer 2019 on Sevared Records.
(02.08) To listen to the new song 'Paralyzed' by Dream Theater, visit https://www.youtube.com/watch?v=C7m7l8iqGAk
(02.06) Periphery's new album will be called "Periphery IV: Hail Stan", and will be released April 5th. To listen to the new song 'Blood Eagle', visit https://www.youtube.com/watch?v=SzznL_8DIUM

(02.06) Unmerciful have been signed to Willowtip Records.
(02.04) Sensory Amusia welcomes vocalist Jei Doublerice from Italy to their ranks.
(02.04) Drum recording has started for the new Hour Of Penance album.
(02.04) Immolation are working on a new album.

(02.04) Suffocation confirms they will continue to tour and make new records even though vocalist Frank Mullins has retired.

(02.01) Guitar tracking has started on a new Sensory Amusia EP.

(02.01) Go here to listen to the first single 'A New Beginning' off the new Darkwater album: https://www.youtube.com/watch?v=f5zpDD38Pr8
Jan 2019

(01.23) Testament is hoping to get into the studio in April to record their new album.
(01.23) Listen to the new Malevolent Creation song 'Release The Soul': https://www.youtube.com/watch?v=w4PIwx1lZSE
(01.19) Cannibal Corpse have recruited Erik Rutan (Hate Eternal) to fill in for guitarist Pat O'Brien on the band's upcoming tours. The court case against O'Brien is still pending.

(01.16) Devin Townsend's new album "Empath" will be released March 29th 2019.

(01.14) To listen to the new song 'Fall Into The Light' by Dream Theater, visit https://www.youtube.com/watch?v=JFxH4kky6z4

(01.11) Go here to listen to the first single 'Alive (Pt. II)' off the new Darkwater album: https://www.youtube.com/watch?v=EDYtk6SYkJ8

(01.11) After their next tour cycle, Tesseract plan on starting to write their next album in August.

(01.10) Prophecy have finished recording everything except the vocals for their new album, vocal recording should start Jan 20th.

(01.09) Revulsed have signed with Everlasting Spew Records for their new record.
(01.05) Uneven Structure teases album 3 is coming this year.
(01.05) Maynard James Keenan has finished recording vocals for the new Tool album.
(01.05) Vital Remains hope to finally release a new album this year.