After 5 years since their last full-length and almost 3 years in a recording studio, on September 18, 2020 Napalm Death are back with their 16th studio album with the same producer they've worked with in the last years, Russ Russell, who's probably bestowed his best performance in their company on this occasion. Mitch Harris and John Cooke both contributed to the composing and recording but they don't appear in any photo of "Throes of Joy in the Jaws of Defeatism".
Among the various formats available, this review derives from the digipack version which contains 3 tracks more than the basic version and one less than the Japanese one. And this digipack is unexpectedly rather heavy because it's made as a book and also includes a Napalm Death's patch.

The artwork was made by Danish illustrator Frode Sundbø Sylthe who developed it in accordance with Barney's view on veganism, practice that he's been following for numerous years in addition to being a supporter of PETA. It features photographs with blood streams added digitally or by traditional hand drawing to a pair of gloves and a dead pidgeon prop.
The front cover shows a bird, probably an inanimate bleeding dove whose neck is held by a hand; the dove is a renowned international symbol for peace and that bird has an E drawn on the chest standing for 'equality', so the album art is a metaphor that Barney wanted in order to depict the dehumanization that he sees in some governments.
The second photo portrays the skull of the same animal and a hand which is about to hit it as if it were a marble, while in the third you see a hand holding a box with broken eggs whose yolk is of blue colour!
The fourth image is even rawer and crueller since there is a man in pain while being blinded by fingers gouging his eyes. In the fifth the initial sadistic guy reappears taking off his glove as red as his hands, while in the next picture he has bloody feathers fly; then the photos of the three main members of the UK/US act are exposed followed by the last photo presenting a tongue on the verge of eating blood and chicken feathers.
The back cover artwork just lists the song titles whereas the CD has the two blue gloves clean still unused, and when you lift it off you see chicken eggs in the inner part.
In consideration of the fact that Barney is a long-time political activist, it's no wonder that he has utilized this very new release to also deal with topics such as anarchism, socialism, humanism, animal rights, xenophobia, the brutality of capitalism, governments' tyrannies; as a matter of fact a good 95% of the lyrics were composed by him and only the rest by bassist Embury. Interesting to note that Barney's lyrics and song titles have had such an impact out of the music scene that they have even been cited in a 2016 book written by Professor Simon Springer titled " The Discourse of Neoliberalism: An Anatomy of a Powerful Idea".
In detail they cover with the usual educated and sometimes cryptical language the following subjects specifically:
*an epidemic of senseless words repeating false news until it's perceived as true and resorting to scapegoats until crowds get mad
*a violent reaction to bluntness
*being in thrall castrated and emasculated
*greed and human trafficking
*the joy of becoming enslaved
*a clutch on immigrants that Barney finds wrong
*preventing migrants' deaths during their illegal journeys although Barney considers them right
*politicians showing strength as the people who voted them request
*the evidence that mankind is an amoral and faithless race, just food for worms
*the need to muzzle defeatism
*the impossibility of a dialogue with someone dogmatic
*diverting political parties' tactics which are allowed by the crass
*deep hatred and spleen towards someone


The record begins its assault caustically with "Fuck the Factoid", recurring to a reverberated refrain, screams, baritonal vocals as well as a few backing shrieks, whereas the refrain of "Backlash Just Because" comprises effected vocals. The song was dropped on the web earlier as a single and can easily be identified as one blending riffs in the vein of the latest albums and "Diatribes" along with Meathook Seed''s vibes. After a sick bass intro you get to hear that the drumming here is quite elaborate, but there is also space for Euroblast blast-beats during this frenzy of Converge-infused Hardcore, a beast of a breakdown where Barney pulverizes the listener with an unforgettable high-pitched shift in his vocal chords and brief licks reminding the early Voivod. Should we call the new Napalm Death post-Anarcho-Grind or are they like a softer version of Pig Destroyer meets Meshuggah?
"The Curse of Being in Thrall" is the most violent and fittest for moshpits; the piles of diverse vocals, of which some effected, proves that the Grindcore/Death/Crust/Industrial/Groovecore legends spent a lot of time tuning their product in studio in order to deliver top-notch tunes. A sudden rhythm variation in the middle of the track and several dynamic riffs make it far more than a mere 'harder and faster Nailbomb interpretation'.
Launched on the wings of a mid-paced riff that conquers and entertains the hearer immediately, "Contagion" also consists of massacring riffing which did make my mouth drool. The refrain on the other hand veers towards old Ministry, once again with assorted vocals sending back to the "Greed Killing" era cooperating with blastbeats and additional pretty rapid riffs. Definitely the first highlight of the platter and not a coincidence matched by another official video here available: https://www.youtube.com/watch?v=RCKYm2Gw8JA
Blackened Crust on an odd pattern is what you'll find when you'll be listening to "Joie de ne Par Vivre"; the bass lines are there to stand out, whereas Barney chooses to surprise everyone with putrid Black Metal/early Sodom-styled vocals and damned whispers devised to give the creeps. Glacial reverberated guitar strokes in accompaniment to tribal drumwork contribute to the success of the piece.


Lugubrious Dark Metal characterizes the inception of "Invigorating Clutch"; soon singing like a possessed Tibetan monk makes you understand how much this song was influenced by the most nightmarish Swans until a Darkthronian mid-tempo slightly tinged with Industrial Metal pops up with Barney emanating hate from all his pores. Excellent composition, without any doubt my favourite one. The longest gap between albums in the history of Napalm Death has borne fruit by all means.
Another fast and ferocious track is "Zero Gravitas Chamber", featuring abrupt blast-beats on the trail of the early Napalm Death. The finale unveils a bulldozing riff and processed extreme vocals aimed at maximising the destructive result.
With "Fluxing of the Muscle" we're in front of a more complex lead guitarwork; even if Barney isn't able to produce anymore the roars that made him popular in the 90s, he's still got it at sounding similar to respectively a rabid dog, an ogre or an an obsessed who keeps on shouting the same word. The twist arrives with a set of spoken words, martial drumming, an acceleration, Industrial Metal flavour hints concluded by the opening riff repeated and the guitar tone prolonged and faded out.
Accompanied by an official video (https://www.youtube.com/watch?v=T5ChaOiPZGo), "Amoral" has disappointed many fans who dearly love only the early period of Napalm Death due to the new direction incorporating elements of Ministry, Killing Joke, Pitch Shifter, Sonic Youth, Therapy?, Gojira and the Voivod of "Angel Rat". You can tell from the start that the riff came from Embury's mind as most of the above-cited are some of his favourite vinyls in his entire collection. After a couple of replays in order to better assimilate it, the track turns out to be catchy and convincing. Curious to note is the fact that it comes to an end by flangered layers of vocals, some of which don't seem from Barney; others instead actually sound like a children's choir!
Introduced by primitive screams at the top of his lungs first dry, then deformed at the end, the title track kicks off fired at full speed. It's one of those songs satisfying those who crave for murderous blastbeats and paroxystical; still, there's time for an atmospherical breakdown so much on the footsteps of "Fear, Emtiness and Despair" ensued by Mitch Harris' s barkings. If you haven't heard this song, trust me, it's a winner thanks to its engaging entwining of drums, vocals and guitar, as well as the conveyed preciseness in the details.
The British/North American ensemble continues its aural offensive with "Acting in Gouged Faith", displaying classic Napalm Death riffs which might as well come from the writing sessions of "Mass Appeal Madness" matched with open Death Metal riffs made last longer. Here Barney gives his best to deploy a large array of intense scorching vocal styles.
The finest riffs and some demon vocals define "Feral Carve-up" together with more blastbeats going at full throttle except when a mid-tempo comes back to impose its rule with the intent to create angst. And to think this is one of the three bonus tracks!
Originally released as a single and influenced by Einstürzende Neubauten, Swans, Coil, and even Godflesh and Scorn, "A Bellyful of Salt and Spleen" is coupled with an official video (https://www.youtube.com/watch?v=TLKjpobj4vg); slow, Industrial and Gothic Metal dance around low-toned often reverberated vocals, guitars that sound similar to keys in a cold and original manner. The music was composed by Embury, Harris and Russell himselfand the outcome couldn't have been but a perfect finisher.
The second bonus track, "White Kross", composed by Sonic Youth, was already out in February on the "Logic Ravaged by Brute Force" EP B-side. This corroding version proves one more time that this line-up of Napalm Death finds itself comfy in breaking genre borders. The multiple monophonic layers of clean vocals at the end, the obvious more heaviness and the two extra-minutes of length make it almost as good as 1987's original; certainly they've put all the possible endeavors into this interpretation because they didn't want to be perceived just as 'the nth band playing Sonic Youth'.
A fantastic rendering in which Barney doesn't even seem to be behind the mike (even if he is for the reason that he is credited), "Blissful Myth" is the third and last bonus track here present. Choosing to cover a 1983 anthem by Rudimentary Peni means that ND don't mean to forget their roots and this shameless riff and lyrics are most likely the aptest way to terminate this album.

Does this record have a bad side? Not really, but personally I'd like Barney to be more intelligible during the fastest and tightest passages when he's on album, since I often need to listen with the booklet in front of me to appreciate the whole song. Besides that, perfect sequencing, diversity, aggression, anguish, accuracy from each musician in the four-piece's execution. There are so many veteran Metal bands still active out there nowadays but almost all of them play it safe, whereas Napalm Death keep bashing and explorating at the same time.
Fans of Amebix, Killing Joke, Venom Prison and the likes, as well as 90s-era Napalm Death will rejoice while their ears will be begging for mercy.
Only wine and Napalm Death seem to keep on getting better with the years.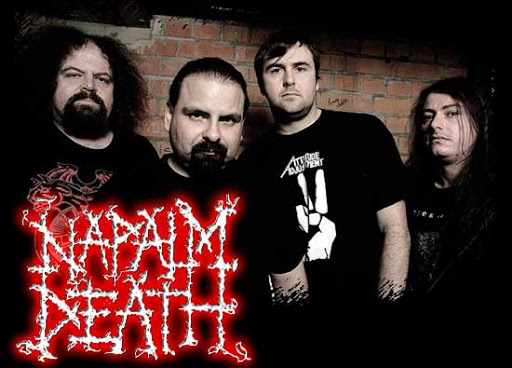 Tracklist:

01. Fuck the Factoid
02. Backlash Just Because
03. That Curse of Being in Thrall
04. Contagion
05. Joie de ne Pas Vivre
06. Invigorating Clutch
07. Zero Gravitas Chamber
08. Fluxing of the Muscle
09. Amoral
10. Throes of Joy in the Jaws of Defeatism
11. Acting in Gouged Faith
12. Feral Carve-up
13. A Bellyful of Salt and Spleen
14. White Kross (Sonic Youth cover)
15. Blissful Myth (Rudimentary Peni cover)






Demo-/Discography:


| | | |
| --- | --- | --- |
| Halloween | Demo | 1982 |
| And, Like Sheep, We Have All Gone Astray | Demo | 1982 |
| Kak | Demo | 1983 |
| Unpopular Yawns of Middle Class Warfare | Demo | 1983 |
| Hatred Surge | Demo | 1985 |
| From Enslavement to Obliteration | Demo | 1986 |
| Scum | Demo | 1986 |
| Scum | Full-length | 1987 |
| The Peel Sessions | EP | 1987 |
| From Enslavement to Obliteration + Scum | Compilation | 1988 |
| From Enslavement to Obliteration | Full-length | 1988 |
| The Curse | Single | 1988 |
| You Suffer | Single | 1989 |
| Napalm Death / S.O.B. | Split | 1989 |
| The Peel Sessions | Compilation | 1989 |
| Live EP | EP | 1989 |
| Mentally Murdered | Single | 1989 |
| Mentally Murdered | EP | 1989 |
| Napalm Death / Electro Hippies | Split | 1989 |
| Harmony Corruption | Full-length | 1990 |
| Suffer the Children | EP | 1990 |
| John Zorn / Napalm Death | Split | 1990 |
| Live Corruption | Video | 1990 |
| Mass Appeal Madness | EP | 1991 |
| Death by Manipulation | Compilation | 1991 |
| Utopia Banished | Full-length | 1992 |
| The World Keeps Turning EP | EP | 1992 |
| Live Corruption | Live album | 1993 |
| Nazi Punks Fuck Off | Single | 1993 |
| Hung | Single | 1994 |
| Fear, Emptiness, Despair | Full-length | 1994 |
| More than Meets the Eye | Single | 1994 |
| Greed Killing | EP | 1995 |
| Cursed to Tour | Split | 1996 |
| Diatribes | Full-length | 1996 |
| In Tongues We Speak | Split | 1997 |
| Where the Wild Things Are | Split | 1997 |
| Inside the Torn Apart | Full-length | 1997 |
| Breed to Breathe | Split | 1997 |
| Breed to Breathe | Split | 1997 |
| Bootlegged in Japan | Live album | 1998 |
| Words from the Exit Wound | Full-length | 1998 |
| Leaders Not Followers | EP | 1999 |
| Large Popmerchandising | Split | 2000 |
| The Complete Radio One Sessions | Compilation | 2000 |
| Enemy of the Music Business | Full-length | 2000 |
| The DVD | Video | 2001 |
| Punishment in Capitals | Video | 2002 |
| Order of the Leech | Full-length | 2002 |
| Noise for Music's Sake | Compilation | 2003 |
| Punishment in Capitals | Live album | 2003 |
| Leaders Not Followers: Part 2 | Compilation | 2004 |
| Tsunami Benefit | Split | 2005 |
| The Code Is Red... Long Live the Code | Full-length | 2005 |
| The Dead Eye - The Haunted / Brand New Sin / Into Eternity / Napalm Death / Heaven Shall Burn | Split | 2006 |
| In Memory of Jesse Pintado | Split | 2006 |
| Smear Campaign | Full-length | 2006 |
| Earache Death Metal Pack | Split | 2008 |
| Time Waits for No Slave | Full-length | 2009 |
| Live in Japan - Grind Kaijyu Attack! | Split | 2009 |
| Death Metal Live | Split video | 2009 |
| Diatribes / Greed Killing / Bootlegged in Japan | Boxed set | 2010 |
| Live at Rock City | Live album | 2010 |
| Inside the Torn Apart / Words from the Exit Wound / Breed to Breathe | Boxed set | 2010 |
| Legacy Was Yesterday | Single | 2011 |
| Analysis Paralysis | Single | 2012 |
| Utilitarian | Full-length | 2012 |
| Converge / Napalm Death | Split | 2012 |
| Scum / From Enslavement to Obliteration / Harmony Corruption / Utopia Banished | Boxed set | 2012 |
| Napalm Death / Insect Warfare | Split | 2013 |
| Sugar Daddy Live Split Series 9 | Split | 2013 |
| To Go Off and Things | Single | 2014 |
| Our Pain Is Their Power | EP | 2014 |
| Apex Predator - Easy Meat | Full-length | 2015 |
| Earthwire | Single | 2015 |
| Forever Mountain / Phonetics for the Stupefied | Split | 2015 |
| The Mission Creep | Split | 2015 |
| Like Piss to a Sting | Split | 2016 |
| The Best of Napalm Death | Compilation | 2016 |
| Nurse the Hunger | Single | 2017 |
| Coded Smears and More Uncommon Slurs | Compilation | 2018 |
| Stunt Your Growth | EP | 2018 |
| Demos 1985-1986 | Compilation | 2019 |
| Ultra Thrash Noise Cranium Meltdown 1" Split EP | Split | 2020 |
| Logic Ravaged by Brute Force | EP | 2020 |
| Backlash Just Because | Single | 2020 |
| Amoral | Single | 2020 |
| A Bellyful of Salt and Spleen | Single | 2020 |
| All Things Being Equal | EP | 2020 |
| Throes of Joy in the Jaws of Defeatism | Full-length | 2020 |
| Resentment Is Always Seismic - A Final Throw of Throes | EP | 2022 |





Line-up on this record:

Mark 'Barney' Greenway - v. (ex-Colostomy, ex-Benediction, ex-Extreme Noise Terror)
Mitch Harris - g., back-up v. (also in Absolute Power, Defecation, Menace, Righteous Pigs, ex-Meathook Seed, ex-Goatlord (live), ex-Regurgitation)
John Cooke - some guitars
Shane Embury - b. ( also in Absolute Power, Bent Sea, Born to Murder the World, Brujeria, , Hicks Kinison, Insidious Disease, Lock Up, Menace, Tronos, Venomous Concept, War of the Second Dragon, ex-Azagthoth, ex-Intestinal Infestation, ex-Meathook Seed, ex-Unseen Terror, ex-Warhammer, Blood from the Soul, Dark Sky Burial, Mutation, ex-Liquid Graveyard, ex-Anaal Nathrakh (live), ex-Drop Dead, ex-Malformed Earthborn)
Danny Herrera - d. (also in Venomous Concept, ex-Anaal Nathrakh (live))




Contacts:
Birmingham - England
E-mail:




Official sites:
http://www.napalmdeath.org/
https://www.facebook.com/roofdown
https://myspace.com/napalmdeath



DON'T MISS THIS ALBUM'S VIDEO REVIEWS IN ENGLISH AND ITALIAN:
Napalm Death_Smear Campaign digipack CD English video review:
https://www.youtube.com/watch?v=Gj_mxBko7fk

Napalm Death_Smear Campaign digipack CD Italian video review:
https://www.youtube.com/watch?v=3352LbHPYv4&feature=youtu.be

Napalm Death_Throes of Joy in the Jaws of Defeatism English video review:
https://www.youtube.com/watch?v=cyE_EKSjXKQ&feature=youtu.be

Napalm Death_Throes of Joy in the Jaws of Defeatism (Italian video review):
https://www.youtube.com/watch?v=fCvD44XwsNQ&feature=youtu.be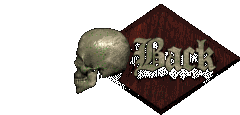 (back to homepage)