Recorded between May and June 2006, prolific Grindcore grandaddies Napalm Death's 12th studio album was dropped on September 15, 2006 less than a month since their earlier guitarist Jesus 'Jesse' Ernesto Pintado's passing.

The artwork was executed by Mick Kenney, who also worked for Mistress and Anaal Nathrakh among many); it features half a face and half a skull with a fish/eye on, along with a graveyard, scared people, some skeletons, starving people, a scythe reporting the sentence 'Freedom is the wage of sin', and a sign stating 'You are either with us or against us'; all of that is surrounded by a thorny round on which the British grinders' logo stands out. The colours used are only sepia, pale brown and white, but I own the digipack CD version; the regular version has a faint blue replace the brown and I definitely prefer my version and not only for the two bonus tracks.
The visuals style is somehow in the vein of the first two albums, as well as "Leaders not Followers Pt. 2", and is connected with the lyics which are once again composed by Barney for the most part and Embury only on a couple of songs; some say this is a concept album against religion, but it's not correct as the lyrics cover more than that topic, and to be precise:
*pain of the world
*oppression of the powerful reducing common people's life quality (one of Barney's oldest warhorses)
*a pious person's exaggerated efforts that bring no results
*anti-puritanism and anti-traditionalism
*the war between religion and science
*the battle against religious tyranny through the centuries
*lack of social justice
*the opposition to the toils imposed by religions
*an attack to the defenders of one's race (Barney is a convinced leftist who even had a brawl against some Korrozia Metalla's members in the early 90s about this)
*sickening by weighing down, betrayal and corruption
*someone being mind-controlled and muzzled
*the idiocy behind the installation and use of nuclear power plants
*isolation and banishment from believers against atheists such as Barney
*distancing oneself from all gods
*strong dislike towards religious rites
*being mistreated and neglected by everyone around
*those who made a career for themselves by lying and defaming (the title- track)
*an atheist's fight to stand their ground

As to the sounds, it has to be noted down that the snare drum and the guitar in the rhythmic variations send strong references to the early 90s, while the general vibe is one of Punk/Hardcore, in that the production is profoundly dry, slim mostly, with only some riffing that happens to be pachydermical occasionally. On Barney's voice reverberation is often applied, whereas Mitch Harris's screams sound as vitriolic as possible.
The recording at the Foel Studios in Wales was by the hands of Russ Russell (guitarist for Draw, Absolute Power, Reformat, and producer for Dimmu Borgir, At The Gates, Wildhearts, Exploited, Evile, Haunted, Lock Up, Defecation, Meathook Seed, Berzerker, Rotted, Space Ritual, Primitive Graven Image, Nuclear, Leng Tche, Nekkrosis, Ga Ga's, Sikth, Amorphis, New Model Army, Shrapnel, Luna Riot, Eradikator, Heretic, Evil Scarecrow, and others).

The album says 'hello' with "Weltschmerz", fundamentally a noisy and pompous instrumental track to which female vocals in the background by Anneke Van Giersbergen (ex-The Gathering) were added. She will also reppear briefly on another track later, but believe me, 95% of the music here is still traditional Napalm Death material.
"Sink Fast, Let Go" starts immediately at the attack with biting vocals alternated with angry ones; two mid-tempoed riffs are put in inciting to slamdancing before the initial refrain comes back; later on, Barney's only real clean vocals - quite dramatic indeed - are added to Harris's screams. Punctual and rapid as usual, the drumwork closes the composition. Herrera sounds a bit more skillful than Mick Harris and his tight blastbeats are his ace in the sleeve, but Mick's attitude used to make us forget his slightly more chaotic style, therefore I have always preferred Mick because he left his mark on every track he played on, I love his wrist and elbow use in blastbeatswhile Herrera sometimes seems to control himself in order to be clear to the point of sounding cold and mechanical. He's a professional drummer who does the minimum he has to do and probably his strategy has been paying him dividends because after all these years grinding on the 6 continents he's still in a good shape at 50 because his finger style to blast has prevented him from consuming him like Harris, yet my opinion is that it would be more fit to have a skinbeater with an extreme Punk/Hardcore background (aka far more feel) if you're playing in a Grindcore band.
Looking for a Groove-core/Death Metal track with a "Harmony Corruption" mood preceding various blastbeats? Then "Fatalist" is the song for you to start with; the slowdown that follows with a crushing riff and an acceleration is one of the rare exceptions on this album where Death Metal takes the lion's share on the Grindcore elements.
3 minutes and a half - an eternity in Grind - in which brain-sticking musical variations alà "Fear, Emptiness and Despair" reign supreme make "Puritanical Punishment Beating" a really one-of-a-kind piece.
Gifted with memorable riffs and dual vocals, "When All Is Said and Done" brings us back to the times of "Greed Killing" with the addition of extremely vicious blastbeats. It's no coincidence the song was chosen to be matched with an official video available at https://www.youtube.com/watch?v=SIRUzqHTNh8, in which the one concept is aversion towards religious beliefs and the rebellion of a guy who refuses to be brain-washed and force-fed with that propaganda. I don't know the director's name nor who decided the plot, but I liked that Barney was wearing an Infest's shirt and Embury one of Exodus'.




One more track rich in stops 'n' go and riffs that crash listeners, "Freedom Is the Wage of Sin" surprises them continuously at the first listen along with sporadical really Hardcore back-up vocals.
Decidedly in debt to "Utopia Banished", "In Deference" gets to be remembered thanks to the brief disquieting spoken words by Anneke Van Giersbergen simlarly to what Celtic Frost did on "Return to the Eve"; the song's ending with supernatural keyboards and an array of demonic vocals in turn with other angelic ones from Anneke contributes to the heterogeneity of flavours inside "Smear Campaign".
"Short-lived" also contains a great number of facades on account of a bass solo, several HCriffs and interefrences within Grind blasts in the finalè.
Invisibly connecting "Mass Appeal Madness" and "Fear, Emptiness and Despair", "Identity Crisis" possesses a riff that appeases already from the first seconds, while "Shattered Existence" contains quite a few Death Metal riffs, a pair of Hardcore-styled backing vocals, and the usual Grindcore until the decimating conclusion arrives.
"Eyes Right Out" displays dynamic and catchy songwriting; it's impossible to state which riff is better than the others, and that confirms the impression we're in front of one the album's highlights, without forgetting Harris's vocals merit.
A multiform assault with two short slowdowns in closure, "Call That An Option" features great rifferama and growling/crust vocals of Barney (some even evilly effected) balancing Mitch's insane shrieks.
"Warped Beyond Logic" is one of the shortest and most caustic tracks, diving into the farthest Grind past, bringing the lesson of Discharge and the likes to a new level; maximum care was given to the vocals so as to enrich the definitive result.
"Rabid Wolves (for Christ)" starts without a pause; it's another concise composition containing high levels of fatally scorching music.
"Deaf and Dumbstruck (Intelligent Design)" includes riffing that utilize all of the six strings and nuances which almost skim the Death Metal recipe of "Fear, Emptiness and Despair".
In "Persona Non Grata" Barney also sings in a nearly clean way, and afterwards he even becomes pretty theatrical, matching the middle sounds of the guitar very well.
Exactly like the opener, the title track appears to be vastly influenced by Swans and similar acts; it begins without interruptions and is based upon a mid-tempo and a slow one, where hieratical and reverberated vocals replace Death(Grind growls and shrills.
The second bonus track "Atheist Runt" begins without silence after the previous track ends, too. It is actually a long Industrial Metal track in which the guitar is only mildly distorted.

Although some dare claim this record makes "The Code Is Red...Long Live the Code" a warm-up exercise, I would simply say this is undoubtely a pleasant improvement in comparison with 2005's platter, where variety makes the album absolutely unique and special, probably the best Extreme Metal album released in 2006 and of the first 10 in the whole decade ranking.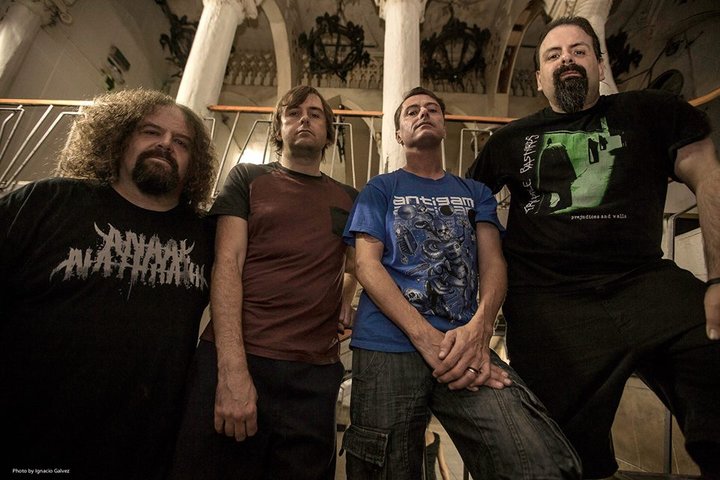 Tracklist:

01. Weltschmerz
02. Sink Fast, Let Go
03. Fatalist
04. Puritanical Punishment Beating
05. When All Is Said and Done
06. Freedom Is the Wage of Sin
07. In Deference
08. Short-lived
09. Identity Crisis
10. Shattered Existence
11. Eyes Right out
12. Call That An Option?
13. Warped Beyond Logic
14. Rabid Wolves (for Christ)
15. Deaf and Dumbstruck (Intelligent Design)
16. Persona Non Grata
17. Smear Campaign
18. Atheist Runt






Demo-/Discography:


| | | |
| --- | --- | --- |
| Halloween | Demo | 1982 |
| And, Like Sheep, We Have All Gone Astray | Demo | 1982 |
| Kak | Demo | 1983 |
| Unpopular Yawns of Middle Class Warfare | Demo | 1983 |
| Hatred Surge | Demo | 1985 |
| From Enslavement to Obliteration | Demo | 1986 |
| Scum | Demo | 1986 |
| Scum | Full-length | 1987 |
| The Peel Sessions | EP | 1987 |
| From Enslavement to Obliteration | Full-length | 1988 |
| The Curse | Single | 1988 |
| You Suffer | Single | 1989 |
| Napalm Death / S.O.B. | Split | 1989 |
| The Peel Sessions | Compilation | 1989 |
| Live EP | EP | 1989 |
| Mentally Murdered | Single | 1989 |
| Mentally Murdered | EP | 1989 |
| Napalm Death / Electro Hippies | Split | 1989 |
| Harmony Corruption | Full-length | 1990 |
| Suffer the Children | EP | 1990 |
| John Zorn / Napalm Death | Split | 1990 |
| Live Corruption | Video | 1990 |
| Mass Appeal Madness | EP | 1991 |
| Death by Manipulation | Compilation | 1991 |
| Utopia Banished | Full-length | 1992 |
| The World Keeps Turning EP | EP | 1992 |
| Live Corruption | Live album | 1993 |
| Nazi Punks Fuck Off | Single | 1993 |
| Hung | Single | 1994 |
| Fear, Emptiness, Despair | Full-length | 1994 |
| More than Meets the Eye | Single | 1994 |
| Greed Killing | EP | 1995 |
| Cursed to Tour | Split | 1996 |
| Diatribes | Full-length | 1996 |
| In Tongues We Speak | Split | 1997 |
| Inside the Torn Apart | Full-length | 1997 |
| Breed to Breathe | Split | 1997 |
| Breed to Breathe | Split | 1997 |
| Bootlegged in Japan | Live album | 1998 |
| Words from the Exit Wound | Full-length | 1998 |
| Leaders Not Followers | EP | 1999 |
| Large Popmerchandising | Split | 2000 |
| The Complete Radio One Sessions | Compilation | 2000 |
| Enemy of the Music Business | Full-length | 2000 |
| The DVD | Video | 2001 |
| Punishment in Capitals | Video | 2002 |
| Order of the Leech | Full-length | 2002 |
| Noise for Music's Sake | Compilation | 2003 |
| Punishment in Capitals | Live album | 2003 |
| Leaders Not Followers: Part 2 | Compilation | 2004 |
| Tsunami Benefit | Split | 2005 |
| The Code Is Red... Long Live the Code | Full-length | 2005 |
| The Haunted / Brand New Sin / Into Eternity / Napalm Death / Heaven Shall Burn | Split | 2006 |
| In Memory of Jesse Pintado | Split | 2006 |
| Smear Campaign | Full-length | 2006 |
| Earache Death Metal Pack | Split | 2008 |
| Time Waits for No Slave | Full-length | 2009 |
| Live in Japan - Grind Kaijyu Attack! | Split | 2009 |
| Death Metal Live | Split video | 2009 |
| Diatribes / Greed Killing / Bootlegged in Japan | Boxed set | 2010 |
| Live at Rock City | Live album | 2010 |
| Inside the Torn Apart / Words from the Exit Wound / Breed to Breathe | Boxed set | 2010 |
| Legacy Was Yesterday | Single | 2011 |
| Analysis Paralysis | Single | 2012 |
| Utilitarian | Full-length | 2012 |
| Converge / Napalm Death | Split | 2012 |
| Scum / From Enslavement to Obliteration / Harmony Corruption / Utopia Banished | Boxed set | 2012 |
| Napalm Death / Insect Warfare | Split | 2013 |
| Sugar Daddy Live Split Series 9 | Split | 2013 |
| To Go Off and Things | Single | 2014 |
| Our Pain Is Their Power | EP | 2014 |
| Apex Predator - Easy Meat | Full-length | 2015 |
| Earthwire | Single | 2015 |
| Forever Mountain / Phonetics for the Stupefied | Split | 2015 |
| The Mission Creep | Split | 2015 |
| Like Piss to a Sting | Split | 2016 |
| The Best of Napalm Death | Compilation | 2016 |
| Nurse the Hunger | Single | 2017 |
| Coded Smears and More Uncommon Slurs | Compilation | 2018 |
| Stunt Your Growth | EP | 2018 |
| Logic Ravaged by Brute Force | EP | 2020 |
| Backlash Just Because | Single | 2020 |
| Amoral | Single | 2020 |
| A Bellyful of Salt and Spleen | Single | 2020 |
| All Things Being Equal | EP | 2020 |
| Throes of Joy in the Jaws of Defeatism | Full-length | 2020 |
| Resentment Is Always Seismic - A Final Throw of Throes | EP | 2022 |





Line-up on this record:

Mark 'Barney' Greenway - v. (ex-Colostomy, ex-Benediction, ex-Extreme Noise Terror)
Mitch Harris - g., back-up v. (also in Absolute Power, Defecation, Menace, Righteous Pigs, ex-Meathook Seed, ex-Goatlord (live), ex-Regurgitation)
Shane Embury - b. ( also in Absolute Power, Bent Sea, Born to Murder the World, Brujeria, , Hicks Kinison, Insidious Disease, Lock Up, Menace, Tronos, Venomous Concept, War of the Second Dragon, ex-Azagthoth, ex-Intestinal Infestation, ex-Meathook Seed, ex-Unseen Terror, ex-Warhammer, Blood from the Soul, Dark Sky Burial, Mutation, ex-Liquid Graveyard, ex-Anaal Nathrakh (live), ex-Drop Dead, ex-Malformed Earthborn
Danny Herrera - d. (also in Venomous Concept, ex-Anaal Nathrakh (live))




Contacts:
Birmingham - England
E-mail:




Official sites:
http://www.napalmdeath.org/
https://www.facebook.com/roofdown
https://myspace.com/napalmdeath



DON'T MISS THIS ALBUM'S VIDEO REVIEWS IN ENGLISH AND ITALIAN:
Napalm Death_Smear Campaign digipack CD English video review:
https://www.youtube.com/watch?v=Gj_mxBko7fk

Napalm Death_Smear Campaign digipack CD Italian video review:
https://www.youtube.com/watch?v=3352LbHPYv4&feature=youtu.be