William Michael Albert Broad moved a number of times to the USA and back to England before he started his career in 1976 by even playing guitar in a Punk Rock band called Chelsea, then became the singer for Generation X, with whom he recorded three albums on Chrysalis before pursuing a solo career as 'Billy Idol' (from idle, a nickname given by his high school chemistry teacher) when he left the UK and signed a management deal with Bill Aucoin (manager to Kiss among others) in NY. After the EP "Don't Stop" dated 1981, Aucoin introduced him to Steve Stevens, who wrote a couple of songs on his debut with him and became his loyal guitarist throughout his entire career except an existential crisis period in which Billy got infatuated with electronic music, failed an actor's career and OD'd several times before turning to a pescatarian and restarting with Punk Rock.

The eponymous debut album features different versions, the first with a front cover in which Billy sports a bad taste Japanese print shirt knotted a feminine way and where the ending track is "Congo Man", while there is also a later version where the front cover has been replaced with one where he wears a leather jacket and looks about to turn to a werewolf or vampire, and the tenth track has been replaced with "Dancing with Myself", one of the hits of the album. This is due to the fact that Billy decided to follow Chelsea's singer's footsteps, Gene October; that's where the dyed blonde hair, the curled lips with a sneer, the leather jacket all have a meaning. Also, the British singer has never hidden the influence that the Beatles, the Rolling Stones and Elvis had on him despite other Punk bands that were denying it, and additionally since the '70s he always wanted to differ from the dying hippie scene. At the same time Steve Stevens has constantly kept his Glam Rock trademark in his look through all these years.
The album sleeve is just basic red on one side and the other side has a strange picture that I don't know what the heck it means. It is just a picture of people on the street and I will assume it is New York City, but don't know the meaning behind it. I also think this was the cover of the first single "Hot in the City".

Billy composed the album while renting a bungalow at the famed Chateau Marmonet Hotel on the Sunset Strip in Hollywood, California; drugged and drunk, he woke up at 3 a.m.; after realizing the drinks were over, he destroyed everything in the room and when he heard the police sirens he was ready - naked - to be cuffed; as a matter of fact the cops had arrived not for him but to limit the scene in the room where another hotel resident was, troubled actor John Belushi, who died in his private bungalow at only 33 after a party on the same night.
Idol recorded the album in 1981-82 in London in company with Keith Forsey and they both agreed upon a modern edge for the epoch to embellish the record so as to peak in the USA as well; the massive recurrence to piano, synths, sax, female or even children back-up vocals sprayed on the recipe that saw Punk, Rock and Pop all meeting at the same crossroads prized Idol's same-titled album with ranking 45 at the Billboard 200 and with gold in 1983 and paved the way for a career made of another 7 studio albums, one live album, 5 compilation albums and 37 singles, also thanks to the help of the newly-established MTV, which was a serious quality TV channel back then and broadcast new generations' culture like no other before slowly declining in the next decade.







The platter begins with "Come on, Come on", balancing between Punk Rock vocals, Rock riffs and Pop arrangements and backing vocals, all supported by a thumping bass. The hypnotic pre.chorus and the tougher verse with explosive guitars before the faded finalè are the absolute icies on the cake.
Accompanied by a disquieting and cruel futuiristic official video with cryptic lyrics subject to arious interpretations, ("https://www.youtube.com/watch?v=AAZQaYKZMTI") "White Wedding Pt.1 " features a plot where Billy gets a peculiar marriage with a girl who was his actual girlfriend in life, which culminates in a scene where Billy crashes a Gothic church window with his motorbike in; as to the song, it kicks off with a lightning riff by Stevens in great shape which is like a flag to what's about to follow; the drumwork is heavier here, and the lead vocals are mostly deeper and flirting with Goth and New Wave. Later the drums wait for further guitar shots, the refrain is first controlled in line with the soft backing female vocals, yet it bursts at its comeback; at the third turn the backing vocals are male and threatening, while Steven's effected licks are masterful examples overcome exclusively Idol's final scream. This magnetic song has been receiving so much appreciation over the years that it has been been used in strip clubs and has been covered by quite a few acts, such as Murderdolls, Queens of the Stone Age, Deathstars, Sentenced, Doro and Axxis. On the flipside of the single there is also a part 2 of this song, a disgusting Synthpop version I don't recommend at all.
Surprising everybody with its Hawaiian female chants, "Hot in the City" is another hit single matched by Idol's first official video ever produced ("https://www.youtube.com/watch?v=PinBVYKQGeM"); the whole song is dedicated to NY, a city that Billy adores, and is based upon a Pop texture made of sunny keys and black female backing vocals and is slightly different in the video version. The track is basically elementary and its refrain almost touches Soul Rock territories, enriched by Billy's coarse vocals in the harder final structure where Stevens dominates the piano mixed in the background just earlier than the famed chorus reappers for the last time.
All retro-Punk aficionados, please take note of "Dead on Arrival" a composition with 70s Punk sounds, riffs and vocals, embellished by 2 axe solos preceding the initial riff repeated and another long guitar solo in the closure which fades out pretty rapidly.
Another easy-listening composition worth more than a listen is "Nobody's Business", where penetrating keyboard touches, a lively guitar solo and particularly dynamic drumming beautify the fast-tempoed song.
The B-side starts with the long "Love Calling", a tribal track where synths are protagonists; in this song the blond singer uses his voice with more skill and commitment than ever, since the same vocal arrangements require that. It's incredible how a single rhythm maintained for over 5 minutes on account of diverse interventions is able not to bore the listener; the effects, the riffs, the guest sounds, the assorted additional vocals, among which a girl's make it something more than a simply-built song. It definitely is an experimental one, and for sure not one destined to those who want to approach Idol's music for the first time.
Masterpiece of the album, "Hole in the Wall" contains stalwart drums, stellar riffs, while Billy stands halfway between Punk and Dark Rock vocals in a very adrenalinic manner. Stevens reverberates galore and riffs in a way that was later copied and implemented by U2 in their 80s records; there is also a spoken interruption with background vocals climaxing that anticipate another guitar solo. I'm convinced that the finest vocals and guitar effects are all in here and I know many of you think the same, because it is often requested live from the audience and it is itself in the live set-list in most of the shows.
Romantic and dark, "Shooting Stars" sees Billy playing the Elvis Presley of the 1980s, as well as remarkable entwining of fast guitar strokes along with persistent drum beats permeated by Punk verve; a heavily- effected passage has the guitar bring us into another dimension before being sucked back to the elegant Punk/Rock verses we heard at the beginning.
The 5 minutes and counting of "It's So Cruel" seem to me a good background to kiss and pet one's woman at a drive-in or on a solitary beach, whereas the effects chosen sound intensively Pop; finally, the guitar doesn't do anything more than shy cameos here and there. The refrain, too, keeps on walking on a Pop trail, and it is only when good Steve at a certain point delivers a slow-paced solo that we're having a real Rock touch again.
In the first version of the album "Congo Man", an African tune begins without pausing from the previous track, while in the newer versions "Dancing with Myself" is present. It is indeed a danceable Punk melody with a refrain repeated even baaing once; this closing track was rightfully chosen not only as a deign replacement but also as a single; it undoubtely represents one more highlight of the album and is accompanied by a video released only in 1983 rife with scary dolls and humans, spastic homeless that Billy pulverizes with an electricity overload, to then dance with himself first and with the rest of the dirty grey-clothed survivors till the end. ("https://www.youtube.com/watch?v=FG1NrQYXjLU ").
This is the only song written during the Generation X era and originally contained a more guitar-sustained ending instead of this Pop one that Billy remixed for his debut, still it blends with the remaining material smoothly.

Radio ready Rock songs, catchy choruses and delicious hooks, solid instrumentals and an overall uplifting vibe that only the 80s could give; everything about "Billy Idol" impressed me greatly. You re-discover it, too.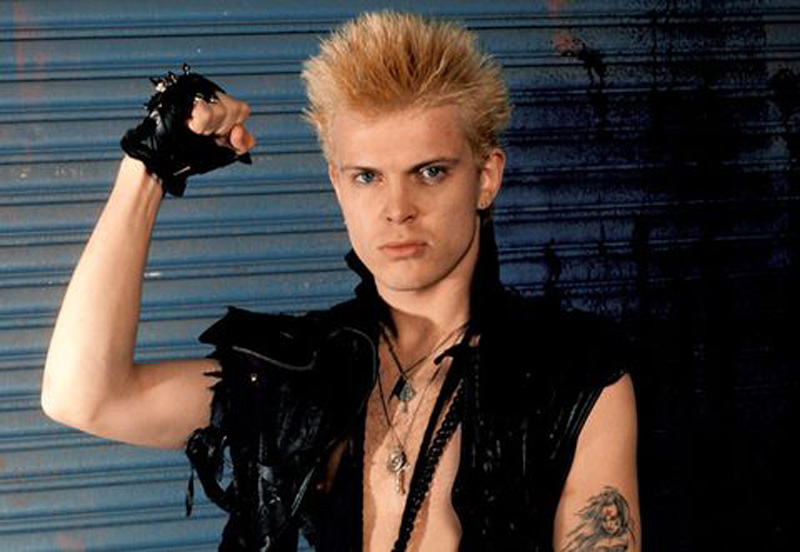 Tracklist:

01. Come on, Come on
02. White Wedding Pt. 1
03. Hot in the City
04. Dead on Arrival
05. Nobody's Business
06. Love Calling
07. Hole in the Wall
08. Shooting Stars
09. It's So Cruel
10. Congo Man/Dancing with Myself






Discography:

-Billy Idol (CD - 1982)
-Rebel Yell (CD - 1983)
-Whiplash Smile (CD - 1986)
-Charmed Life (CD - 1990)
-Cyberpunk (CD - 1993)
-Devil's Playground (CD - 2005)
-Kings and Queens of the Underground (CD - 2014)
+ one Xmas album, some live albums, compilations, singles, video albums and more promotional videos





Line-up on this record:

Billy Idol - v., g. (ex-Chelsea, Generation X)
Steve Stevens - g. , keyboards, synthesizer, arrangements, bass (track 6) (ex-Bozzio Levin Stevens, Neurotic Outsiders, Kings of Chaos, Vince Neal, Deadland Ritual, Jerusalem Slim, Adam Bomb, Sebastian Bach)
Phil Felt - b.
Steve Missal - d.
+ additional musicians




Contacts:
UK/USA
E-mail:




Official sites:
https://billyidol.net
https://facebook.com/billyidol